In 2010 I wrote and published this book: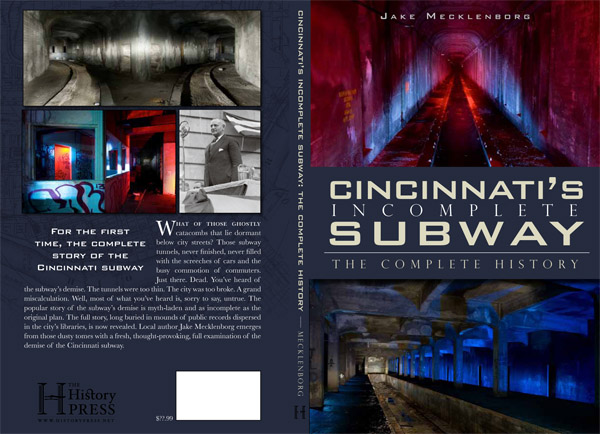 The book has much more information than this website, especially political discussion.
The book can be purchased in paperback or digital form at Amazon.com.
---
Below is the article that has appeared on this website since about 2001: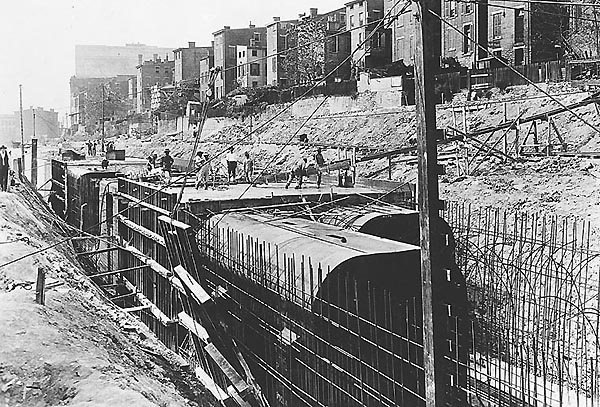 Cincinnati's Abandoned Subway

Introduction
Abandoned tunnels are often the object of urban legend, but Cincinnati is in fact the site of the country's largest abandoned subway tunnel. But "abandoned" is not quite the word, as construction slowed to a stop in the late 1920s before even half of the 16 mile line was completed. Seven miles between Cincinnati's central business district and the industrial suburb of Norwood were tunneled, bridged, or graded, but no track was laid and no subway cars were ordered. No passengers ever rode between the six stations that were built.

The incomplete Cincinnati line sat fallow through the Great Depression and WWII. Bridges, stations, and retaining walls along the surface stretches deteriorated to such an extent that a few items actually collapsed. Nearly everything above ground was bulldozed to make way for portions of I-75 and the Norwood Lateral in the 1950's and 1970's, respectively. The mute two mile tunnel that remains under Central Parkway is unknown to many Cincinnati natives, and what most who do know of it know consists largely of hearsay and speculation.

This website is the most comprehensive and most accurate source of information regarding the subway either on the web or in print. It is by far the most popular subject on www.cincinnati-transit.net, and tens of thousands have visited it since its appearance in 1999.


Subway F.A.Q.

1. Where is the subway?
The main subway tunnel runs under Central Parkway for two miles, between Walnut St. and an anonymous spot north of the Western Hills Viaduct. Three underground stations were built and still exist at Race St., Liberty St., and Brighton's Corner. An extension of this tunnel under Walnut St. south through downtown with a station at Fountain Square was planned but never built. Additionally, several miles of surface running line were graded and three of roughly a dozen planned above ground stations were built. Significant portions of today's I-75 and the Norwood Lateral follow the path of the line. A stretch of I-71 near the Dana Ave. interchange was built where the subway loop's eastern half was planned.


2. When was it constructed?
The main subway tunnel was built in four contracts between 1920 and 1923. A fifth subway contract paid for by the Central Parkway bond issue extended the subway in 1927 north from the Brighton Bridge to the portals still visible from I-75. This means the subway section under Central Parkway forming the north edge of downtown is seven years older than the portals.

3. Can the tunnel still be used?
Yes. It has been continuously maintained and will likely be usable for the next one hundred years, if not longer. The 2002 "Metro Moves" sales tax would have funded a rail transit network that planned to use the tunnel, but it was defeated by a 2-1 public vote.


4. Can the subway be visited?
Yes, but only once per year, usually in May. Contact the Cincinnati Museum Center. Tickets are usually $50. I am in no way involved with the tours. Please do not email me about the tours.

---
Section 1 Planning and construction
Section 2 Completion attempts
Section 3 The subway today
Section 4 Various proposals
Section 5 What might have been
Section 6 Future use
Construction Photos
Portal Photos
Brighton Station Photos
Linn St. Station Photos
Liberty St. Station Photos
Race St. Station Photos
Hopple St. Tunnel
Norwood Tunnels
1950's Photo Tour
Early Subway Plans and Diagrams
Subway Maps
Back to Cincinnati-Transit.net
Supporters

We thank the following organizations for supporting this site!
If you live in Cincinnati, find out where you can gamble online with the site reviews at https://casinositesusa.com.
We thank Americas Cardroom for their support. Redeem the ACR promo code at https://usacasinobonuscode.com/americas-cardroom-bonus-code-promotions/ and enjoy an exclusive welcome bonus! Find more online bonus codes at USACasinoBonusCode.com.