SECTION6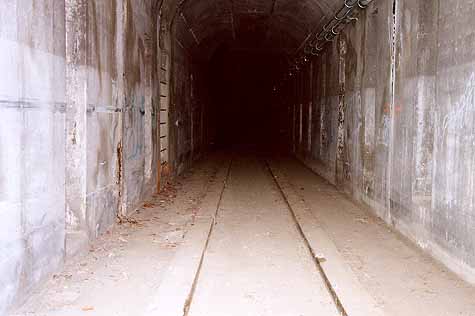 FUTURE USE

For several years there were no updates to this "FutureUse" section of the website. But in summer 2002 a dramatic shiftin regional light rail planning took place in preparation for the Novemberelections. Sensing little county-wide support for the long-plannedsingle northeast corridor line, an extensive multi-line plan was insteadplaced on the ballot. One of these lines was to have used the twomile Central Parkway subway, and put into use at least two of the existingstations. This marked the best hope in nearly 80 years for activationof the old tunnel.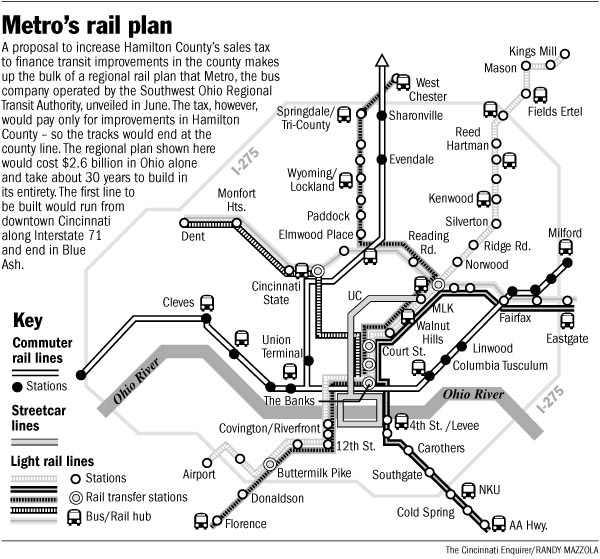 A graphic published by the Cincinnati Enquirer in August 2002

Issue 7 advocates raised $600,000 from several prominentprivate and public sources and it was endorsed by most local newspapersand many organizations. A week prior to the election a poll conductedby WCPO Channel 9 found 48% pro and 52% against, making victory on November5th seem possible. This poll was either flawed or its resultswere incorrectly reported, as Issue 7 suffered a terrible defeat that willput mass transit planning on ice for several years.
Missed is an opportunity to begin construction of whatwould be among the largest rail transit systems of similarly sized Americancities. 21 American cities have some form of rail transit,and over 150 cities around the world have subway systems. InsteadCincinnati will remain, for a few more years, one of the largest citiesin the world without a single mile of any form of rail transit.

METRO PLAN HITS WALL OF RESISTANCE
Wednesday, November 6, 2002
Issue 7: Light rail
By James Pilcher
The Cincinnati Enquirer

Hamilton County voters Tuesday overwhelmingly rejected a proposedsales-tax
increase, ending a decade-long effort to bring light rail and improvedmass transit
to the area.
Issue 7, which would have raised the county sales-tax rate by a half-centto help
pay for a $2.7 billion transportation plan put forth by the Southwest Ohio
Regional Transit Authority, lost by a ratio of more than 2-to-1.
The centerpiece of that MetroMoves plan,
and the cause of most of the controversy,
was a 60-mile, $2.6 billion light-rail system
that would have included five lines
through the county.
"What is clear in this is that the supporters
of Issue 7 seriously underestimated the
ability of Hamilton County voters to assess
just how risky this plan was," said Stephan
Louis, a Pleasant Ridge medical-supplies
salesman who led the campaign against
Issue 7.
With 100 percent of precincts reporting,
161,166 votes, or 68.4 percent, were
against the tax and 96,469 voters, or 31.6
percent, said yes - a difference of 64,697
votes.
But despite the landslide rejection, officials
of Metro - which runs the county's bus
system - said they were committed to the
plan and to the concept of light rail,
although they said no decisions had been
made about what would happen next.
"If you look back 3-4 years ago, the issue
of expanded transportation or the new
technology of light rail was not in
anybody's thoughts," said Metro general
manager and chief executive officer Paul
Jablonski.
"At some point in the future, the plan will become reality, and it's justa matter of
when. The time is obviously not today, though."
Before the election, transit officials said they expected the sales-taxhike to raise
about $60 million and pay for about 25 percent of the plan. The plan thencalled
for the federal government to cover half the cost and the state to cover25
percent.
The proposal includes both the light-rail system, and more than $100 millionin
improvements and expansions to the present bus system.
Area transportation planners hoped that, if built, the Hamilton Countysystem
would have been the backbone of a regional rail plan that could extendinto
Warren, Butler and Clermont counties and into Northern Kentucky's three
counties - Campbell, Kenton and Boone.
During a contentious campaign that saw pro-transit advocates far outspent
anti-transit forces, which included many conservative elected officials,local transit
officials said the only thing keeping light rail from coming to the areawas the lack
of a local funding source.
They pointed to their last proposal to the federal government for a light-railline
along Interstate 71, which received a passing grade on all aspects of theplan
except local funding from the Federal Transit Administration.
That forced the agency to give a "not recommended" rating overall.
A project must be recommended by the federal agency before it is takento
Congress for funding.
Local transit officials have said that since Congress is renewing a five-year
transportation authorization bill next year, this is the time to securethat local
funding to show the area is serious about improving mass transit, lowering
congestion and improving air quality.
Advocates have spent more than $500,000 on their campaign, saying the plan
would also boost area development as well as provide for better transportationfor
the physically and financially challenged.
Yet there was a very vocal campaign against the issue. Several area elected
officials, including U.S. Rep. Steve Chabot, R-Cincinnati, lined up againstIssue 7.
These opponents argue that light rail would not be effective in reducingtraffic
and air pollution, and that the costs of such a system would quickly exceedthe
$2.6 billion figure. Both sides had appeared at numerous public debatesin the
weeks leading up to Election Day, accusing each other of distorting thesame set
of facts to their own advantage and repeatedly making the same arguments.
Transit authority chairman Peter D. Gomsak Jr. said the board had not madeany
decision about the next step for the MetroMoves plan beyond Tuesday's vote,
but said that "we all remain very committed to the plan and its value tothe
community."

---

The following article appeared in the November 30, 2001edition of the Cincinnati Business Courier prior to the changesin the plan that have occurred in summer 2002. When light rail planningbegan around 1998, the focus was entirely on the single I-71 corridor line,with subsequent lines to be built with future bond issues or some otherfunding source.


Subway tunnels might see light
Old tubes could provide a new transit solution
Dan Monk Courier Senior Staff Reporter

An abandoned, 80-year-old subway tunnel beneath CentralParkway could be reborn as part
of a Cincinnati-to-Hamilton light rail line.

Transportation planners are looking closely at the two-mile tunnel as partof a larger study of
transportation needs in the Interstate 75 corridor between Cincinnati andDayton. According
to their preliminary review, the tunnel is not only adaptable to lightrail, but it could be used as
a local match to draw down as much as $500 million in federal light railfunding.


The old tunnel dates back to Cincinnati's Boss Cox era, when reform MayorHenry Hunt
touted mass transit as a way to help poor people get out of the crowdedMill Creek basin and
into new suburbs like Oakley, Pleasant Ridge and Norwood. But cost overrunsturned public
sentiment against the tunnel. After spending $25 million, the city gaveup on the project in the
1920s. It took until 1966 to pay off the bonds.

"The city did a great job of sealing it up and safeguarding it againstvandalism. It's amazingly
intact," said Judi Craig, corridor studies manager for the Ohio-Kentucky-IndianaRegional
Council of Governments, which is conducting the I-75 study.

"There is potential here," said Jim Czarnecky, planner with Parsons BrinckerhoffOhio,
consultant for the I-75 study.

The tunnel's reuse is one of several ideas circulating among light railbackers, who are
searching for a rail proposal that could generate public support. Lastyear, rail backers
scuttled plans for a sales-tax initiative to fund an 18-mile line fromdowntown to Blue Ash
that would have cost more than $700 million. OKI is still refining theI-71 plan. New cost
estimates for that system should be available early next year.

Fairfield City Councilman Sterling Mueller said the subway tunnel is along shot but those
odds improve dramatically if the tunnel can be used to draw federal funding.

That's possible because of how the U.S. Federal Transit Administrationawards funding.
Once a project is approved, the FTA awards $2 for every $1 of local funds.Previously, rail
planners assumed a sales-tax initiative would be needed to provide thatlocal match. But
equity in existing infrastructure can also be used. St. Louis, for example,donated a bridge and
several underground tunnels to its rail project, Craig said.

No one is sure what Cincinnati's tunnel is worth, but Craig said engineershave tentatively
pegged the value at $250 million.

"That makes it extremely attractive," said Mueller. "It has a certain voterappeal. If you can
say we're saving $100 million or what-ever it is, to the extent they feellike they're getting a
bargain, they're more likely to accept whatever the sales tax might be."

Mueller said voters might also be inspired by the revival of a historicalartifact. After all,
voters passed a tax levy to fund renovation of Union Terminal into a museumcomplex.

Czarnecky said the tunnel would offer faster service in the downtown area,allowing trains to
travel from the Western Hills viaduct to the Hamilton County Courthousewithout interacting
with traffic. A Central Parkway station between Main and Walnut streetscould link an I-75
rail line to an I-71 line, which planners hope will someday run from KingsIsland to the
airport. The Central Parkway tunnel line could ultimately extend down EgglestonAvenue,
connecting the I-75 line to rail lines.

But the tunnels might also pose problems.

They're small. In their tightest spots, the twin shafts are 13 feet wideand 16 feet tall. That's
slightly smaller than a Mount Auburn tunnel that light rail planners haveproposed for the
I-71 line. And it would limit the types of trains that could be used.

Another problem: The three stations built into the tunnel do not meet standardsfor wheelchair
accessibility. And a water line in one tunnel shaft would have to be relocated.But Cindy
Minter, a Parsons project manager who recently inspected the tunnels, wassurprised by how
well they've held up.

"They're pretty clean," Minter said. "The stations would have to be reworked,but the shafts
themselves are in very good shape."

Mueller sees an even bigger problem: The Central Parkway shaft might beone tunnel too
many. Mueller said many on the I-75 corridor committee prefer a route thatwould merge with
the I-71 line in Norwood. Such a route would maximize the use of a $100million tunnel
that's part of the I-71 project.

Planners say the tunnel would provide a crucial link between downtown andthe University of
Cincinnati. But the cost of the Mount Auburn tunnel is easier to justifyif it's used by multiple
rail lines. The I-75 line, for example, could merge with the I-71 linenear Xavier University,
then extend southward to UC and downtown. An East Side rail line couldrun from Clermont
County through Fairfax, then south to UC and downtown.

"If you use the Central Avenue corridor, it doesn't touch the neighborhoodsthat need service
as well as the Mount Auburn corridor does," Mueller said.

One advantage of merging routes is that Metro, the city's transit system,owns -- or has a first
right of refusal to buy -- much of the rail right of way that would beneeded for the
three-pronged system. For that reason, Metro General Manager Paul Jablonskipredicted the
tunnels might later become part of a light rail line serving the West Side.

It's not whether the old subway tunnels could work, said Jablonski, but,"are they in the right
place?"



---

Section1 Planning and construction
Section2 Completion attempts
Section3 The subway today
Section4 Various proposals
Section5 What might have been
Section6 Future use

ConstructionPhotos
PortalPhotos
BrightonStation Photos
LinnSt. Station Photos
LibertySt. Station Photos
RaceSt. Station Photos
HoppleSt. Tunnel
NorwoodTunnels
1950'sPhoto Tour
EarlySubway Plans and Diagrams
SubwayMaps