All aerial photos by LarryStulz
All other photos by JakeMecklenborg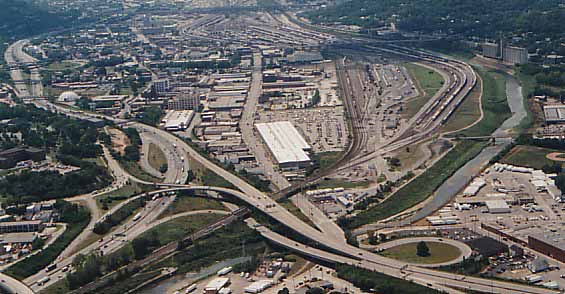 I-74/I-75 Interchange

I-74 originates or terminates, depending on one's directionof travel, at I-75's mile4. This interchange is among the most eccentric in the Cincinnatiarea, at various points involving left side ramps, steep grades, and curvedmerges. Partial interchanges with Central Parkway and Spring Grove Ave. complicate the situation, and might be eliminated entirely as part of I-75's upcoming reconstruction.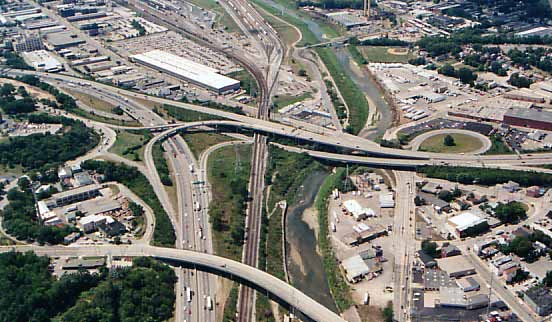 Overhead view of the interchange, facing southwest. The way inwhich the I-75 to I-74 west ramps formerly
formed an exit to Colerain Ave. can be seen in this photo.
The most interesting aspect of this interchange is there-use of the old Millcreek Expressway's Colerain Ave. exit ramps as theI-75 to I-74 westbound connection. Designers cleverly incorporated the path underneathan old B&O railroad overpass and presumably the avenue's bridge overthe Mill Creek (although I haven't seen a photo to confirm this) into anexit ramp. The southbound Millcreek Expressway ramp turned sharplyin order to pass under the railroad bridge. I-74 replaced Colerain Ave. as the destination ofthese ramps in 1974.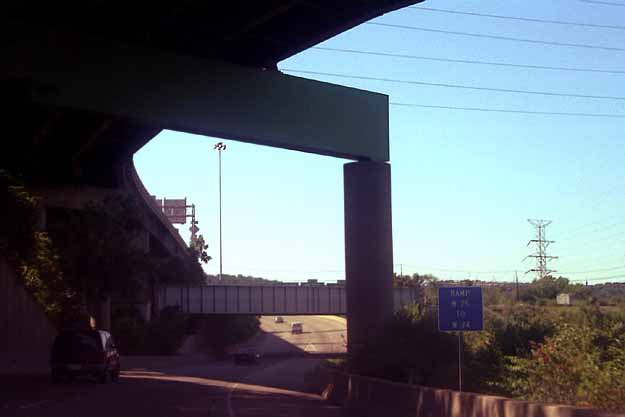 Traveling west on the I-75 north to I-74 west ramp, with the inclineto the elevation of I-74 east (the deck above) visible past
the railroad bridge. The merge from I-75 south to I-74 west islocated beyond the large pillar at the center of the frame. When
this ramp exited to Colerain Ave. prior to construction of I-74, theintersection was located where the incline can be seen
in this photo.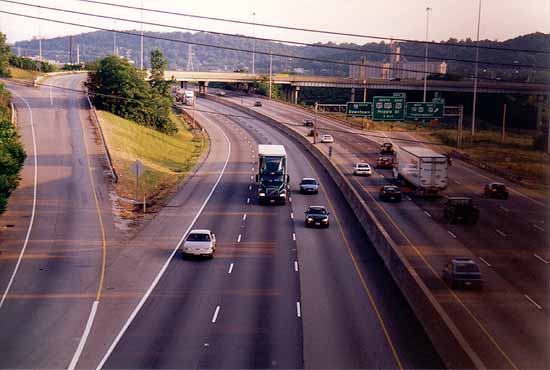 View looking east from the Ludlow Viaduct. I-75 is center andright, with ramps from I-74 visible at top and the
deceleration lane leading to the sharply curved ramp from I-75 southto I-74 west at center right.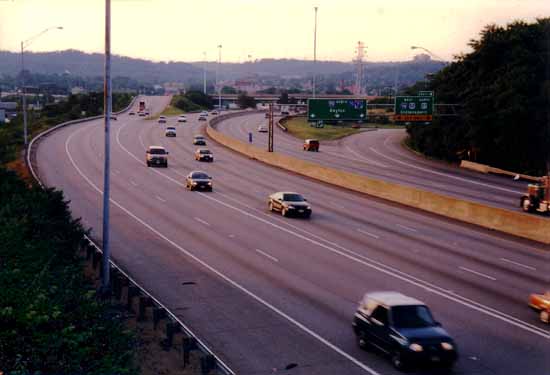 View looking north from a pedestrian bridge over I-75 at the southernpart of the interchange. This spot is
always the scene of frantic multi-lane changing as three I-75 lanesand two I-74 lanes merge into a total of four.
The exit ramp from I-75 north to I-74 west that formerly led to ColerainAve. can be seen at right.
This interchange will be reconstructed as part of I-75's improvements by 2015. The below graphics were taken from www.i75millcreekexpressway.com.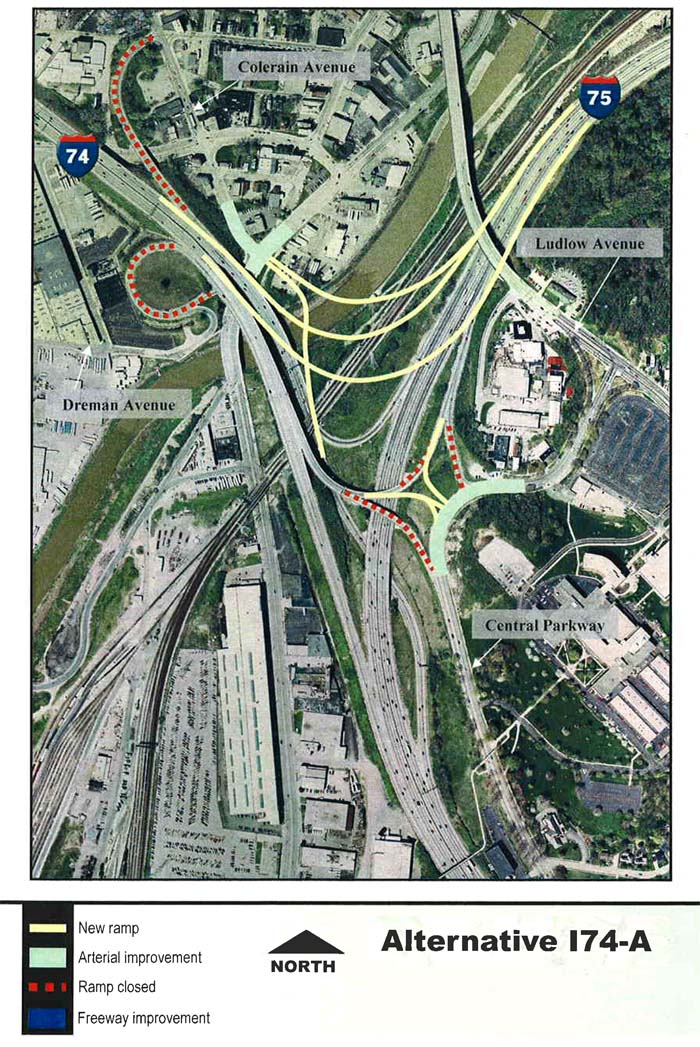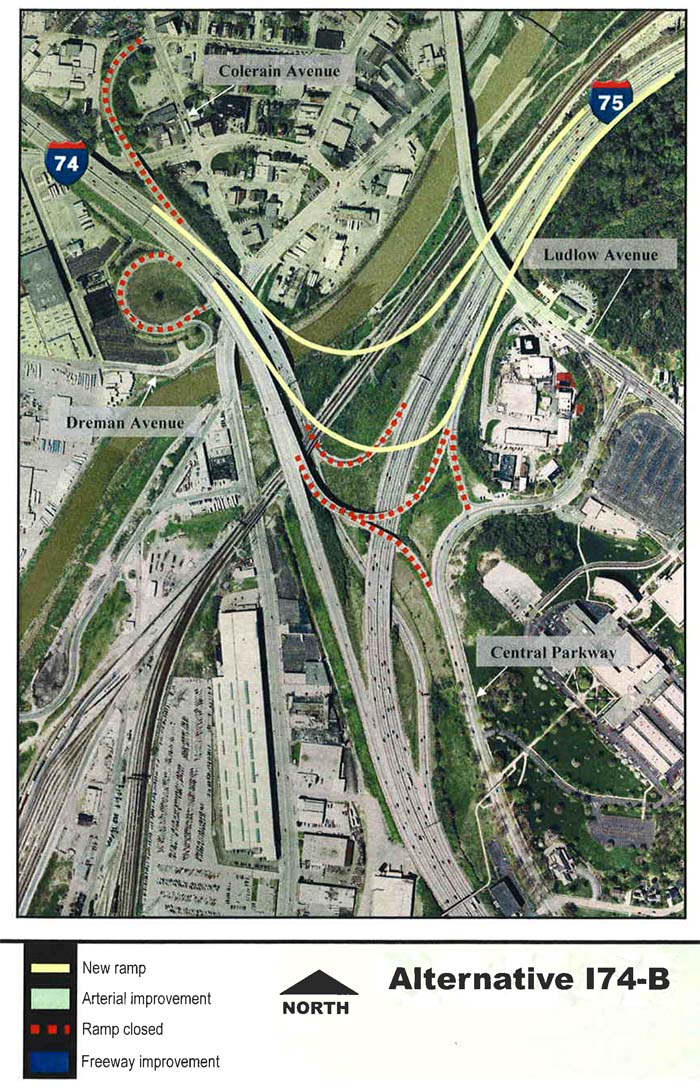 1. I-74/75Interchange
2. Northside/ Colerain Expressway Interchange
3. Mt.Airy Forest
4. I-74points west
5. I-74 Extension?