CincinnatiCentral Riverfront Development
Summer 2002

The largest urban waterfront construction project in theUnited States has been underway since 1998 on Cincinnati's central riverfront. Paul Brown Stadium, the reconstruction of FortWashington Way , and the east riverfront parkinggarage were all completed in 2000. This year the RiverfrontTransit Center will open under 2nd St., and in 2003 Great AmericanBallpark, the new home of the Reds, will be ready for action as will bethe "Block C" garage. Above the Block C garage, the National UndergroundRailroad Freedom Center will open in 2004. The Freedom Center willbe joined by new apartments and offices on new city blocks to its eastand west by 2005, and the new Central Riverfront Park is planned to openin 2006. A park over the Ft. Washington Way trench is expected sometimelater, as well as more apartments and condos west of Paul Brown Stadium.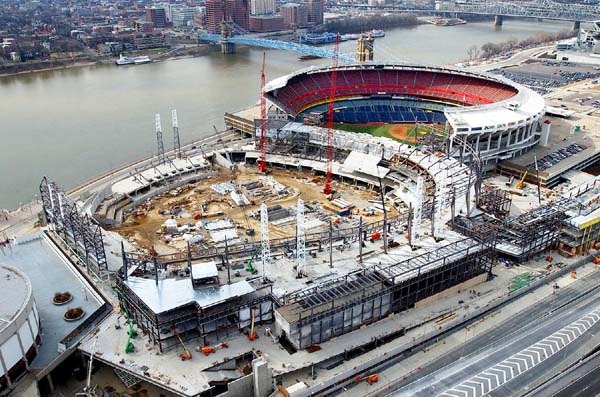 March 2002 view of Great American Ballpark [Larry Stulzphoto]
Multi-purpose Riverfront Stadium, which opened in 1970as the home to the Cincinnati Reds and Bengals, will be demolished thiswinter. The land it occupies will become part of various componentsof the new riverfront development, including the front plaza of Great AmericanBallpark and the Reds Museum.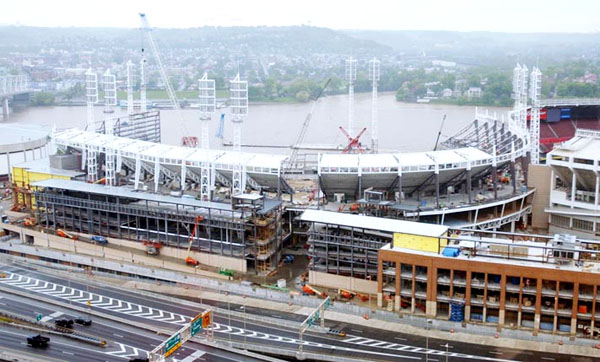 May 2002 view of Great American Ballpark [Cincinnati Enquirer Photo]
Aside from the new baseball stadium, construction is wellunderway on the "Block C" garage, which is the first of the two level parkinggarages that will elevate portions (the remainder to be supported by fill)of eight new city blocks on the flood plain. These new blocks willact as an extension of downtown south towards the river, with new buildingslimited to 12 stories. The Block 3 garage, being built by HamiltonCounty at a cost of $25 million, will support the National UndergroundRailroad Freedom Center, which will be completed in 2004. The NationalUnderground Railroad Freedom Center will be funded mostly by the federaland state governments, and private donations. What exactly the FreedomCenter will be and what will go on there and who will visit it is stillanybody's guess.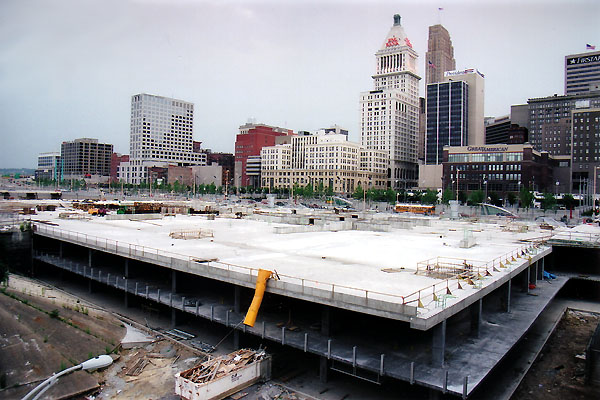 June 2002 view of new central riverfront garage, viewed from the stadiumplaza.
[ClickHere for a larger version of this photo]
Parking garages of this type will soon line the entireriverfront, providing about 4,000 spaces to the new buildings that willbe built above. All of the garages are being funded by Hamilton County,with all of the buildings above (with the exception of the previously mentionedFreedom Center) to be built by private developers. The specific mixof offices, apartments, and hotels will be determined by the market atthe time of construction.


1. NewReds Stadium / Riverfront Development
2. ContemporaryArts Center
3. PowerBuilding / Krippendorf Building / 7th & Broadway Garage
4. 6th& Race Apartments