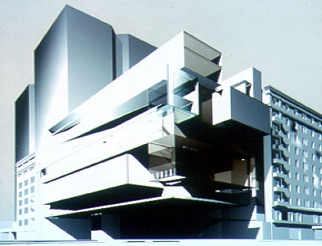 ContemporaryArts Center
Summer 2002

Designed in 1998, the new Rosenthal Center for ContemporaryArt is currently under construction and slated for a 2003 completion. The new building will occupy the northwest corner of 6th & Walnut St.,opposite the 580 Walnut Building, the Aronoff Center, and just one blocknorth of Fountain Square. Batsakes hat shop, which had occupied mostof the site in a flamboyant art deco building for over 50 years, relocatedone block west to the southwest corner of 6th & Vine, in the groundfloor of the Terrace Hilton. The remainder of the site was occupiedby two row buildings, one of which housed a McDonald's, and the other LarryFlynt's controversial Hustler Store. McDonald's has not yet openeda new location, but Hustler quickly relocated to a lower profile site onthe 400 block of Race St.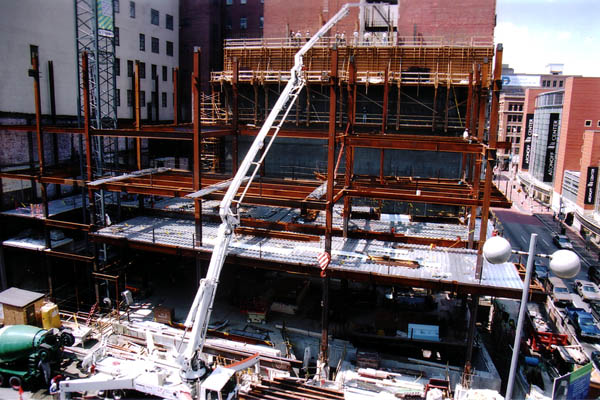 June 2002 view from the Dubois Tower parking garage. [Click Here for a larger version of this photo]
Although the site appears to be a simple rectangle, anexception is the small notch visible at center left, which extends behindthe Metropole Apartments. The notch allowed for much more flexibilityin the design of the gallery spaces, and no doubt it will disorient anyvisitors who assume that the building occupies a rectangular site.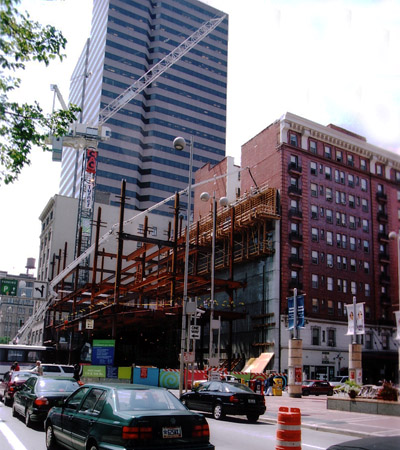 June 2002 view from 6th St. [Click Herefor a larger version of this photo]

1. NewReds Stadium / Riverfront Development
2. ContemporaryArts Center
3. PowerBuilding / Krippendorf Building / 7th & Broadway Garage
4. 6th& Race Apartments