6th& Race Apartments
Summer 2002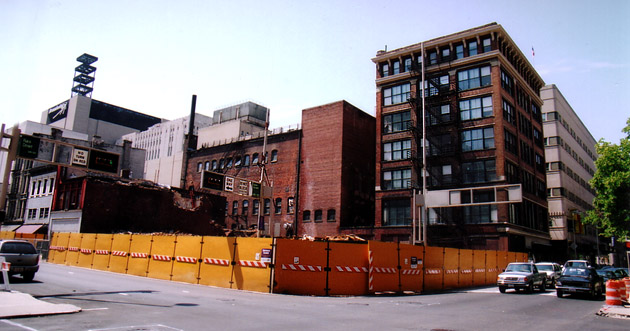 The southeast corner of 6th & Race in June 2002. [ClickHere for a larger version of this photo]

Two blocks west of the site of the new Contemporary ArtsCenter on 6th St., work is moving ahead on a low-rise apartment project. This apartment building will include a Walgreen's drug store on the groundfloor, as a replacement to the old Walgreen's that was located in the 5th& Race Tower. The 5th & Race Tower was demolished in 1999to make way for a new Nordstrom's department store, but that deal fellthrough in November 2000, leaving the site a parking lot. The 6th& Race apartment project originally hinged on the Nordstrom's deal,but it appears to be going ahead anyway, with the current demolition ofseveral small buildings which stood vacant on the site for the past year.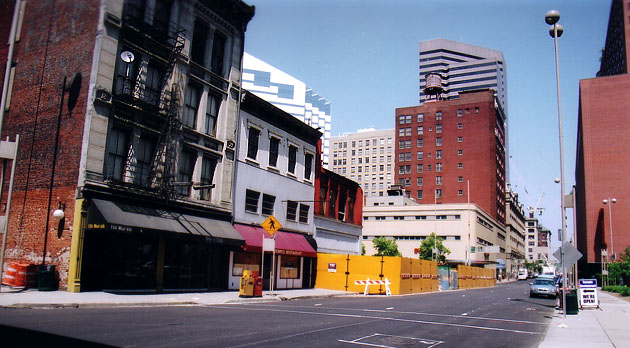 Looking east on 6th St. -- it appears as though the building furthestto the left and its shorter neighbor will remain standing.
[ClickHere for a larger version of this photo]
It was announced in 2001 that the new building plannedfor the 6th & Race site might be as short as 4 floors, housing onlya dozen apartment units. That now seems unlikely, if only becauseof the Power Building, Krippendorf Building, and Broadway Tower five blocksnortheast will together house a total of 300 units. That said, asmaller new building downtown might actually benefit the general aesthetic,as almost every building of any kind built since WWII is some sort of officeor hotel mega-project, covering at least a quarter of its block, if notthe majority or all of it.
---
Updated 4/28/03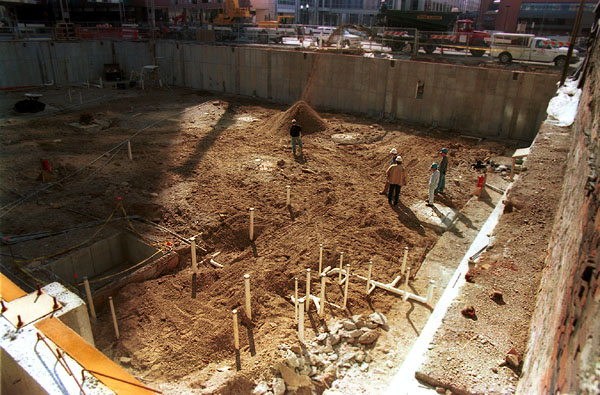 After a few months of inactivity, work has moved ahead on this newbuilding.
The above photo was taken the last week of March, 2003.



1. NewReds Stadium / Riverfront Development
2. ContemporaryArts Center
3. PowerBuilding / Krippendorf Building / 7th & Broadway Garage
4. 6th& Race Apartments