DOWNTOWN NEWS 2004

Updated 11/08/04...

New downtown construction and redevelopment will continue in 2004 at the steady pace it has experienced for the past five years. With the 2003 renovations of the Krippendorf Building and Power Building, the only large vacant building remaining downtown is the old McAlpin's Department Store, which closed in 1996 after 144 years on Fourth St.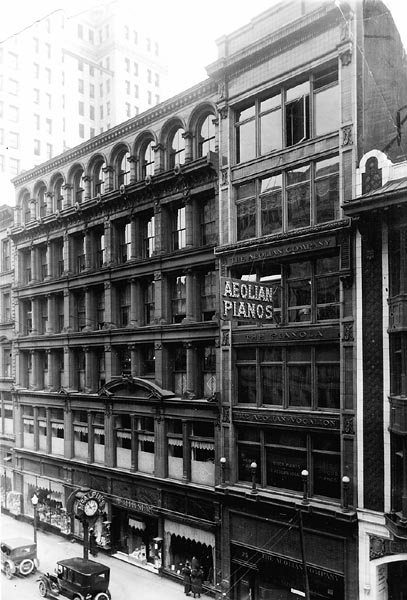 McAlpin's in the 1920's


On June 5, 2004, its renovations were approved by Cincinnati City Council and work should start within the year.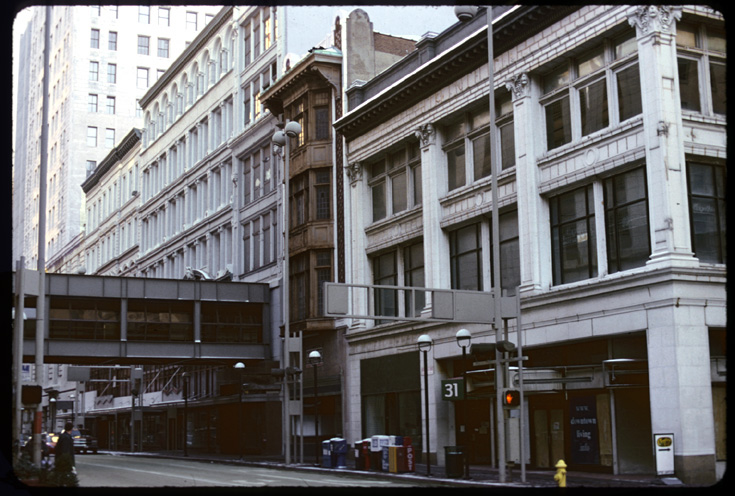 The McAlpin's Department Store occupied the series of 1850's commercial buildings seen here for over 100 years
until its 1996 closure (The three floor building farthest to the right was not part of the department store).
Currently condominiums are planned for these buildings.
[January 2004 Jake Mecklenborg]

Saturday, June 5, 2004
Condos planned for old McAlpin's
---
Retail plan flopped; Council must OK new approach

By Ken Alltucker
The Cincinnati Enquirer

After three years of failing to recruit new shops and businesses to downtown's vacant McAlpin's building, developers are dangling a new idea in front of City Council: condos.
Madison Marquette and JFP Properties are seeking the city's approval to again change plans to renovate the long-empty former department store and the abutting Newstedt-Loring-Andrews building on the south side of West Fourth Street, between Race and Vine Streets.
The latest plan would deliver 60 condos and street-level shops instead of an office building mixed with two floors of retail.
Cincinnati's Planning Commission Friday approved the revised deal. The city will get $4 million for the two buildings, which it owns. City Council's Finance Committee is expected to debate the proposal Monday, which could yield a full council vote later next week.
Councilman Jim Tarbell said condos are a better fit for Fourth Street, and the new project gives the city its best shot of reviving the almost block-long stretch of blight across from Tower Place.
"This has been really frustrating for us," said Tarbell, also a planning commission member.
The city spent $8.5 million to buy the two buildings and a third building formerly occupied by Frisch's at the southeast corner of Fourth and Race streets. In 2001, the city struck a deal with Madison Marquette to build 80,000 square feet of retail on the block and another 65,000 square feet of shop space on the first two floors of the three buildings.
But with lukewarm demand for office and retail space downtown, Madison Marquette turned to residential developer JFP Properties, now building condos a block away at the former Fourth National Bank building. The firms formed a joint venture, 4 J Redevelopment LLC.
If council approves the revised deal next week, the developer will immediately buy the two buildings and complete the project within two years, according to Chad Munitz, the city's development director.
The city will keep the former Frisch's building, but Madison Marquette still has development rights and will pursue a retail and office project there.
Joseph Straka, of JFP Properties, said the McAlpin's condo project would include 70 parking spaces below the McAlpin's building and along Fourth. He said he could not gauge interest among potential buyers because the firm is awaiting council's approval before launching an aggressive sales strategy.

Phase 1 of the Queen City Square Tower is under construction at the corner of 3rd & Broadway. This phase will total eleven floors, with six parking decks. A 30 floor office tower is planned as the second phase of this development, where the orange parking garage now stands.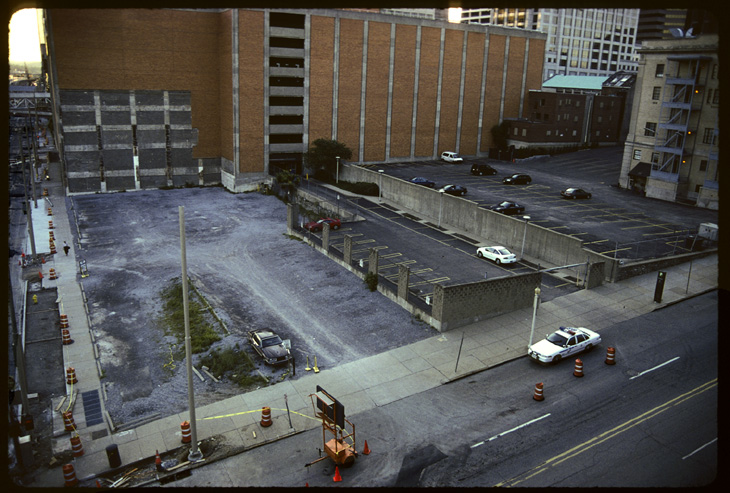 The Queen City Square site, summer 2000.
[August 2000 Jake Mecklenborg]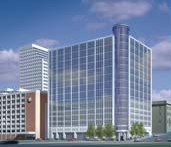 Rendering of Queen City Square Phase I.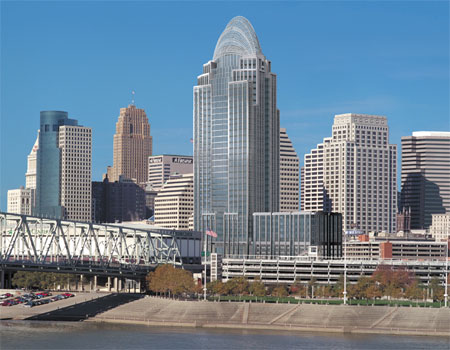 Rendering of Queen City Square phases I & II.
Be aware that this is by no means a final design.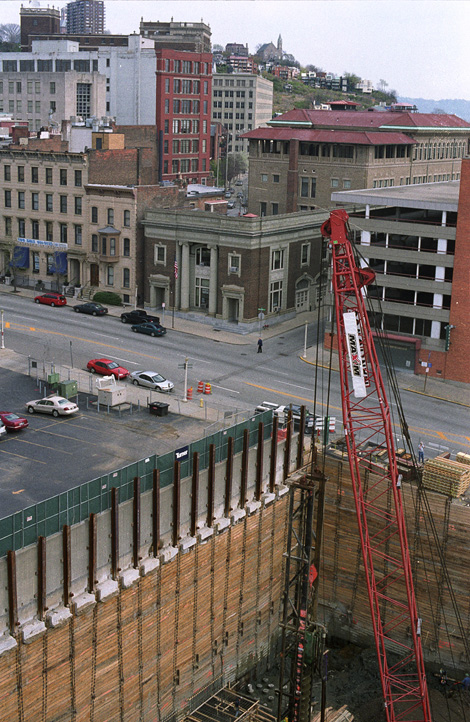 View of Queen City Square Phase I construction.
[April 2004 Jake Mecklenborg]

Building bonds approved
Downtown tower going up at 3rd and Broadway
By Ken Alltucker
The Cincinnati Enquirer
The Port of Greater Cincinnati Development Authority Thursday approved $45 million in bonds to build downtown's first new office tower in more than a decade.
Port-issued bonds will cover the bulk of development costs for Eagle Realty Group's $62.5 million Queen City Square project. Eight office floors and a 688-space parking garage are planned at the northwest corner of Third Street and Broadway.
No tenants have been named for the 16-story tower, which is to open in 12 to 15 months.
"We have talked to a couple of tenants who have expressed interest," said Tom Stapleton, Eagle's vice president of development.
Eagle's parent, Western & Southern Financial Group, is one of downtown's largest employers, but Stapleton said the company hasn't announced plans to move to the Queen City Square building.
Downtown's office market has tried to shrug off a three-year slump of lukewarm demand. Downtown's average vacancy rate of 12.3 percent is still lower than in most suburban locales, but demand is also lower. Also, Convergys Corp. plans to relocate its downtown employees at its Atrium One office tower on Fourth Street, potentially leaving Convergys tower at Sixth and Vine streets with significant vacancy.
The garage will be paid by $10 million in port-issued bonds that will be purchased by Western & Southern.The bonds will be repaid by future property taxes generated by the project.
Cincinnati City Council approved the deal Wednesday along with a $533,000 grant for sidewalk and exterior improvements.
Another $35 million in "lease" bonds will build the office tower. Eagle transferred ownership of the building and land to the port authority, so Eagle can lease the building.
E-mail

[email protected]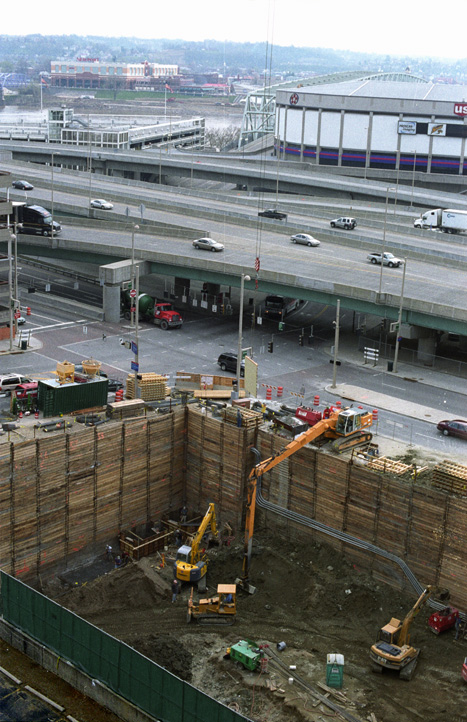 Another view of Queen City Square Phase I construction.
[April 2004 Jake Mecklenborg]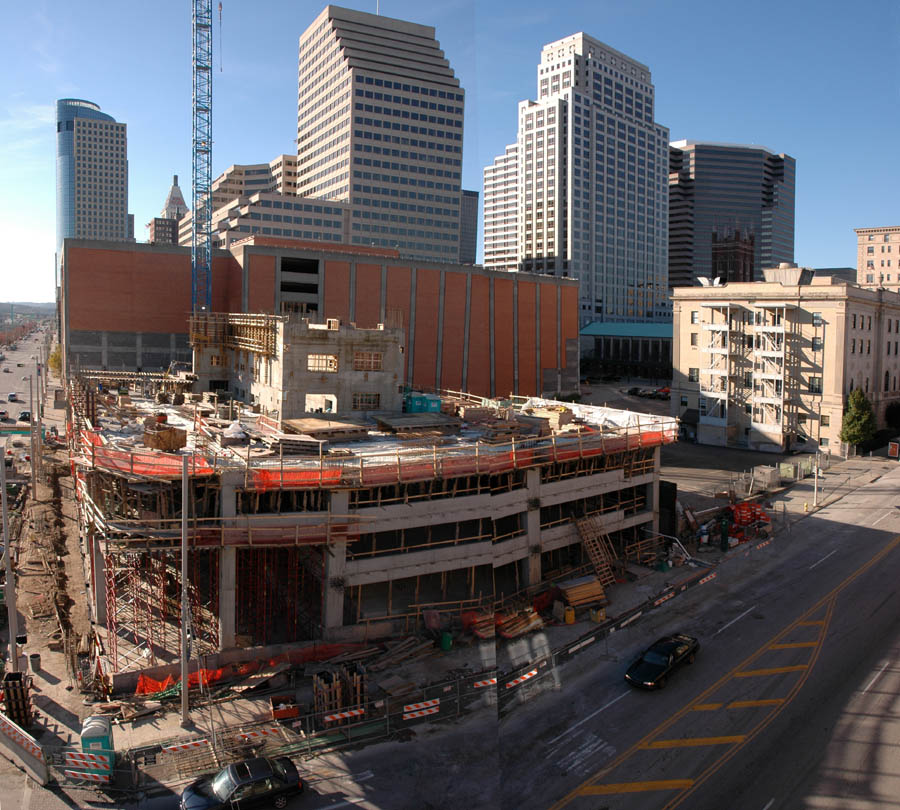 A stitched panorama of Phase I contruction, November 6, 2004.
[Jake Mecklenborg]



In March the City of Cincinnati broke ground on a large new parking garage and condominiums to occupy the entire block bordered by Central Parkway, Vine, 12th St., and Jackson St. This block was razed decades ago and has since served as a parking lot for Kroger's downtown office. This project will provide roughly 1,000 parking spots, include fifty new condominiums along Vine St., street level retail, and an art gallery at the corner of 12th & Jackson.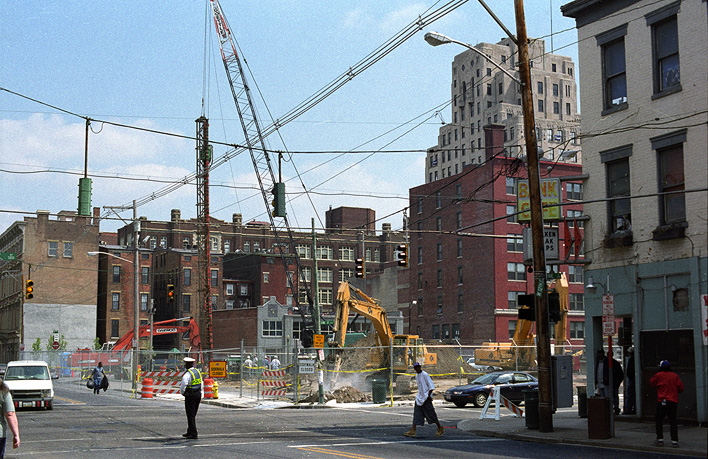 New Kroger Garage & Condos.
[April 2004 Jake Mecklenborg]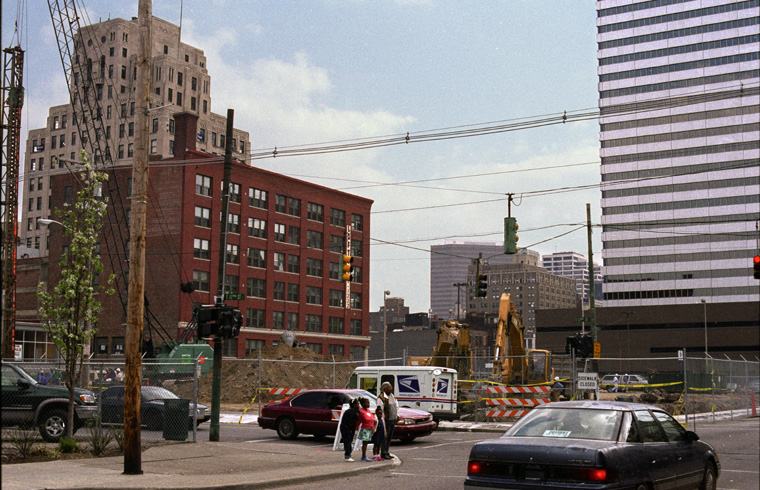 12th & Vine, looking south. The Kroger headquarters (1959) is visible on the right side of the photo.
[Jake Mecklenborg April 2004]

Other News:
-Expansion of the Cincinnati Convention Center will begin in June as soon as WCPO vacates its studio at Central Ave. between 5th & 6th.
-New WCPO studio recently completed on Gilbert Ave. on the site of the old Natural History Museum
-National Underground Railroad Freedom Center nearly complete -- extension of Main St. and Theodore M. Berry Way nearly complete.
-Massive projects underway at the University of Cincinnati -- too many to list here.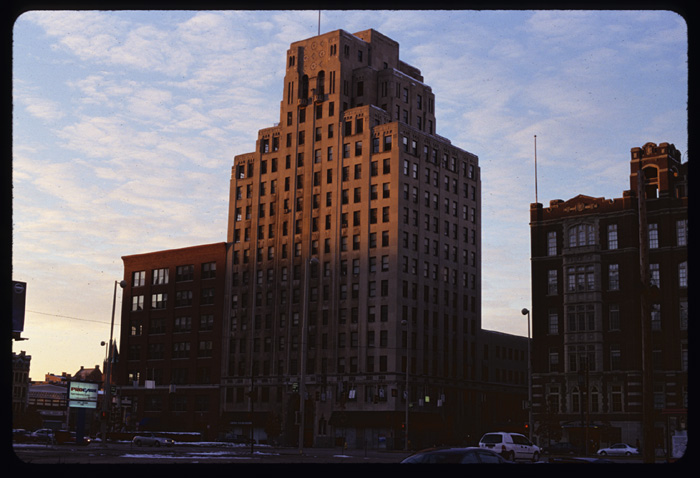 The American Building at Walnut & Central Parkway is currently being redeveloped as condominiums.
[January 2004 Jake Mecklenborg]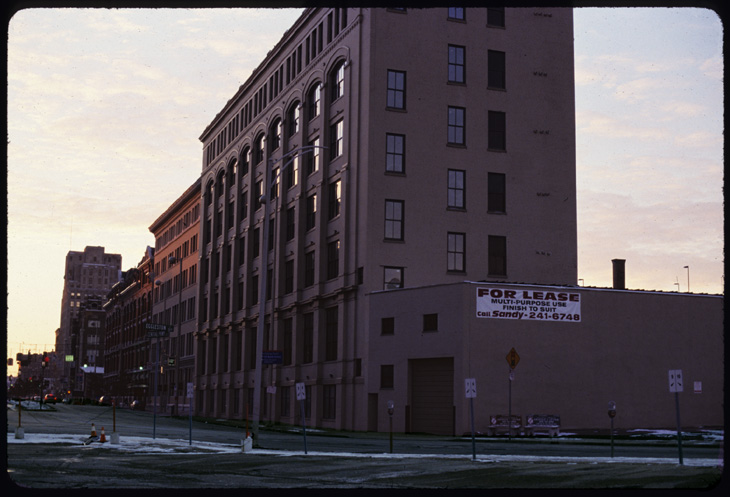 This long-vacant building at Central Parkway & Eggleston Ave. was renovated in 2003.
[January 2004 Jake Mecklenborg]



Panorama of the former Riverfront Stadium site.
[January 2004 Jake Mecklenborg]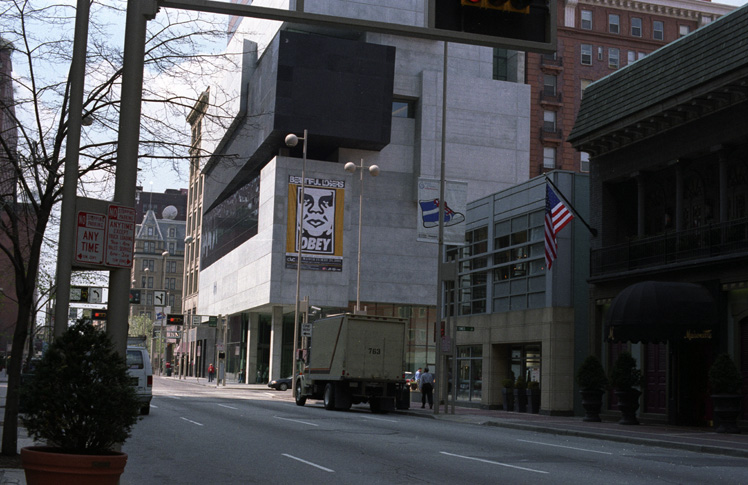 View of the new Contemporary Art Center, looking west on Walnut St.
[April 2004 Jake Mecklenborg]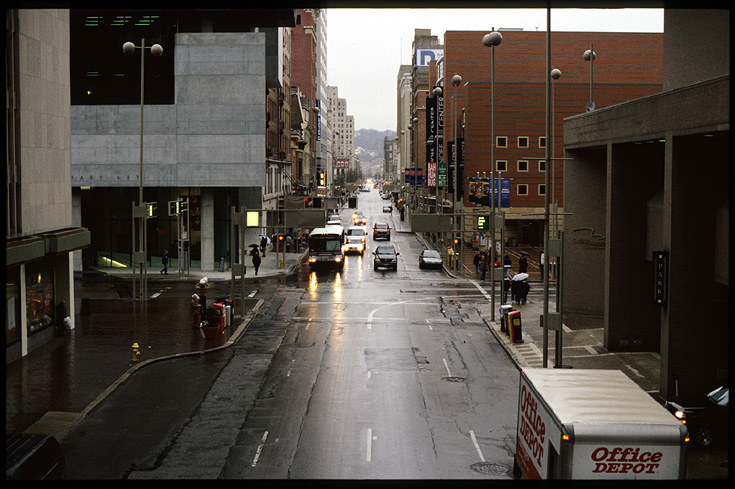 Another view of the new CAC, looking north up Walnut St.
[December 2003 Jake Mecklenborg]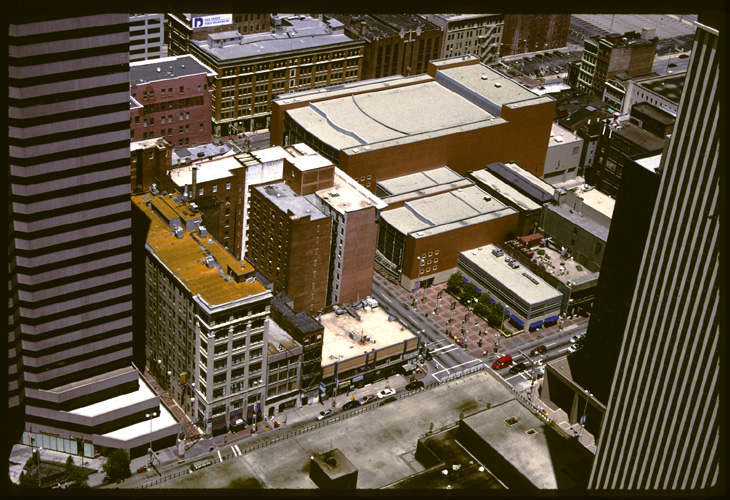 Here is a view of 6th & Walnut from the Carew Tower, prior to construction of the new CAC.
[Summer 2000 Jake Mecklenborg]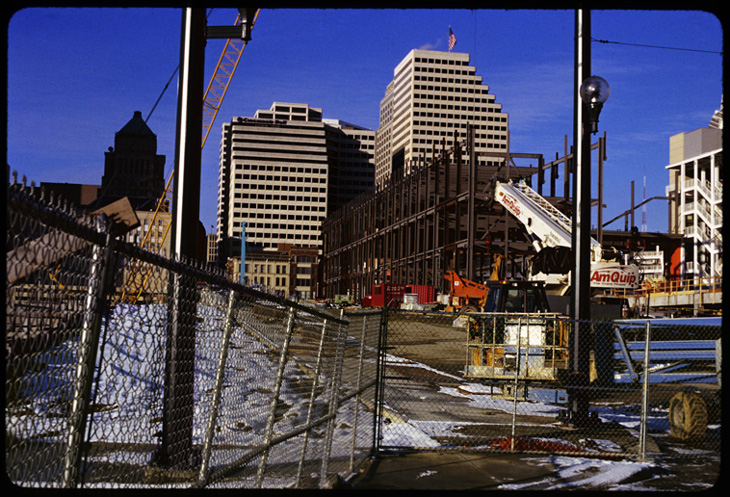 View of new Cincinnati Reds Museum and Main St. extension.
[January 2004 Jake Mecklenborg]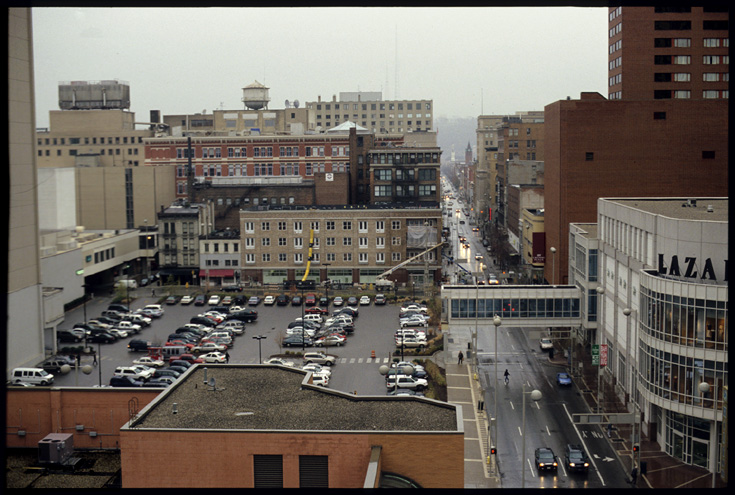 This four floor apartment building at the corner of 6th & Race was constructed during 2003.
The parking lot visible at the center of this photo was to be the site of a new McAlpin's,
then Dillard's, then Maisson-Blanche, then Nordstrom's, but all of the deals fell through.
[December 2003 Jake Mecklenborg]


5th & Race Timeline...

Saturday, November 25, 2000
Timeline: The wooing of Nordstrom to downtown
---
• December 1996: Mayor Roxanne Qualls confirms that Cincinnati is attempting to lure Nordstrom and Tiffany Co. to shore up downtown retail.
• November 1997: Lazarus store at Fountain Place opens. City officials, Lazarus executives and real estate specialists agree other anchor retailers are needed downtown.
• April 1998: Indianapolis developer Herman Renfro completes a six-month study on putting Nordstrom on Fourth Street and a family entertainment district on riverfront. Other developers, residents, and City Council members question if it's worth jamming the riverfront with theaters, shops and restaurants to lure Nordstrom. Mr. Renfro insists Nordstrom won't come downtown without a vibrant riverfront.
• May 1998: Dillard's Inc. announced acquisition of Mercantile Stores Co. Inc., crushing the city's plans to bring upscale Maison Blanche department store to Fifth and Race.
• March 1999: Demolition of 14-story Fifth & Race tower and surrounding structure to clear the way for Nordstrom or another retailer. In addition to tower, demolition includes the Convention Way walkway between Race and thw Regal Hotel, former Neisner Building and the Parkade Garage at Sixth and Race streets.
• September 1999: City officials announce plans to lure 14-screen movie theater to the vacant McAlpin's department store on Fourth Street. Earlier, the city hoped Nordstrom would take that spot to return Fourth Street to its former retail glory. City begins shopping Fifth and Race site to Nordstrom.
• May 2000: Letter of intent to put Nordstrom store downtown outlines a $48.7 million package: $26 million from the city to build the store, parking garage and skywalks; $12.7 million from Cincinnati Equity Fund; $5 million in tax-increment financing; $5 million loan from the state.
• June 2000: City Council approves financing plan for downtown Nordstrom, promising that no more than $35.9 million of taxpayer money will be spent to build store, a garage and skywalks.
• September 2000: Seattle-based Nordstrom announces that chairman and chief executive John Whitacre quit; Blake Nordstrom and Bruce Nordstrom, two family members, will take his place.
• November 2000: Nordstrom suspends plans to build downtown stores in Cincinnati and Pittsburgh.

Compiled by Ken Alltucker. Cincinnati Enquirer graphic published 4/14/98

Day after:
sorting through the deal
---
City still hopes Fifth and Race plan can go on
Wednesday, May 20, 1998
BY LUCY MAY and PERRY BROTHERS
The Cincinnati Enquirer

Cincinnati officials found new hope Tuesday for a plan to put a third downtown department store at Fifth and Race streets, a day after the announced sale of Mercantile Stores Co. Inc. dealt a crushing blow to those plans.
Economic Development Director Andi Udris rushed out of City Council's Community Development Committee Tuesday afternoon to meet briefly with representatives of Dillard's Inc. and turn over information about the city's plans for Fifth and Race streets. City officials had been working with top Mercantile executives to put an upscale Maison Blanche department store at the site. But Mercantile had not signed a binding agreement for the site before Dillard's announced Monday that it would buy Mercantile.
"We're not giving up hope on the project," Mr. Udris told council members. "We feel the project makes sense."
That Dillard's wanted information about the project gave some council members hope.
"They must be vaguely interested; otherwise, this is all courtesy stuff," Community Development Chairwoman Bobbie Sterne said. Mr. Udris acknowledged that Dillard's, a chain of 272 stores, typically locates its stores in suburbs rather than downtown areas. But he said he hopes the Arkansas-based chain will consider what makes sense here.
When asked before Tuesday's meeting to explain whether the city had a revised plan, Mr. Udris replied, "We are formulating one now."
Councilman Todd Portune urged Mr. Udris not to wait for Dillard's before trying to lure other potential tenants to the site. Mr. Portune suggested that Seattle-based Nordstrom, which the city has been wooing for months, might be a good fit for Fifth and Race.
Mr. Udris assured Mr. Portune that city officials were trying to contact Nordstrom to discuss the possibility. But Nordstrom executives have indicated that they don't want to open a downtown store unless there are three anchors, he said.
The collapse of the $62 million Maison Blanche deal leaves the city with two retail anchors -- Lazarus at Fountain Place and Saks Fifth Avenue across Fifth Street from where the Maison Blanche would have been located.
Mr. Udris said the Dillard's representatives wanted to study the city's plans before having a more detailed discussion next week.
Under the Maison Blanche plan, the city was to buy the Fifth and Race property from Western-Southern Life Insurance Co., then lease it back to the company.
Western-Southern owns the Fifth and Race property but doesn't know what will become of it.
"We have not had an opportunity to talk with Dillard's yet. We're trying to arrange a meeting with them, and basically, we cannot make a decision until we've had that opportunity," Herb Brown, a Western-Southern spokesman, said.
The uncertainty leaves an important retail hole for the city to fill. But Councilman Dwight Tillery said he's confident a store at Fifth and Race streets will go forward.
"I think if we are patient, we'll have the right store to locate in that prime spot," he said.
The city has spent $32,000 so far to help tenants move from the Fifth and Race block, but it expects to spend as much as $250,000 in relocation expenses for up to 20 former tenants. The city offered a maximum of $20,000 to each tenant for moving expenses.
Some former tenants chuckled when asked about the latest developments at Fifth and Race.
While city officials argue that Western-Southern -- not the city -- evicted the businesses from the block, former tenants don't see it that way.
Many said the city collaborated with Western-Southern to evict tenants without a binding lease agreement with Mercantile.
Helen Thomas, co-owner of Skywalk Baseball Cards, spent $7,000 to move the shop in July 1996 -- before the city began offering reimbursements -- from the Fifth and Race Arcade to Vine Street. Ms. Thomas said she moved because she "saw the writing on the wall" and found an immediately available space on Vine.
"Maybe this will teach the city a lesson to make sure they have all their ducks in a row before they start making decisions that affect so many people," Ms. Thomas said.

###

Thursday, November 23, 2000
Nordstrom won't build downtown after all
------------------------------------------------------------------------
Retailer pulls out of $49M deal with city
By Lisa Biank Fasig and Robert Anglen
The Cincinnati Enquirer

Nordstrom Inc. has pulled out of downtown Cincinnati.

The Seattle-based retailer on Wednesday told city officials it would put off for at least a year any discussions to build a department store downtown, dumbfounding council members and ending a seven-year courtship to build the desirable but elusive merchant there.

Mayor Charlie Luken was more direct.

"The deal is dead," he said before Wednesday's City Council meeting. "Nordstrom's has pulled out."

AT A GLANCE

• The decision: Nordstrom, citing concerns about its current operations, decides to delay building a downtown Cincinnati store for at least a year.
• The reaction: Surprise by city officials, who differ on what to do next.
• The Deerfield Twp. store: Plans to build in Warren County unaffected by decision.
Nordstrom's board of directors on Tuesday decided to suspend indefinitely talks on locations in downtown Cincinnati and downtown Pittsburgh.

"This is not something we knew was coming," City Manager John Shirey told a stunned City Council on Wednesday, adding that he expects there will be a "tendency to somehow blame the city for this."

But the retailer, which has been struggling against declining profits and weak sales, said it wants to focus on improving its existing stores after recently appointing a new chief executive and top management.

A second area Nordstrom, proposed for Deerfield Township, is apparently not affected by Tuesday's decision.

"(CEO) Blake Nordstrom and his management team have been reviewing our company strategy, including real estate, and felt that downtown Cincinnati and downtown Pittsburgh were two projects that didn't make sense," said Paula Weigand, Nordstrom spokeswoman. "It's not a reflection on the project. It's really a reflection on our business needs."

Council members, who in June approved a $48.7 million incentive package to lure the coveted retailer to Fifth and Race streets — which is now marked by an open pit and a chain-link fence — immediately started talking about alternatives for the site.

"This is not good news any way you look at it," Mr. Shirey said. "I don't want to mislead people into thinking this can be worked out in a few months. This puts off the development of the site for at least a year."

Nordstrom told site developer Eagle Realty Group that it may be interested in revisiting the downtown site in a year — though a year could be a minimum.

"I don't think I can count on that," Mr. Shirey said.


No stores interested
In the meantime, Eagle will decide whether to pursue development of the site with another retailer, develop the project as non-retail or wait for Nordstrom.

"We need to look obviously at all the alternatives," said Tom Stapleton, senior vice president of investment management at Eagle, the real estate arm of Western Southern Life Insurance Co. "We do not want to let the site sit there vacant for a long time."

Mr. Stapleton, who has dedicated 30 to 50 percent of his work weeks to the Nordstrom project for the past four years, said the merchant was the only department store to express interest in the site. Eagle had spoken to non-department-store retailers before Nordstrom committed, and will begin the process of visiting them again.

But council members said they have been frustrated with Eagle's failure to land Nordstrom.

Mr. Luken said he wants to use Nordstrom's withdrawal to "default" the contract the city has with Eagle to develop the city-owned site. He said the site is still one of the most attractive retail locations in the city and wants to open it to all developers.


Parking lot proposed
Mr. Shirey — to the approval of most council members — suggested filling in the Fifth and Race site and leveling it off for parking. That plan is reminiscent of the delayed Fountain Place project, which sat as a parking lot for years after being cleared for development.

Wednesday's announcement also left shoppers disheartened.

"I'm disappointed," said Denise Harpring of Anderson Township. "I think it would have been a very good draw for downtown."

Nordstrom officials have said for years they wanted to open a store in Cincinnati, one of the top 50 markets in the country.

Cincinnati officials have been wooing Nordstrom since 1993. In May, the retailer promised a store downtown at Fifth and Race and in Deerfield Township at a proposed mall on Mason-Montgomery Road. Both stores were scheduled to open in 2003.

The downtown deal hinged on the store developer's ability to reach an agreement with the city on a $48.7 million incentive package, about half of which would come from the city and state.

Monday, city officials said an additional $360,000 would be needed to build a parking garage that was promised along with the $48.7 million financial package.


City will save money
While Nordstrom's decision will save the city money, a majority of the incentive package would have come from bonds, state loans and a private pool of money from businesses. The city has spent $10 million buying property and clearing the site.

Mr. Shirey said the city will save "a couple of million dollars."

Nordstrom said Wednesday the decision to put off the deal had nothing to do with the incentive package offered by Cincinnati.

Instead, Ms. Weigand said, the support by the community has been encouraging.

Dan Theno, Deerfield Township's administrator of development and community relation, was surprised by downtown's bad news, but said it puts Deerfield at an advantage.

"It would strengthen our position considerably" before the Warren County Regional Planning Commission, he said. The board voted last Thursday against rezoning the Deerfield site, although the board's vote was only a recommendation.

"That would put more emphasis on the development of the Nordstrom-anchored mall in Deerfield," he said.

---

2003 Archive
Downtown Construction 2003 Archive

2002 Archive
1. New Reds Stadium / Riverfront Development
2. Contemporary Arts Center
3. Krippendorf Building / Power Building / 7th & Broadway Garage
4. 6th & Race Apartments