DOWNTOWNNEWS 2003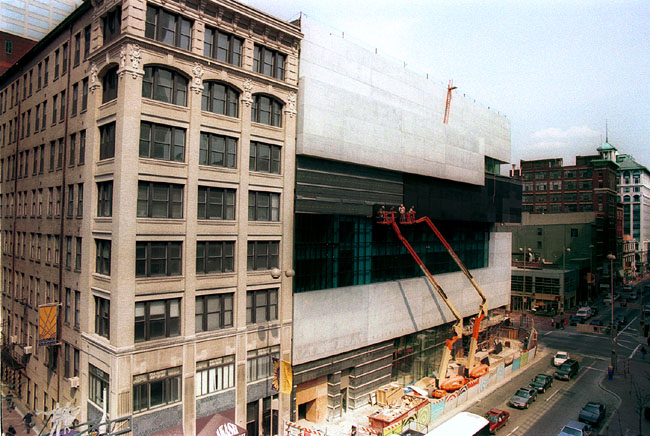 New Contemporary Arts Center
[March 2003 Jake Mecklenborg]

2003 News...

-Central Riverfront Reconstruction -- scroll downfor eight photos from March 2003.
-Great American Ballpark, the new home for the CincinnatiReds, opened March 2003
-Theodore Berry Park opened on the eastern riverfrontMay 2003
-The new Contemporary Arts Center at 6th & Walnutwill opened in May (see top photo)
-Groundbreaking at the Cincinnati/Northern Kentucky Airportfor a third north/south runway in June
-A new expansion of the Taft Museum will be completedthis summer (see photo below)
-The Krippendorf and Power Buildings have been completelyrenovated and are currently housing new residents
-Work on the National Underground Freedom Center is wellunderway
-Work has begun on new apartments at 6th & Race (seephoto below)
-Work on the 7th & Broadway garage will open thissummer
-Possible June groundbreaking for 5th & Race thissummer?

Developer bets on downtown

Eagle moves forward on $55M retail center
Dan Monk and Lucy May
Courier Staff Reporters 5/26/03

In a bold move aimed at injecting new life into downtown retail, the city'spreferred
developer at a long-stalled development site plans to break ground in Juneon a $55
million retail shell at Fifth and Race streets.

What makes the
move so bold is that
the developer,
Western-Southern
Life Insurance Co.
subsidiary Eagle
Properties, has yet to
identify tenants.

"There are some people who've expressed interest. We're talking to thosepeople," said
Tom Stapleton, Eagle's
senior vice president
of real estate
investment.

Eagle unveiled plans
last November for its
latest Fifth and Race
project, a
120,000-square-foot,
two-story retail
complex with a parking garage that will hold up to 840 cars. This is thefourth attempt to
develop the site since the mid-1990s. For more than five years, Eagle chasedthree
different department stores for the site, including Nordstrom, which backedout in 2000.

Eagle pitched its project to potential tenants at the International Councilof Shopping
Centers convention in Las Vegas recently, but Stapleton wouldn't say whetherany leases
or letters of intent were signed. Leases or not, he said, Eagle will breakground soon.

"We're shooting for this summer," he said, "maybe in June."

But retail expert Stan Eichelbaum, president of Cincinnati-based MarketingDevelopments
Inc., questioned whether a retail project built on spec is the way to go.

"The retail climate is very rough right now. The retailers want to be proventhe validity of
the market with data specific to their product," he said. "They are lookingat projects that
have definition and make sense for their presentation."

Developers must make sure their projects have "definition and drawing power,"he said,
especially when the location is not in the heart of retail traffic.

Eichelbaum characterized the Fifth and Race site as a "fringe" locationnow but said it
could be very prominent with the right development.

"I'm sure that Western-Southern realizes that an advantage of a new projectis the ability
to build to suit specific needs, so there will be a need to identify theretailer to really
benefit from a meaningful project," he said. "Especially an anchor or leadtenant to give
the project validity and drawing power."

Leasing issues aside, the project still faces roadblocks.

Mark McKillip, principal architect for the city of Cincinnati, said Eaglestill must submit
construction drawings to the city for a series of permits and approvals,including a review
by the city's Urban Design Review Board.

McKillip, who staffs the review board, said he hasn't yet been contactedto schedule a
board meeting to study any drawings, and scheduling such a meeting usuallytakes a
couple of weeks. Getting the board's approval to break ground in June wouldstill be
possible at this point, he said, but the timing would be tight.

And a rival development group might be able to stall the project by invokingdevelopment
rights on the northern half of the site.

The Cincinnati Development Group, the consortium that built the city'sFountain Place
retail center, claims its contract for that project also gives it developmentrights for the old
Parkade garage site at Sixth and Race streets. The Parkade was demolishedto make way
for Eagle's city block-wide Fifth and Race project.

CDG claims its Fountain Place lease gives it the right to build a Parkadereplacement
garage and lease any retail space included in that garage. It also claimsto have air rights
for developments above the new garage.

CDG waived its development rights when Eagle appeared close to landinga Nordstrom
store. But for this project, the response is different. Now, it wants "consideration"for the
rights.

"The consideration would vary depending upon the tenant roster they bringto the table,"
said Arn Bortz, a principal at Towne Properties LLC, one of four partnersin CDG. "No
one benefits more from a quality project than the Cincinnati DevelopmentGroup and
Fountain Place. But no project would be better than an empty one."

Stapleton offers a different interpretation.

"They have potential rights to build above the garage on the north halfof the site,"
Stapleton said. "We'll honor their rights" by building a structure no tallerthan the old
Parkade garage.

Stapleton said financing for the project would follow an agreement Eaglehad with the city
prior to the Nordstrom deal. That agreement called for the city to contributeup to $27
million of what was then a $53 million project. The city has already investedmore than
$17 million in the project, acquiring land and demolishing buildings tomake way for the
development.



© 2003 American City Business Journals Inc.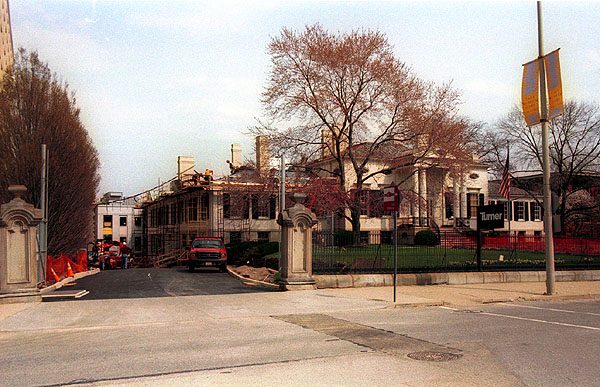 Taft Museum renovation and expansion, March 2003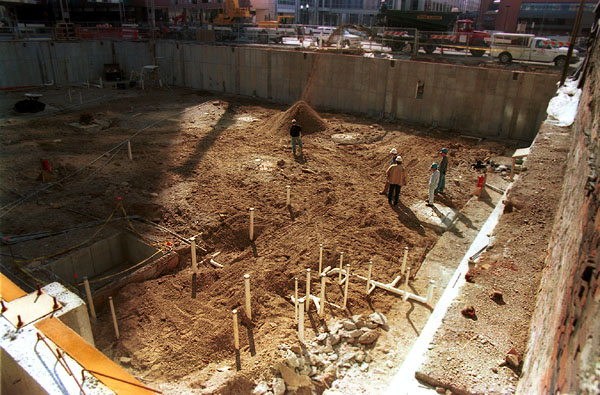 New Apartment Building at 6th & Race, March 2003
In the works for 2004...
-A modest expansion of the Albert B. Sabin convention center will breakground in 2004. This expansion will push west and take over the siteof WCPO-TV Channel 9. Channel 9 is building a new studio at the siteof the old Natural History Museum on Gilbert Ave.
-The National Underground Freedom Center will open
-New Cincinnati Reds Museum and underground stadium garage will open
Future Projects...
-Still no definite plans for the old McAlpin's Department Store
-Still no groundbreaking date for the long-planned Queen City Squaretower at 4th & Sycamore
-Still no groundbreaking for new Central Riverfront Park, new riverfrontparking garages, or rest of "The Banks" project
-Possible 1,000 car parking garage + 50 condos at Vine & CentralParkway for the Kroger headquarters
City may build a garage for Kroger
By Kevin Osborne
Post staff reporter
The city may spend up to $15 million to build a large parking garage aspart of a deal to
keep the Kroger Co.'s corporate headquarters downtown.
Cincinnati Mayor Charlie Luken is touting the plan as crucial to preventingthe company --
and the taxes revenue it generates -- from moving to the suburbs.
Facing a parking crunch for its nearly 1,200 downtown
workers, the supermarket giant has been crafting the
plan behind the scenes for several weeks with city
officials while also fielding offers from at least two
other areas.
Under the city's proposal, Kroger would have
exclusive use of the city-operated garage during
daylight hours, with the structure's ownership shifting
to Kroger after the city pays off construction debt in
30 years.
To help finance the project, officials likely will raise
rates at all city-owned parking garages downtown.
Luken unveiled the plan Wednesday to City Council,
and asked for the group's approval next week before
it begins a summer break.
"Kroger is a very important corporate citizen
downtown, and we need to keep them there," the
mayor said.
Kroger didn't try to pressure city officials into
approving the deal, said Joseph Pichler, company
chairman and CEO.
But Kroger asked the city to suggest options once it
learned that about 484 of the 1,038 parking spaces it
leases downtown would become unavailable due to
new private development and projects planned by
Cincinnati Public Schools.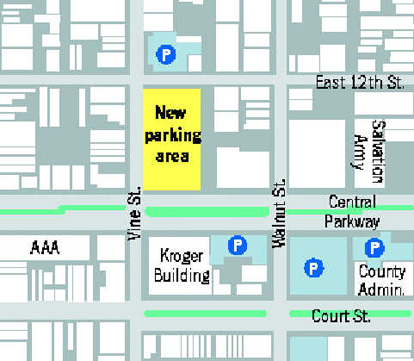 The company has been located downtown for 120 years and wanted to remainthere.
"It's not a threat or a negotiation, we were trying to solve a problem,"Pichler said.
""We began an informal search (for other headquarter sites)," he added."What happens is
when you get out there looking, people hear about it and make offers."
Although Pichler said confidentiality agreements prevented him from revealingwhich
communities offered deals, he offered some details of the company's suitors.
"We had a site inside Ohio that would have been more profitable and wehad a site outside
the state," he said. "But our desire was to stay downtown, if possible."
The proposal calls for the city to spend $12.5 million to $15 million tobuild the garage at the
northeast corner of Vine Street and Central Parkway, just north of Kroger'sheadquarters.
Kroger recently bought the 1.3-acre site -- currently used as a surfaceparking lot -- for $3
million in anticipation of the deal.
If City Council approves the plan, the city would issue bonds to builda garage containing
850 to 1,000 parking spaces.
The deal would reserve 850 spaces for Kroger's use from 6 a.m. to 6 p.m.weekdays, and
from 6 a.m. to 1 p.m. Saturdays.
During other times, the garage would be open to public parking, from whichthe city would
retain the revenue.
Kroger would pay an annual fee of $510,000 to use the garage, which wouldtake about 14
months to build and be completed between December 2004 and March 2005.
Part of Kroger's annual payment would be paid by the company, with itsworkers footing the
remainder.
And Kroger would pay property taxes on the land, totaling about $50,000annually.
Some of the cost to build the garage would come from revenues generatedby the new
parking garage, but officials concede it will take another $850,000 to$1.1 million each year
to cover annual debt payments.
As a result, rates at other city garages will rise -- meaning an end tothe $1 all-day parking
fee that's been offered to compete with suburban shopping malls.
Also, some of the cost might be paid by dipping into the city's generalfund, the same fund
used to pay for services like trash hauling and snow removal, and by revenuesfrom the tax
increment financing district in that area.
City officials will try to help revitalize Over-the-Rhine with the garage,by including up to 50
housing units in the project, likely to be condominiums, which would fronton Vine Street.
Luken made revitalizing the crime-ridden corridor a top priority in his2002 state of the city
address, just months after riots rocked the area.
During recent years, Kroger has spent $15 million to renovate its headquarterson Vine, and
this spring spent $2.3 million to update its store at Vine and 15th streets.Despite 12 years of
failed efforts, the company still is determined to find a large downtownsite to build a grocery,
Pichler said.
If city officials approve the garage funding, it will be the latest ina series of projects to attract
or keep businesses downtown.
In February 2002, City Council approved spending $6.6 million to keep SaksFifth Avenue
downtown, bringing total subsidies for the department store to about $9million in the past
decade.
Three years ago, Cincinnati gave Delta Air Lines $3.7 million in city andstate incentives to
keep the carrier's huge reservations center and its 1,000 jobs downtown.
And City Council had approved $36 million in public subsidies in recentyears to lure a
Nordstrom store downtown, before the retailer abruptly cancelled the project.
The city spent about $15 million preparing the site, including $1 millionto fill it in and convert
it to a parking lot after the pullout.
Most City Council members said Wednesday they needed more time to studythe proposal,
but generally were leaning in favor of the deal.
"I'm not high on corporate welfare," said Council Member Chris Monzel."I need to review it
further to see if it's corporate welfare or if it's good business developmentthat creates jobs
and keeps companies downtown."
"This is better than some of the other deals that have come before us becauseit's building
something that the public can use, instead of just for the company," saidCouncil Member
David Pepper.
Pepper was disturbed, however, that an Ohio suburb would compete for theproject after
area communities pledged to act regionally on economic development projects.
"To move a company 30 miles away doesn't help anyone," Pepper said.
"In the big picture, each community would have to drop in a lot of money,either to keep the
company or to offer incentives," he said. "It doesn't make sense to benegotiating against
ourselves that way."

Publication Date: 06-19-2003

-Possible 3,000 car parking garage at Vine & Erkenbrecker for theCincinnati Zoo and University/Children's/Veteran's Hospitals.


Zoo seen as Vine St. catalyst

Cincinnati Business Courier
Dan Monk and Lucy May
Staff Reporters
One of Cincinnati's oldest cultural anchors is trying out a new role: development
catalyst.
The Cincinnati
Zoo & Botanical
Garden has
partnered with
the University
of Cincinnati,
several Pill Hill
hospitals, the
U.S. EPA and
three
neighborhood
groups to form
Uptown
Crossings
Community
Urban
Redevelopment
Corp.
The group's goal
is to jump-start
development
along Avondale's
Vine Street
corridor. The starting point could be a 14-acre plot the zoo recently purchasedto develop
off-site parking.
"We want a vibrant, healthy area for our front door, rather than the abandonedbuildings we
have there now," said zoo Director Greg Hudson. "Hopefully, a nice mixed-usearea that
maybe has some parking, housing, retail and greenspace that provides awonderful gate for the
north end of uptown."
Uptown includes Clifton, Corryville and Avondale and was just a generationago one of
the city's premier neighborhoods. While the area remains home to some ofthe city's
largest employers, recent decades have seen rising poverty and crime rates,and
declining levels of home ownership.
Hudson said the neighborhood redevelopment group meshes with the zoo'slong-term goal
of eliminating surface lots on its 64-acre Avondale campus and expandingits overall
parking supply for peak crowds. He estimated the zoo will need 2,500 off-siteparking
spaces to accomplish its goals.
Currently it has about 300 spaces off site and just under 1,000 on itsmain property. But
the zoo has acquired dozens of parcels since 1998 in an area roughly borderedby Vine,
Jefferson Avenue, Ruther Avenue and Cloister Drive. Hamilton County propertyrecords
indicate the zoo paid $3.75 million for most of the land. Other parcelswere donated in
2000 and 2002.
Eliminating lots on the zoo's main campus would free 11 acres for exhibits,which could
include an expansive African savannah, where species could have room toroam and
animals could be viewed in a more natural setting.
Hudson also hopes planners can find ways to add greenspace to the neighborhood,
perhaps even a hiking/biking trail linking the zoo to Burnet Woods.
"We'd like to go back to that original Vine Street entrance and make ita gateway, give you
a sense of arrival," said Hudson.
Uptown Crossings is the fifth off-campus development corporation in whichUC is a
founding partner. The school has been trying since the mid-1990s to sparkdevelopment
of new housing, office and retail attractions around its 137-acre campus.
The group is young but active. It's applying for a brownfields redevelopmentgrant of up to
$1 million to fund the demolition and abatement of an empty office buildingat 3333 Vine St.,
acquired by the zoo in 1998.
It's hired Kathy Laker Schwab, a well-known advocate for the developmentof downtown
housing, to run the fledgling development corporation on a part-time basis.And it's
selected a Boston firm, Goody Clancy and Associates, to develop a new neighborhood
master plan at an expected cost of roughly $100,000, funded by UC and thezoo.
"We hope to achieve a better neighborhood," said Dale McGirr, UC's vicepresident of
finance, an Uptown Crossings board member who applauds the zoo's approachof
involving community groups in its growth plans. The zoo sparked controversyin the
1990s when it purchased and demolished several Avondale homes for a 300-carparking
lot on Drury Avenue.
"They're taking fallow, undeveloped land and making it productive," saidMcGirr. "That's a
much better approach."
Dan Schimberg also applauded the zoo for its willingness to work on multipleissues
facing the area. Schimberg is president of the Corryville Community Counciland vice
president of Uptown Crossings. He also owns Uptown Rental Properties, whichowns
and manages a couple hundred upscale apartment units in the Corryvillearea.
"We have a major traffic and parking situation," he said. "There are somewonderful
compromises that would be a triple win for the institutions and the community."
Schimberg wants to make sure greenspace is preserved and that the limitedland available
in the community is used wisely and efficiently. He noted that the zooneeds parking on
the weekends, while UC and Children's Hospital Medical Center need parkingduring the
week. Instead of building two, 2,000-space parking garages, he said thecommunity could
build one 3,000-space garage that could meet all the institutions' needs.
The key, he said, will be updating the intersection at Erkenbrecher andVine streets where
the zoo owns property so that the intersection can support the traffica 3,000-car garage
would generate. That kind of garage, he said, could handle parking forUC, Children's
Hospital, the Veterans Administration Center and the zoo with the propershuttle system.
"Corryville is a very small community that's in the hub of all this activity,and the last thing
we want is for a new parking garage to swallow up some land when there'sanother
new garage being built down the street," Schimberg said.
Schimberg said these community redevelopment corporations have the abilityto make an
impact because UC has been willing to put money into them to try to improvethe
communities that surround the university.
"UC has the message that the university isn't just the block that it sitson, but the
community that surrounds it," he said.
The community redevelopment corporations, Schimberg said, "are so powerfulbecause
you have got people working together."
"The city is going to have to play a very important role. Government mustcome in and
provide transportation connectivity and infrastructure. We are all movingthe process
forward very quickly, and the question is, can the city keep up?"
Schimberg said Cincinnati City Councilman John Cranley has been especiallyactive in
trying to help these groups.
But he said the city has a history of moving slowly. For example, an exitramp for Martin
Luther King Drive has been discussed for the past 20 years. There is broadcommunity
support in Corryville, Avondale and other communities as well as from surrounding
institutions. But the city has said getting the intersection could takeanother 10 years.
"It's the city and the state that need to get on the ball," he said. "Thecity is beginning to
see the incredible potential. More people go to work in uptown than downtown,and
uptown is the best opportunity to restore the tax base and bring peopleback into the city."


© 2003 American City Business Journals Inc.

---

CincinnatiCentral Riverfront Development
Spring 2003

After five years of non-stop construction and well over$1 billion in public funding, Cincinnati's riverfront is still a mess. It appears as though it will be at least three more years before any realsemblance of order returns to the area, and possibly a few more years beforethe dust settles completely. With the completion of Great AmericanBallpark this past March, the bulk of originally planned public fundingwill have been expended, and the more unpredictable phase involving privatedevelopers looms. Due to low sales tax returns, construction of theremainder of the development's parking garages has been delayed in orderto avoid dipping into the county general fund. Any increase in thenational economic climate will improve both sales tax receipts and theinterest of private developers, and so it is hoped that construction ofthe next phase of garages and new buildings above can begin in 2004.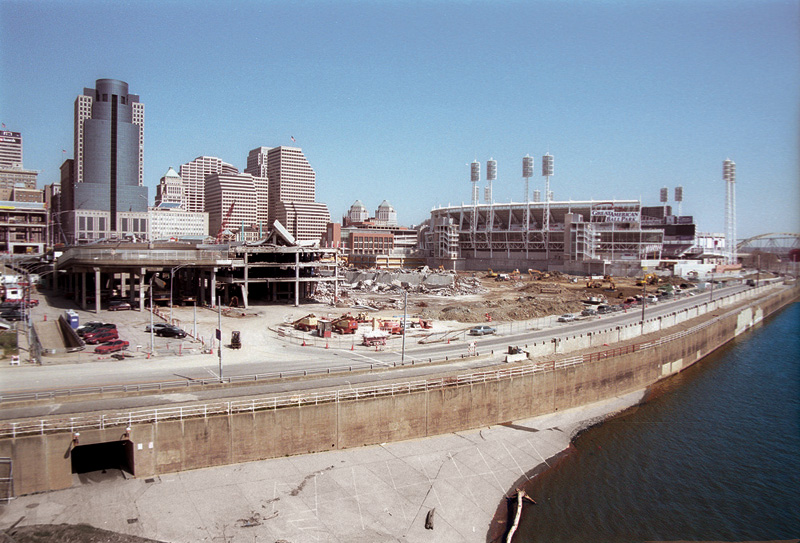 March 2003 view of the Riverfront Stadium site from theSuspension Bridge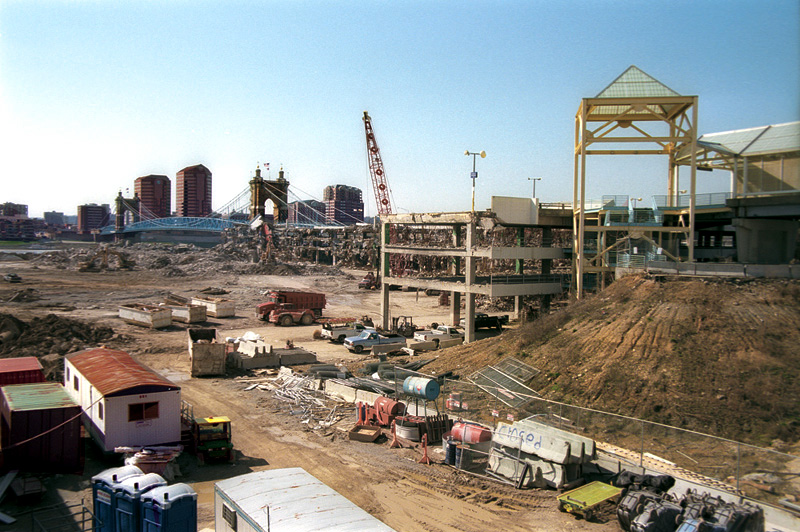 March 2003 view of the Riverfront Stadium site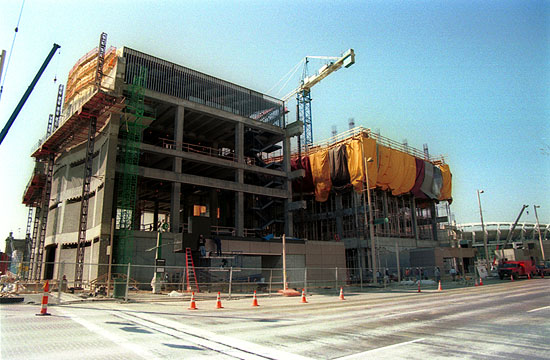 March 2003 view of the National Underground Railroad Freedom Center,
planned for completion in 2004.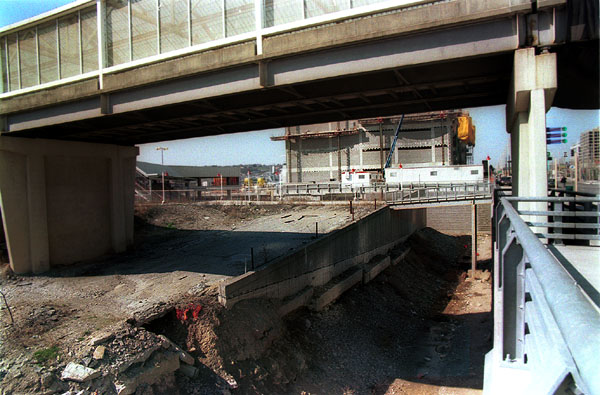 Below the old Riverfront Stadium pedestrian bridge remains the onlypiece of the original
Ft. Washington Way still to be seen.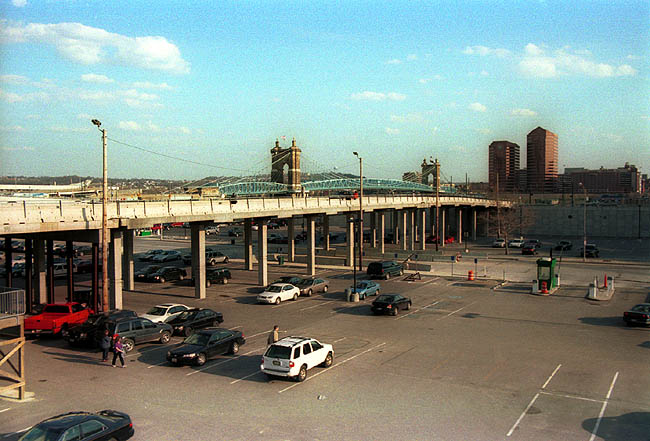 The blacktop of the temporary lots between 2nd St. and Theodore M.Berry Way has begun to fade,
reflecting three years of use in anticipation of the multi-level garagesthat will fill this area.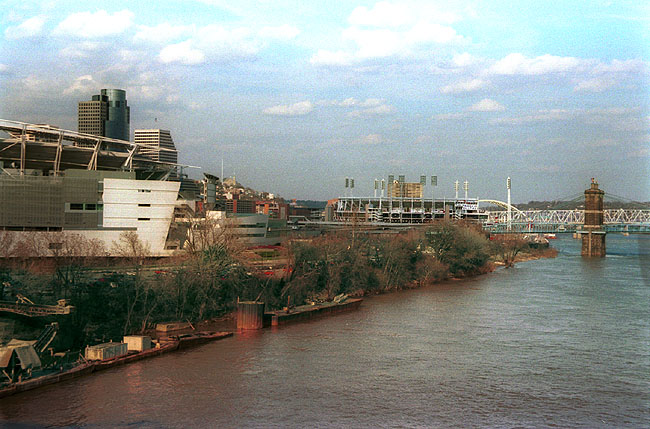 With Riverfront Stadium gone, this view from the Clay Wade Bailey Bridgegives some hint as
to the future appearance of the central riverfront.


---

2002 Archive
1. NewReds Stadium / Riverfront Development
2. ContemporaryArts Center
3. KrippendorfBuilding / Power Building / 7th & Broadway Garage
4. 6th& Race Apartments



Backto Downtown Construction News