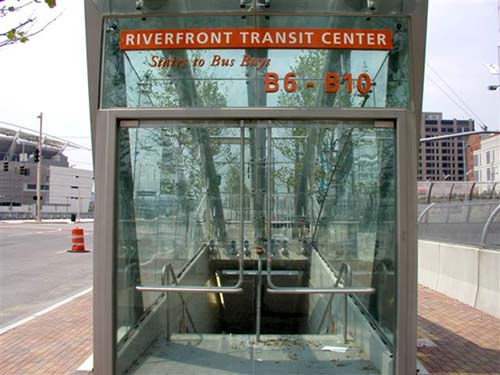 RIVERFRONT TRANSIT CENTER

The transit center was officially dedicated on May 19, 2003 after first being used the weekend of Sept 1, 2002 for Riverfest. Since last September the center's tiles and other finishing details were installed, but it will still not see regular use until 2004, when it will serve as a parking lot for school buses visiting the National Underground Railroad Freedom Center. Use will increase as the central riverfront is further developed.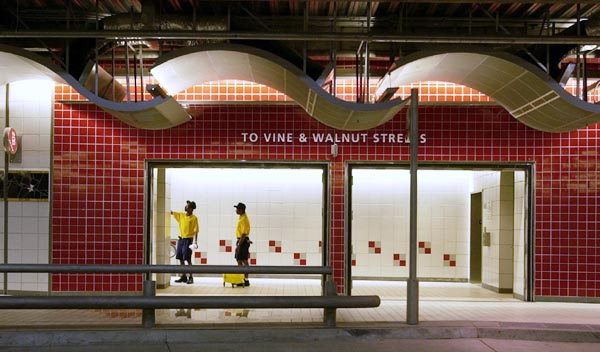 [Cincinnati Enquirer Photo]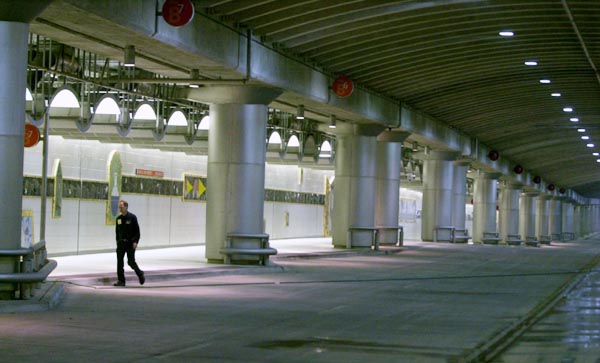 [Cincinnati Enquirer Photo]
Monday, May 19, 2003
Transit center dedication today
By James Pilcher
The Cincinnati Enquirer
It opened to limited use last fall and won't be fully in use for another year or
two. But today's dedication of the Riverfront Transit Center is more about what
the $23 million facility helped do before it was even built and what it can do
many years from now.
The center can handle up to 500
buses and 20,000 people an hour
for major events such as Bengals
games, Riverfest and the Tall
Stacks festival. Several area and
national dignitaries will be on hand
today to dedicate the center, on
Transit Center Way under Second
Street.
It also was a key addition to the
$236 million Fort Washington Way
reconstruction that helped clear
even more land for development
and provide a transportation hub
for the three main riverfront
attractions of Great American Ball
Park, Paul Brown Stadium and the
soon-to-be completed National
Underground Railroad Freedom
Center.
"It's our estimation that 60,000
schoolkids will use the transit
center to visit the Freedom Center
in its first year alone on school
buses," Freedom Center
spokesman Ernest Britton said.
"This will be one of the major assets for the projected 450,000 visitors we
expect for our first year, as well."
By combining several elements of the Fort Washington Way redesign into the
transit center, including a new water main and a floodwall that replaced the old
levee, valuable development space was opened that can now become a park
or the Banks, a proposed retail/office/residential development over Fort
Washington Way and along the riverfront.
Its designers also made the center adaptable to either light rail above, on
Second Street, or to commuter diesel rail through the center itself. And it was
the first time that Ohio's transportation funding panel approved a transit project
using Ohio Department of Transportation money.
All that, and it's not bad to look at, either. With its sleek architectural details
and hand-crafted tile mosaics that show different Cincinnati icons at the exits
to Second Street, the center welcomes visitors with a warm feel, although
transit officials hope they won't stay long.
"We really tried to include a comfortable feel, although you'll notice that there
are no benches, and the sidewalks are fairly narrow," said Sallie Hilvers,
spokeswoman for Metro, which runs the transit center on behalf of the city of
Cincinnati. "We want people to keep moving."
One thing that the transit center will
not do, at least for the foreseeable
future, is handle scheduled bus
service either from Metro or from
TANK, Northern Kentucky's bus
agency.
Hilvers said the Government Square
hub would continue as the focal point
for regular downtown bus traffic - that
area is set to receive at least a $4
million face lift. She said research
showed that many regular users of
downtown bus service either on Metro
or TANK work in the central or northern
part of the Central Business District,
and dropping them off at Second
Street would extend their walk.
"That could actually lead to a decrease in ridership," Hilvers said, adding that
the expected daily flow of buses for the Freedom Center would make it more
complicated to add scheduled service there.
As for its operational use, Metro now has a central bus-oriented tunnel with
individual bays to pick people up and drop them off for big events downtown
that agency officials say is much more efficient and safer.
"For the events we've done so far, it has gone much, much better," said Greg
Lind, Metro's sector manager of the radio control center. "When we used to
stage big events up on the plaza of Cinergy Field, people would just walk in
front of moving buses. You don't get that anymore."
# # #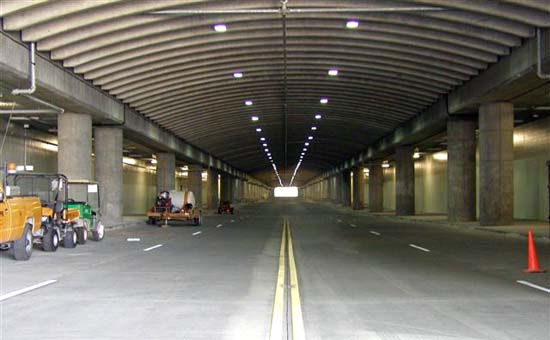 Transit center busway July 2002 [Tom Herbort photo]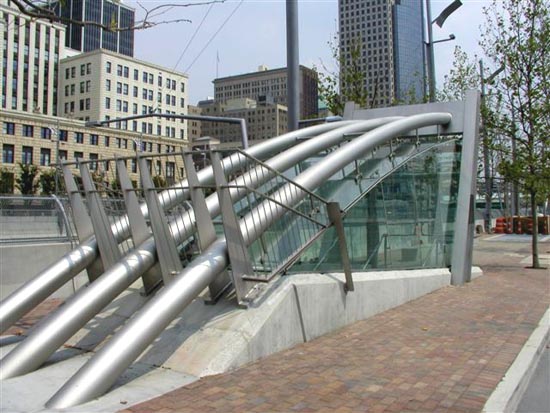 One of the transit center sidewalk entrances July 2002 [Tom Herbort photo]
I can promise photos of the newly opened transit center sometime in the future, so check back in a bit. In the meantime, the transit center article as it has appeared since 2001 can be seen below:
---
(All photos by Jake Mecklenborg June 2001)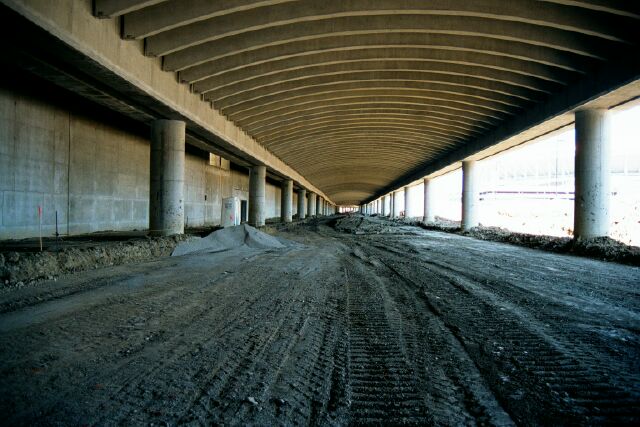 RIVERFRONT TRANSIT CENTER
Cincinnati's Intermodal Riverfront Transit Center, currently under construction and scheduled to open in mid-2002, will be among the more unusual transit facilities in the United States. It is to initially provide a staging area for special event, charter, and school buses visiting downtown and riverfront destinations, with no Cincinnati or Kentucky city buses routed through during normal operations. In the future it is expected to serve as the downtown terminus for new east/west commuter rail lines and Cincinnati-Chicago Amtrak passenger trains, with a light rail line running above on 2nd St. It is uncertain as to what if any bus service will be maintained after rail service begins, since significant modification to the structure will be required at that time.
The transit center is located directly underneath the newly constructed 2nd St., which was recently completed as a one-way eastbound feeder road paralleling the Reconstructed Ft. Washington Way. Originally, 2nd St. was to have been built on fill from the old Fort Washington Way levee, but the opportunity to economically construct a grade separated facility was seized upon and the necessary $18 million was secured from state and local sources. The elevated street was constructed of precast concrete segments and was quickly assembled from west to east during summer 2000. The transit center below is awaiting the next funding cycle and will be paved, lighted, and opened to traffic in 2002. The levee fill that was to have supported 2nd St. was instead moved a few hundred feet south to support Theodore Berry Way, the first of the new riverfront streets.
The transit center stretches eight blocks (officially 3,740ft., although that figure might the Central Ave. to Broadway distance, not the subsurface distance) between Central Ave. and Broadway, running on a straight and level alignment. The new concrete flood wall of Fort Washington Way forms the northern wall, and the southern side will remain open to the elements until proposed parking garages are built along its entire 3,000ft.+ length. At that point, the transit center will appear to be underground, even though it sits at ground level. No flood wall is planned for the transit center or the garages, and so they will be closed during major floods. Although the river rises to what is technically regarded as a flood almost every spring, it only inundates the central riverfront about once every twenty years.
The two vehicular entrances at either end of the transit center intersect Central Ave. and Pete Rose Way, underneath Fort Washington Way overpasses. A total of 100 bus parking spaces will be arranged in a saw tooth fashion. Although the transit center itself is grade separated, buses entering and exiting the facility will have to traverse city streets for a few blocks before reaching expressway ramps. Similarly, future rail lines will likely require a number of grade crossings at either end of the transit center.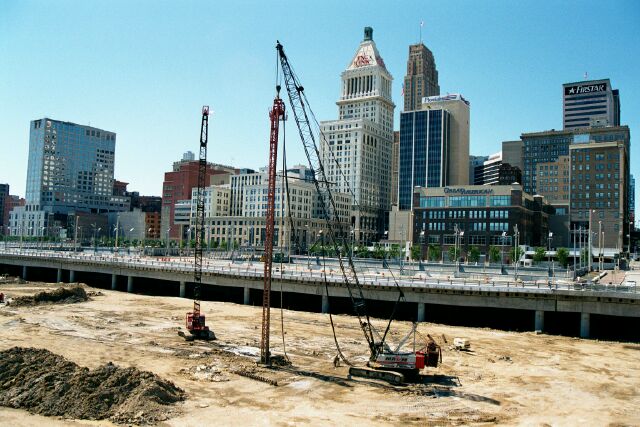 The above summer 2001 photo shows the exterior of the transit center and its proximity to downtown and the much anticipated new riverfront development. The pile driver in the foreground is laying the foundation for the "Block C" parking garage, the first of a half dozen that will eventually enclose the transit center. Each of the garages will have two parking decks, with new city blocks built at the third level, flush with 2nd St. The entire group of garages is expected to total over 4,000 spaces. Buildings atop the garages will be limited to 12 floors for aesthetic purposes and a 50 acre riverfront park will be located south of the new city blocks.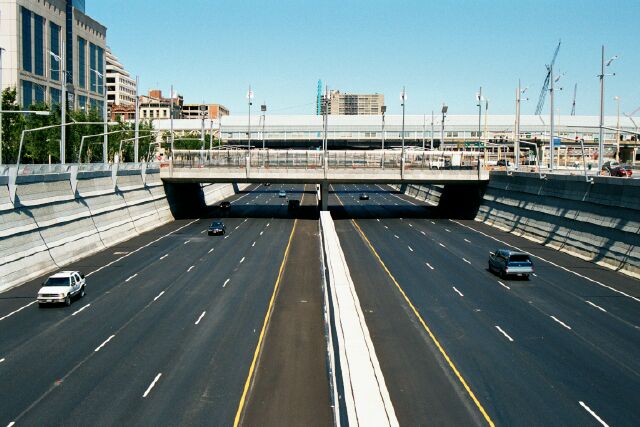 A summer 2001 view of the newly reconstructed Fort Washington Way trench, looking east from the Race St. overpass. 3rd St. and downtown Cincinnati are to the left of the photo, and 2nd St. is to the right. The floor of the transit center is at the same level as the expressway, to the right of the diagonal retaining wall. A distance of perhaps 15ft. separates the visible wall from the flood wall, which parallels it, and forms the northern wall of the transit center. Staircases and elevators to the transit center are located in this 10ft. gap, as are ventilation ducts. The stretch of Fort Washington Way visible in this photo is planned to be enclosed by a deck supporting a new city park. This project is discussed in the Fort Washington Way Decking section.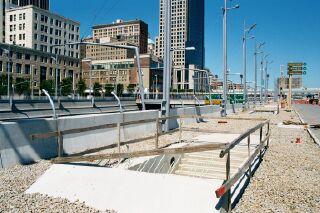 fuz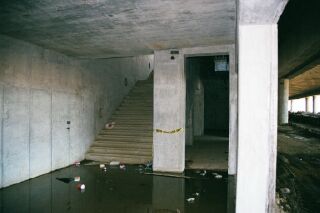 Transit Center sidewalk entrance construction, June 2001
The two commuter rail lines hoped to serve the transit center will run on existing freight railroads that both parallel the Ohio River for most of their route, with the eastern line running 7 miles to Milford and the western line 22 miles to Lawrenceburg, IN. The eastern line will probably be put into service first, and a diagram of its route and proposed station locations can be seen in the Recent Commuter Rail and Light Rail Transit Planning article. Although the western line will be much longer, it will probably attract less ridership from the sparsely populated areas west of Cincinnati.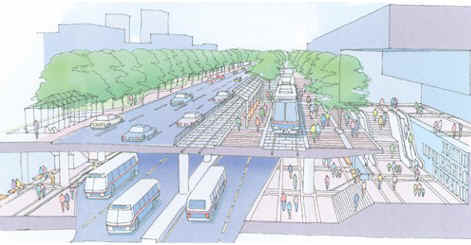 The above conceptual drawing from 1999 illustrates the more ambitious transit center originally envisioned. Downtown and Ft. Washington Way are to the left, and the new riverfront blocks are to the right. The project was scaled back because of budget constraints and because the anticipated high speed Amtrak service has not been solidified. Additionally, the transit center as constructed is narrower than the one pictured above, thereby saving valuable space to the south for development. It is expected that the two light rail tracks will run split between 2nd and 3rd St., instead of side-by-side on 2nd St. as shown here.
RIVERFRONT TRANSIT CENTER
May 2003

Background:

Imagine a transit way extending west to east under the new Second Street, safely accommodating countless Metro and TANK buses, charter buses and school buses, bringing thousands of visitors to the newly redeveloped riverfront attractions.

The new Riverfront Transit Center offers a safer, faster, and more attractive way to accommodate the large number of buses serving riverfront venues and activities. Previously, buses used the Cinergy Field plaza, which is now gone. The new National Underground Railroad Freedom Center will have its own entrance in the transit center.

The design of the Riverfront Transit Center is innovative; it is a transit facility born of a highway project. Originally, Second Street was to be reconstructed on an earthen berm; now it is built on the transit center structure. By coordinating the creation of the transit center with the larger Fort Washington Way effort, Greater Cincinnati was able to gain a valuable community resource at a fraction of the cost of doing a similar project after the riverfront is more complete.

It is estimated that as many as 500 buses per hour will be able to use the center, transporting up to 20,000 people per hour. Buses will be staged to quickly replace filled ones. The transit center is now fully operational and will be completed when the National Underground Railroad Freedom Center opens in 2004.

The center allows convenient, efficient staging of buses during Reds and Bengals games and major riverfront events like Tall Stacks and Riverfest.

Project partners:

Federal Highway Administration

Federal Transit Administration

Ohio Department of Transportation

Kentucky Transportation Cabinet

OKI Regional Council of Governments

Hamilton County

City of Cincinnati

Southwest Ohio Regional Transit Authority

National Underground Railroad Freedom Center

Design and engineering services provided by Parsons Brinckerhoff, in conjunction with Wallace Floyd Design Group of Boston

Facts at a glance:

Owner: City of Cincinnati

Operator: Metro

Length: 3,740 ft.

Width: 84 ft., 7-5/8"

Tons of concrete: 23,800 tons (11,750 yards)

Groundbreaking: Nov. 5, 1999

Dedication: May 19, 2003

Cost: $18 million for transit portion