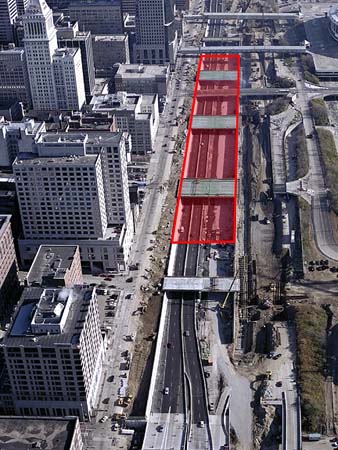 Ft. Washington Way Decking

Ft. Washington Way was originally built from 1959-1963. The mile long expressway was characterized by a mess of simultaneous right and left side entrance and exit ramps, short merges, poor signage, and a necessary aggressiveness by drivers. The idea for a deck over the old Ft. Washington Way trench had been tossed around for years, but with the significantly narrower trench promised by the 1998-2000 reconstruction the idea was much more practical. Due to a lack of funding the deck was left out of original reconstruction plans, however after construction was well underway in 1999 the idea was revived.

Funding for the pile driving was secured and actual work took place from Feb 2000 through August. Four decks of various sizes between originally planned overpasses will combine for a total tunnel length of 1200ft. 750 piles were driven, with 3 rows of 250 along the north edge, south edge, and median between the eastbound and westbound lanes. The cost of the pile driving was $10 million and estimated cost of the future supports and actual decking is $46 million. $14 million was saved by driving the piles before reconstruction was complete. The deck will not be built until at least 2005, when development south of the expressway is complete. The deck itself will be designated as a park, and so therefore will be eligible for funds from additional sources.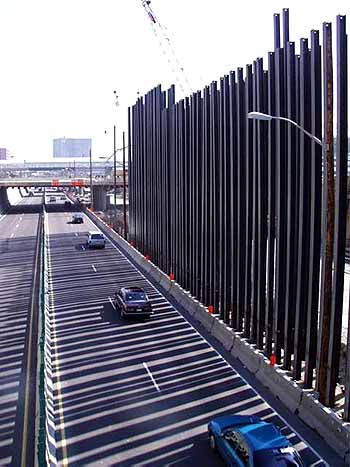 View of the center median piles, in March 2000.
The project is different from the nearby Lytle Tunnel, which was built for preservation purposes. This new tunnel is instead intended to eliminate the physical and psychological barrier that the eight lane expressway presents in order to improve nearby property values and encourage development.


[Jake Mecklenborg November 2004]

Walnut St. was extended south in 2004 where the Riverfont Stadium garage stood just two years earlier. The much narrower Ft. Washington Way is barely detectable in this photo and illustrates how future riverfront development will be better integrated with downtown.

Although technically a cut-and-cover tunnel, with the cut having been made in the late 1950's and the cover 45 years later, this tunnel may never be commonly referred to as or have an officially designated name. This is despite being greater in length, width, and traffic volume than the nearby Lytle Tunnel, and with what will surely be a more popular park above. While the decking's eventual place in the local language is at this point unpredictable, we can be sure that it will be a positive addition to the downtown landscape and a major step towards reclaiming the city's fringes from the expressways. See Fort Washington Way for more info and dozens of photos.
---