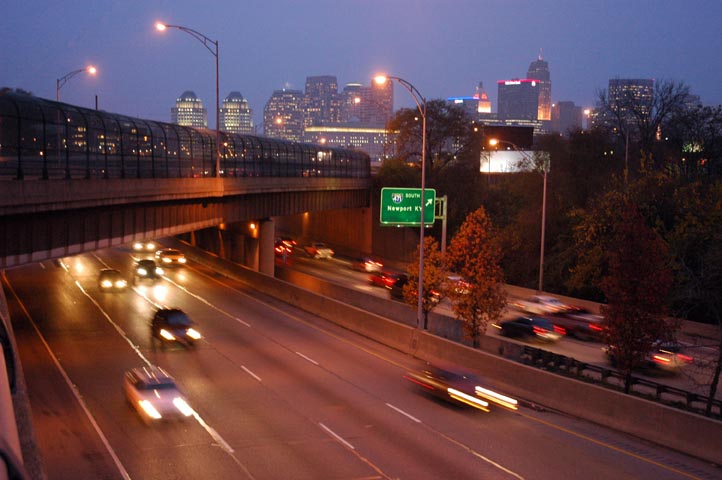 INTERSTATE 71

Interstate 71 travels a distance of 345 miles between Louisville, KY and Cleveland, OH. Other major cities along its route are Columbus, OH and Cincinnati. This article primarily discusses I-71 in Cincinnati from the Brent Spence Bridge to the Little Miami River. The major interchanges within this stretch from south to north are I-75 (mile 0), I-471 (mile 2), the Norwood Lateral (mile 7), the Red Bank Expressway (mile 9), and Cross County Highway (mile 14). Other major elements are Fort Washington Way (mile 1), the Lytle Park Tunnel (mile 1.5), and the twin bridges over the Little Miami River gorge (mile 38).

In early planning what was to become I-71 was referred to as the Northeast Expressway. It was planned to parallel the radial Gilbert Ave./Montgomery Rd. (U.S. 22) and cross the two a combined three times, first Gilbert Ave. at the base of Mt. Adams, then Montgomery Rd. in Evanston, and again in Kenwood. From Norwood to Evanston., the expressway was to run in the shallow Duck Creek Valley, where a never-built surface running stretch of the subway was originally planned. In its approach to downtown Cincinnati, the expressway was to deviate from the subway route, passing through Walnut Hills, with a sharp descent into the Cincinnati basin via the Deer Creek Valley.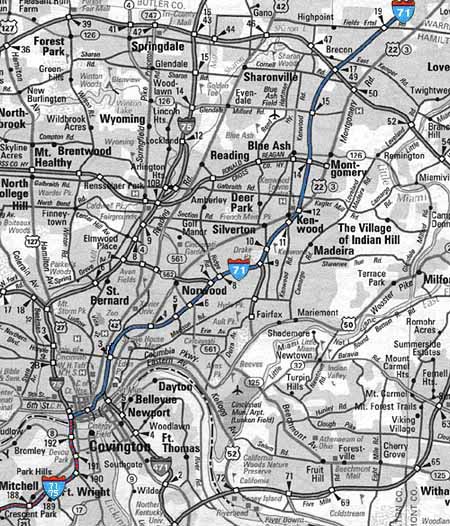 Click here for a larger version of this map.
It is the 3% grade of the Walnut Hills "pass" between Mt. Auburn and Mt. Adams that made the Northeast Expressway feasible, and why I-71 as built travels almost precisely over the route envisioned in the 1940's. In the 19th century this two mile semicircle of hills prevented a major rail entrance from the northeast to downtown Cincinnati and greatly influenced the location and character of the city's subsequent growth. In 1853 work began on a 9,000ft. tunnel that would have stretched approximately from Eden Park Drive to the Blair Ave. overpass. Perfectly straight, double tracked, and pitched at an easy .75% grade, the Deer Creek Tunnel would have ranked among the nation's great engineering feats of the mid-19th century. More importantly it would have directed mainline freight and passenger service directly into downtown Cincinnati, greatly affecting the later shape of downtown, and the vicinity of its northern portal in Evanston. About 30% of this tunnel was completed before the project was abandoned in 1855. After the Civil War, the CL&N was built mostly on the surface above the unfinished tunnel, its 3% grade beside Gilbert Ave. relegating it to light duty status. The CL&N was still operational when I-71 was constructed but was abandoned in the 1980's. The ability of modern cars and trucks to safely climb and descend grades much steeper than railroads made construction of I-71 possible without any tunneling.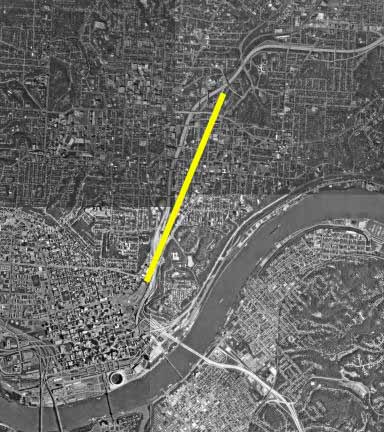 Route of the incomplete Deer Creek Tunnel, with I-71 clearly visible.
No sections of the "Northeast Expressway" opened before its designation as I-71, but it was still interchangeably referred to by its original name in newspaper reports for several years. No Northeast Expressway signs were ever erected, unlike the Millcreek Expressway. The first section of I-71 to open was between I-270 in Columbus and a point a mile within Hamilton County near the Warren County line. This stretch was dedicated in October 1964 before any construction began in Cincinnati within the nonexistent I-275 loop. The first stretch to open closer to Cincinnati was from I-275 to Kenwood Rd. in December of 1969. The Lytle Tunnel and the elevated mile north to Reading Rd. opened in downtown Cincinnati in 1970. The gap between Eden Park Dr. downtown and Dana Ave. was not filled until December of 1974. A 1973 landslide at the base of Mt. Adams, another the following year, and subsequent design and construction of the nation's first post-tensioned retaining wall delayed opening of the I-471 connection until 1985.
I-71 through Downtown Cincinnati
I-71 forms the southern and eastern border of Cincinnati's central business district, interchanging directly or indirectly with roughly a dozen city streets, in the process separating downtown from the riverfront to the south and from Mt. Adams to the east. From the Brent Spence Bridge, I-71 separates from I-75, turns east, and and descends into the Ft. Washington Way trench. This mile was originally completed in 1961 (The Brent Spence Bridge opened in 1963 and I-75 north of the bridge in 1964) but was completely rebuilt from 1998-2000. At the southeast corner of downtown, I-71 curves north through the Lytle Tunnel. Fort Washington Way and the Lytle Tunnel are discussed on this website at length in separate sections.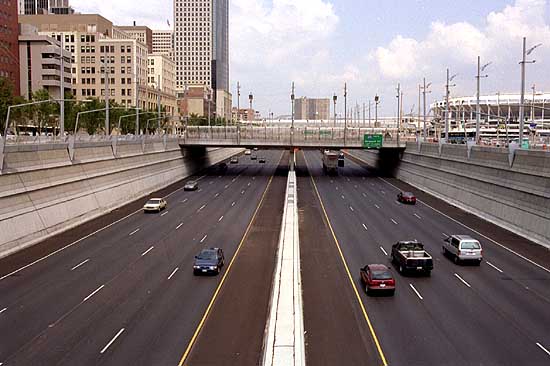 I-71 through the recently rebuilt Ft. Washington Way trench.
[Jake Mecklenborg 2001]
North of the tunnel, I-71 travels for a mile elevated above the former CL&N railroad yard, separating downtown from the base of Mt. Adams. Although this section appears extremely complicated, no ramps in this area connect I-71 directly with downtown streets, with the exception of 5th St. to I-71 north. This stretch reconfigured Gilbert Ave. and to a lesser extent Reading Rd. and Liberty St. into expressway feeders, and used the Lytle Tunnel's single-lane center tube as its primary downtown exit. This center tube led to a single lane distributor that ran in Ft. Washington Way's median with exits at Main St. and Vine St. The center tube now leads to a simple four-way intersection with 3rd St. and Broadway.

I-71 at the Eden Park Drive/Dorchester Ave. interchange.
[Jake Mecklenborg November 2004]

Since the opening of this stretch of I-71 in 1970, I-471, its massive four-lane 6th St. exit, and reconstruction of the Gilbert Ave. Viaduct have changed the landscape. I-471's large four lane 6th St. exit ramp opened in 1985 and the 3rd St. Viaduct was rebuilt contemporaneously with Ft. Washington Way 1998-2000. Additionally, the CL&N railroad ceased operations, but segments of its tracks remain at certain points, and its bridge still stands just south of the Reading Rd. ramps. Its short tunnel survives in Walnut Hills as well, immediately parallel to the I-71 north ramp from McMillan St.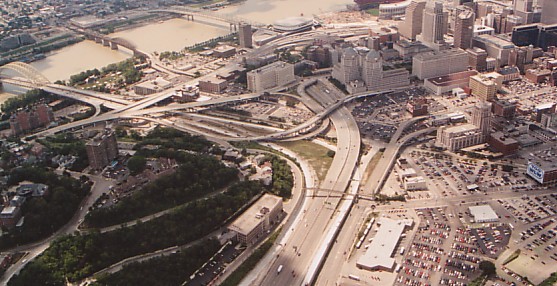 Overhead view of I-71 approaching the Lytle Tunnel
[Larry Stulz photo]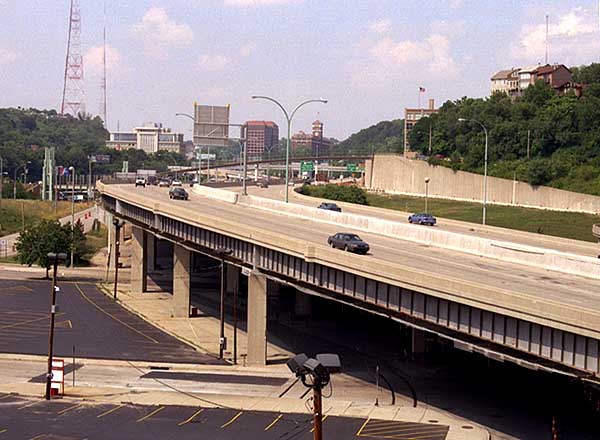 A view of elevated I-71 downtown from the I-471 6th St. exit.
Girders in this area have since been repainted green.
[Jake Mecklenborg June 2001]

I-71 Walnut Hills / Evanston
This final I-71 link opened in 1974 and travels directly through the residential neighborhoods of Walnut Hills and Evanston. It is the site of some of Cincinnati's more eccentric expressway construction, including the area's longest non-feeder interchange ramp. This southbound entry ramp from Montgomery Rd. parallels the the expressway for several blocks, then swings out of view for a few hundred yards before merging with the expressway over a half mile from its point of origin. All other interchanges along this stretch are irregular, prompting the Cincinnati Post to publish diagrams of them in preparation for their opening (that article and its diagrams will be added to this site in the future).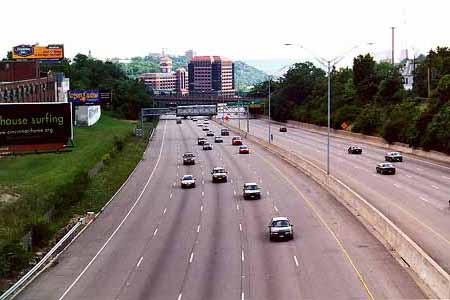 I-71 viewed from the McMillan St. overpass.
[Jake Mecklenborg Summer 2000]
This stretch was originally planned to include two additional major interchanges, one at Martin Luther King Dr. and the other at Victory Parkway. The Martin Luther King interchange was dropped due to budgeting and proximity to the McMillan Ave. ramps, but its construction is now expected by 2010. Meanwhile, city council fought against area residents for construction of the Victory Parkway interchange. According to a 1970 Cincinnati Enquirer article, the Victory Parkway interchange "would deface the environment and interfere with the 'quality of life' in an area...". Construction was blocked and Victory Parkway carries on today without an interchange and is probably the better for it.
Between Victory Parkway and Martin Luther King Dr. stands the large Blair Ave. overpass, carrying four lanes on what is probably the longest and highest I-71 local road overpass. My guess is that it was at one time intended as the compromise site for an interchange in the area. There is no other explanation for its existence, as it connects Reading Rd. and Montgomery Rd. via obscure side streets and no doubt those who live nearby rarely use it as a shortcut. When taking photographs on it for this website, I had all four lanes to myself for several minutes without a single passing car. By all appearances it is among the most conspicuous wastes of expressway funding in the Cincinnati area and costs a substantial amount of money to maintain.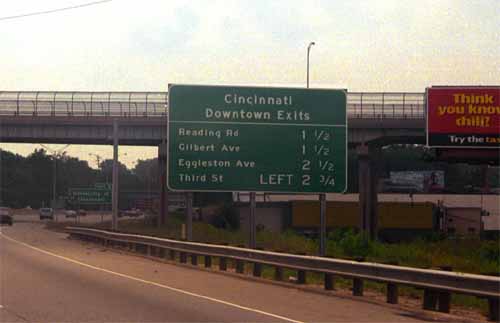 Southbound at the Blair Ave. overpass in summer 2001.
Much of the stretch through Evanston obliterated Duck Creek Road, but five sections of it still exist. Check out http://www.duckcreek.org/ for an extensive overview of what was and what still remains of Duck Creek Rd. and the surrounding area.

I-71 Norwood through I-275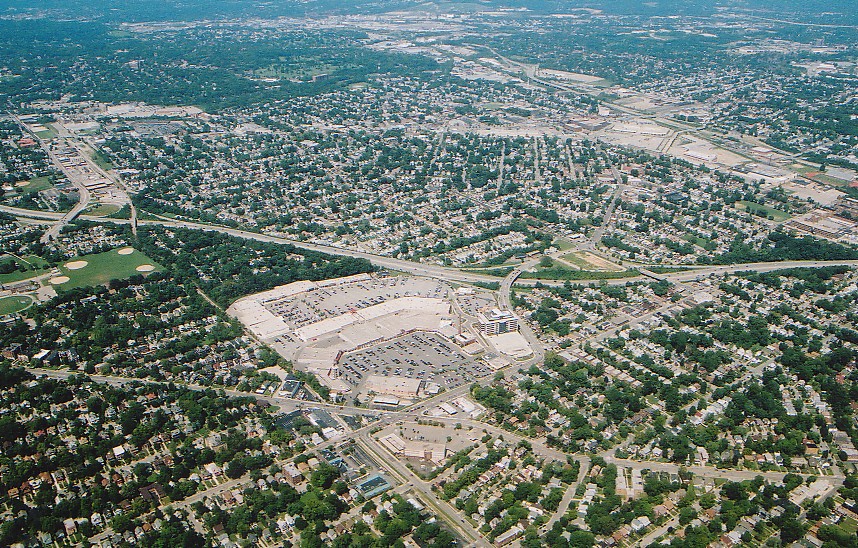 Summer 2004 view of I-71 just south of the Norwood Lateral.

I-71's eccentric ways continue through Norwood, which is the site of one of the Cincinnati area's most convoluted interchanges. Here the Norwood Lateral terminates simultaneously at Ridge Ave. and I-71. The lack of major roads in the immediate area resulted in interchange ramps that in several cases originate or run onto residential side streets. The situation is complicated by a nearby railroad wye and the B&O mainline, which cross the expressway at several spots. Perhaps most problematic is the wye approach bridge over the ramp connecting the eastbound Norwood Lateral to southbound I-71, which blocks the view of the I-71 merge and dictated the ramp's sharp curve.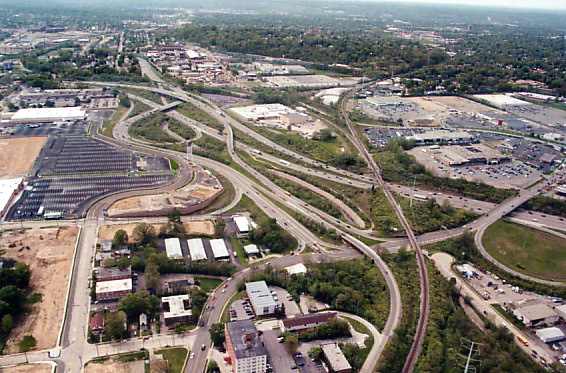 I-71 mile 7 at the Norwood Lateral interchange.
[Larry Stulz photo]
I-71 travels due east from Norwood to the three-level Red Bank Rd. interchange, or "Red Bank Modified Expressway" as it was officially labeled during planning and by its present signage. The Red Bank "expressway" connects I-71 with Columbia Parkway but is simply a wide road with a high speed limit. It intersects most area roads at grade and is lined by many businesses.


The Red Bank Rd. interchange.
[Larry Stulz photo]


<>

Another view of the Red Bank Rd. interchange.
[Larry Stulz photo]


The Red Bank Rd. interchange marks the spot where I-71 leaves the prewar density of Cincinnati and Norwood and enters postwar suburbs. I-71 is generally lined by woods and neatly kept residential areas north of this point.


I-71 at Kenwood Rd.
[Larry Stulz photo]

After Kenwood Rd., home to Kenwood Towne Center and other large retailers, the next noteworthy point along I-71 is the Cross County Highway interchange. This interchange is the site of the two at-grade expressway interchange ramps in the Cincinnati area. Here southbound I-71 southbound drivers must cross the westbound lanes of Cross County Highway in order to head east to Montgomery Rd. Immediately east of the I-71 bridge is a 3-way interchange between the through lanes of Cross County Highway, a northbound exit ramp from I-71, and an entrance ramp to I-71 north.
North of Cross County Highway I-71 is intermittently lined by high sound-proofing walls which were installed in the early 1990's. Ivy has since begun to grow up the walls at various spots, and some area residents decorate their section of the wall for Christmas and 40th birthdays.

I-71 north of I-275
The I-275 interchange sprawls over a large area and unlike the nearby I-75/I-275 interchange natural foliage was retained in the spaces between ramps. The interchange is highly congested due recent development in the area. Fields-Ertel Rd., the first interchange north of I-275, is a disaster in suburban planning. Due to the inability of local officials to limit building permits in the 1990's, the most aggravating traffic in the Cincinnati is not downtown, but 19 miles northeast of it.
The next interchange is King's Island Amusement Park, which opened in 1972. The park's rides have distracted passing drivers since and have no doubt resulted in a few wrecks over the years. Significant suburban growth came to the area in the 1990's, but as of yet it has not extended north of this interchange.
About 10 miles northeast of King's Island I-71 crosses the Little Miami River Gorge on the longest interstate bridge in Ohio. A rest stop and scenic overlook is located at this point. The overlook was never very scenic to begin with, and hillside trees have obscured most of the view so that it is not worth stopping to see today.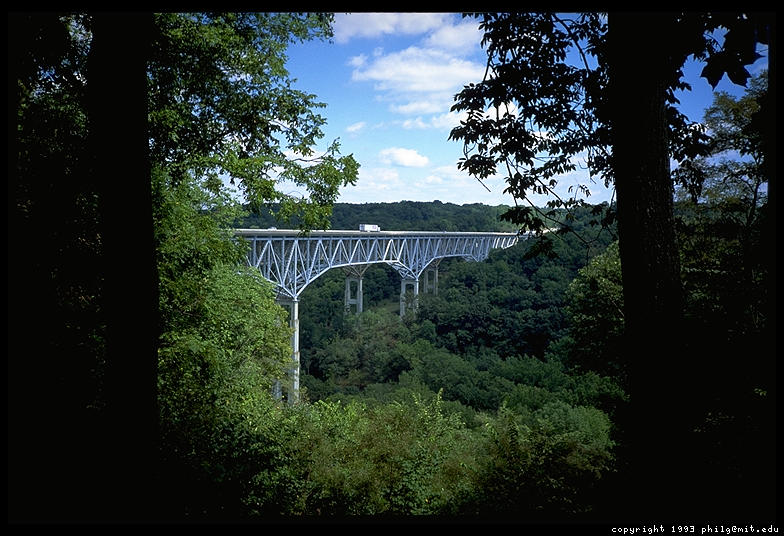 1993 photo by Philip Greenspun

North of this point I-71 heads directly for Columbus Ohio, with its longest single straight stretch measuring seven miles.
---
More photos: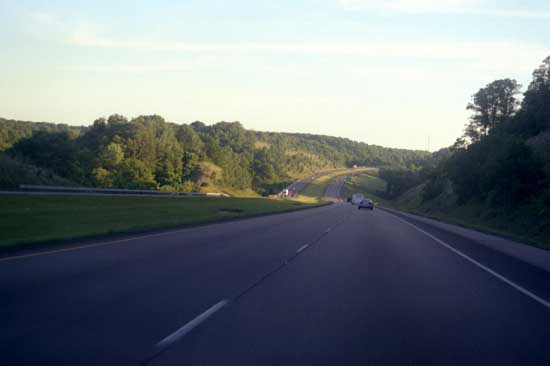 I-71 heading south in Kentucky towards Louisville. For info on I-71/75, see the I-75 section.


I-71 at the Eden Park Drive/Dorchester Ave./Florence Ave. interchange,
looking south toward downtown.
[Jake Mecklenborg November 2004]


Many interstate signs are in need of updating -- Riverfront Coliseum has
changed names three times since 1997 and the stadium to which this
sign refers was demolished in 2002.
[Jake Mecklenborg November 2004]


I-71 at Pfeiffer Rd.
[Larry Stulz photo]


I-71 at King's Island Amusement Park.
[Larry Stulz photo]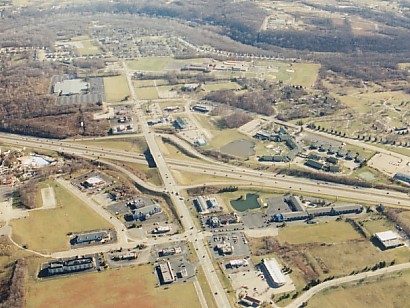 I-71 north of King's Island.
[Larry Stulz photo]