GILBERT AVE. VIADUCT


The original Gibert Ave. Viaduct connected the avenue with the central business district at the intersection of 9th & Broadway. It bridged Deer Creek, Eggleston Ave., and the CL&N Railroad. The viaduct stood in the path of I-71 and was demolished in the late 1960's. The replacement "viaduct" looks no different than any other contemporary expressway overpass. The new viaduct splits, with the outbound arm intersecting Broadway at 8th St. and the inbound ramp Broadway with 9th St. Very few call this overpass the Gilbert Ave. Viaduct, and the original has been forgotten by the general public.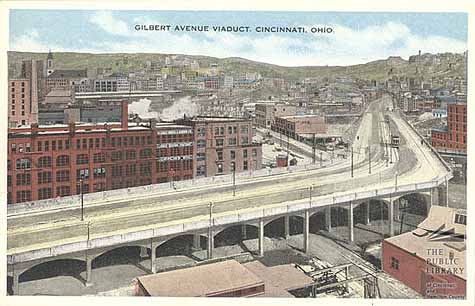 View of viaduct looking northeast towards Walnut Hills and present-day path of I-71.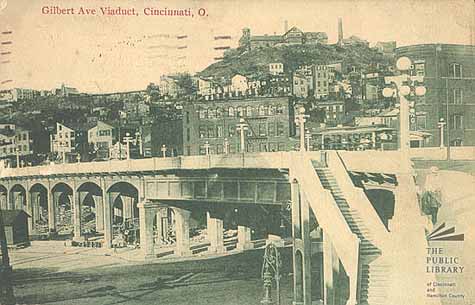 View of viaduct over Eggleston Ave. Old Ida St. Bridge barely visible at top left.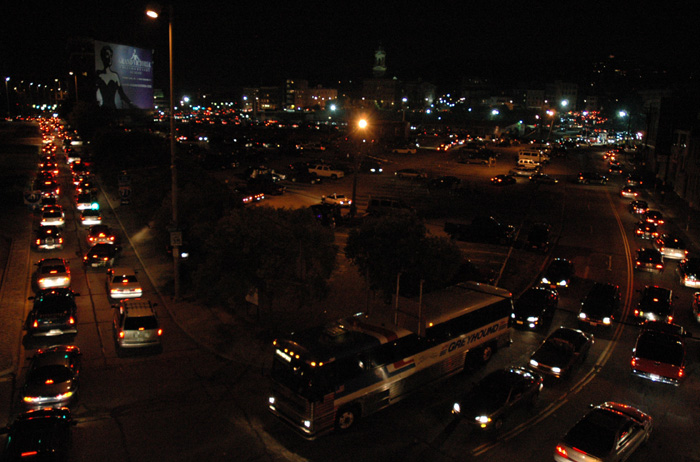 View from the viaduct of the post-fireworks traffic jam on September 4, 2004, at approximately 10pm.
Eggleston Ave. is at left and Old St. Paul's steeple is visible in the distance.
[Jake Mecklenborg 2004]


1. Recent Gilbert Ave. Viaduct Photographs
2. Back