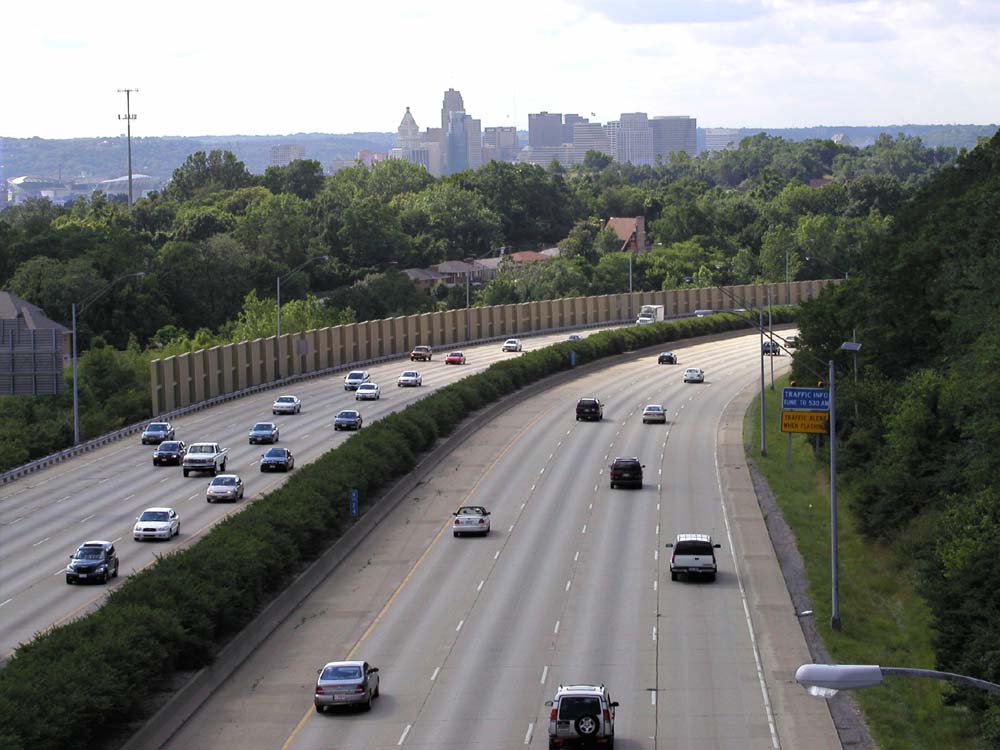 INTERSTATE 471

Interstate 471 is a 4.8 mile radial expressway connecting I-71 in downtown Cincinnati with I-275 in Alexandria, Kentucky. Its major elements are the three mile descent from I-275 onto the Ohio River flood plain, its mile run along the Newport/Bellevue border, the landmark Daniel Carter Beard Bridge, and its elaborate interchange with I-71 and downtown Cincinnati's city streets. Despite its short length and generally attractive appearance, I-471's construction was slow, expensive, and controversial.

During initial planning in the early 1960's, what became known as I-471 was dubbed the "Riverside Expressway". Early plans for a routing through Newport in Covington would have seen an expressway split from I-75 in Covington south of the Brent Spence Bridge, cross the Licking River just south of its confluence with the Ohio, continue along the Newport riverfront, and join I-71 via a bridge at the approximate location of today's Daniel Carter Beard Bridge. This routing would have relieved Fort Washington Way of its through traffic and possibly avoided the necessity of the Lytle Tunnel. But it would have attracted its own local traffic and would have destroyed dozens of historic city blocks, including Covington's famous riverfront mansion district and Newport's Southgate House.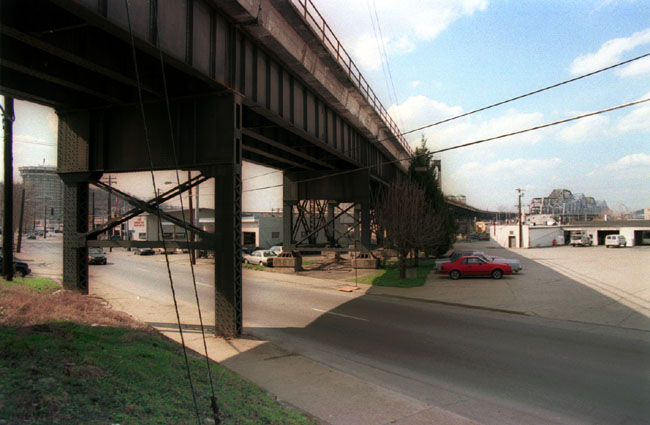 The proposed Riverside I-471 routing would have passed high over the C&O Viaduct
somewhere in the pictured area, roughly parallel to the street in the foreground.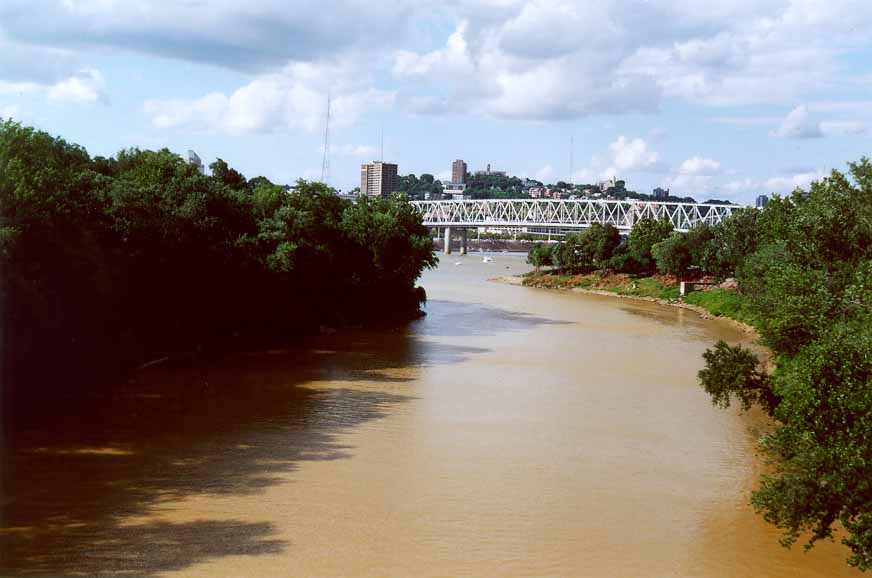 The proposed Riverside I-471 routing would have crossed the Licking River in this area.
The Taylor-Southgate Bridge, which is not part of the expressway system, can be
seen in the distance.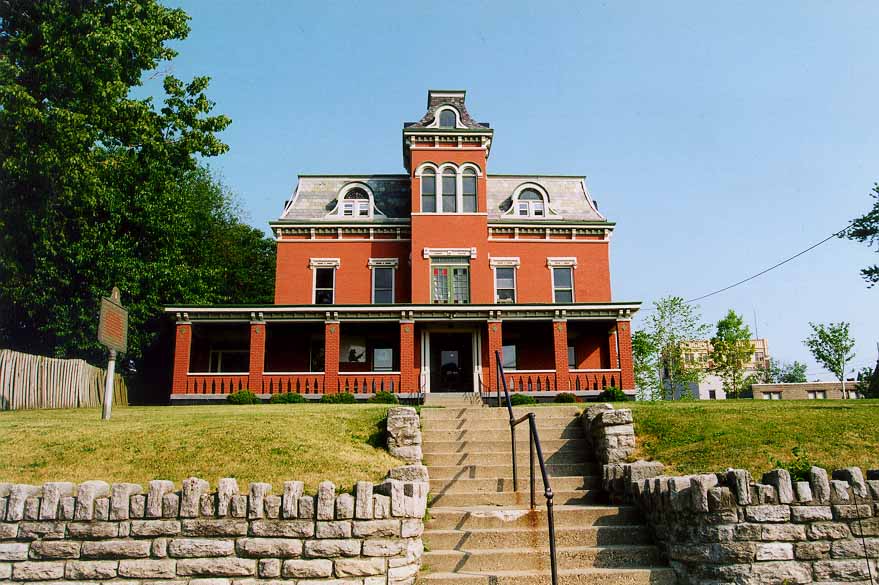 Newport's Southgate House (1820) would have been bulldozed to make way for the
Riverside Expressway. About a dozen pre-Civil War mansions would have been
demolished in Covington as well.

The Riverside scheme was killed by Covington and Newport leaders and replaced by a radial routing similar to what was actually built. In the middle 1960s completion of the expressway was scheduled for 1972. But property acquisition did not begin until 1968 and construction of the Ohio River bridge did not begin until 1971. The Ohio River bridge and I-71 connection were planned as the first segment to open, but the entire project suffered a delay when work caused a landslide at the base of Mt. Adams in 1973. The foundations of many Kilgour and Baum St. buildings were corrupted, and ten beyond repair were immediately demolished. While various retaining walls for the hill had been planned, as a result of the slide all wall plans were redrawn, as well as plans for nearby ramps. Lawsuits filed by area property owners further delayed matters. Work did not begin on the wall until 1978.


An evening view of the I-471 bridge from Mt. Adams.
[Jake Mecklenborg November 2004]


>Meanwhile, construction of the Daniel Carter Beard Bridge began in 1971, its twin yellow tied arch spans were positioned in 1974, and it opened to limited traffic in 1977. This first segment of I-471 consisted of the bridge, a looped northbound entrance ramp at Riverside Dr. in Newport, the northbound exit to eastbound Columbia Parkway, and a temporary northern terminus at Eggleston Ave. Southbound I-471 terminated via a temporary ramp at 3rd St. in Newport (a residential side street), and had entrances from the 3rd St. Viaduct in Cincinnati and a temporary entrance from Eggleston Ave. With limited downtown access and no connection to I-71, the Kentucky portion of I-471 was without much purpose and its construction was delayed until the Mt. Adams situation was resolved. Work on the huge retaining wall that would secure Mt. Adams did not begin until 1978, and its completion was anticipated in roughly 18 months. At that time it was announced that the I-71 connection would open in 1980.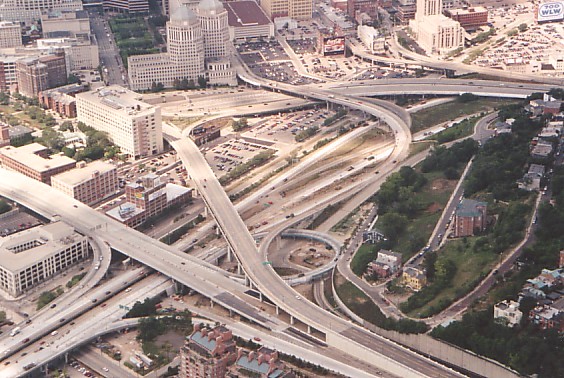 2001 view of I-471 connection with I-71 and downtown.
[Larry Stulz photo]
In 1977 work on the I-471 segments in Kentucky were given the go ahead, to be constructed in three phases: I-471 Bridge to Grand Ave., Grand Ave., to Alexandria Pike, and the remainder to I-275. The 3/4 mile section between Alexandria Pike and the I-275 interchange was the first to open, on November 1, 1980. The next was the connection to Grand Ave., that following January. The final link in Kentucky between the I-471 bridge and Grand Ave. was dedicated on September 18, 1981. Between 6th St. and the C&O RR overpass this stretch runs along the Newport and Bellevue corporation lines, dividing both the cities and their respective high schools -- Bellevue High School's old football stadium flanks the east side of the highway, and Newport High School and its stadium flank the west side. Here I-471 is on the Newport side of the line, and a lengthy viaduct along this stretch provides hundreds of covered parking spots for Newport High School.
When this final segment was opened, the interchange with Riverside Dr. on the Newport riverfront was not modified, and the two ramps dating from the bridge's original construction carried on for several years. More than a decade earlier, Newport endorsed in 1967 what came to be known in subsequent controversy as the "Fourth-Fifth" St. ramps, which would have moved the temporary southbound 3rd. St. ramp to 4th St. and added an entrance ramp to I-471 southbound from 5th St. Late 1970's opposition from area residents successfully blocked their construction, and "Alternate 3-A" became the favored plan. Alternate 3-A would have replaced the southbound 3rd St. ramp with a long looped flyover ramp to interchange with Riverside Dr. beside the as-yet unbuilt northbound ramp to that same location.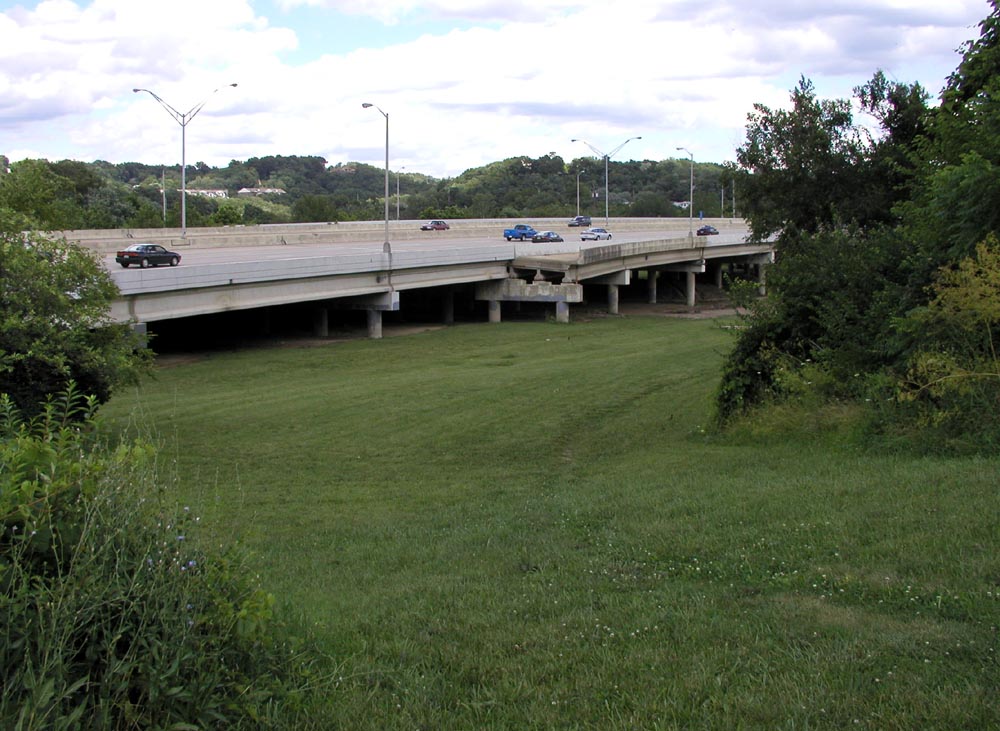 The site of the never-built 5th St. entrance ramp.
Not until 1985 was a southbound entrance ramp from Riverside Dr. constructed, and the long northbound ramp to Riverside Dr. was built at the same time with adequate merging space for the planned southbound looped ramp. But as anyone who has been to Newport in the last 25 years knows, the "temporary" 3rd St. exit ramp is still in service. And with a recent increase in Newport's riverfront development, even more traffic has found its way onto the 3rd St. ramp, with decisive action necessary if development continues. It is not anticipated that money will be allocated for improvement of the ramp until about 2010, when a looped ramp will be built under the through lanes of the expressway, instead of the overpass scheme of Alternate 3-A. In an obscure side note, this ramp was pictured for about five seconds in the 1993 rollerblading movie Airborne.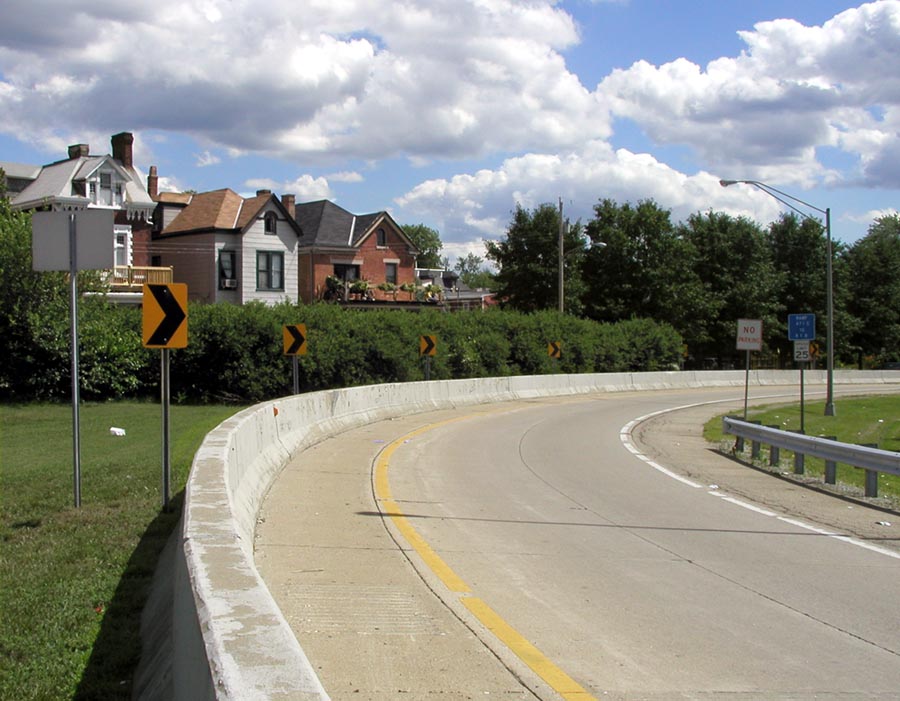 A July 2003 view of the 3rd St. exit ramp. The ramp dumps traffic directly onto
residential streets.
On the Cincinnati side, a 1980 opening was announced when work on the retaining wall began in 1978. Unfortunately, construction of the wall was slow and caused damage to even more hillside buildings. Four more Baum St. buildings were demolished in 1982, including the childhood residence of your author. The northbound connection to I-71 opened November 1, 1984 and southbound on July 1, 1985. The 5th & Pike St. entrance ramp, northbound ramp to the 3rd. St. Viaduct westbound (the one that loops through the legs of the 5th St. Viaduct), and connection between Columbia Parkway and I-471 northbound's massive 4-lane exit ramp to 6th St. were finished by 1986.
I-471 carries the only two Queen City Metro bus routes to travel into Kentucky, the 75X and 82X. Or rather it carries them through Kentucky, since they like much of I-471's traffic originate and terminate in Ohio. While I-471 enabled development of rural Campbell County, it also acts together with I-275 as a Columbia Parkway by-pass, providing the fastest route downtown from Cincinnati's southeastern suburbs. It might be the nation's only example of a commute in which riders travel through another state in order to reach their city's downtown.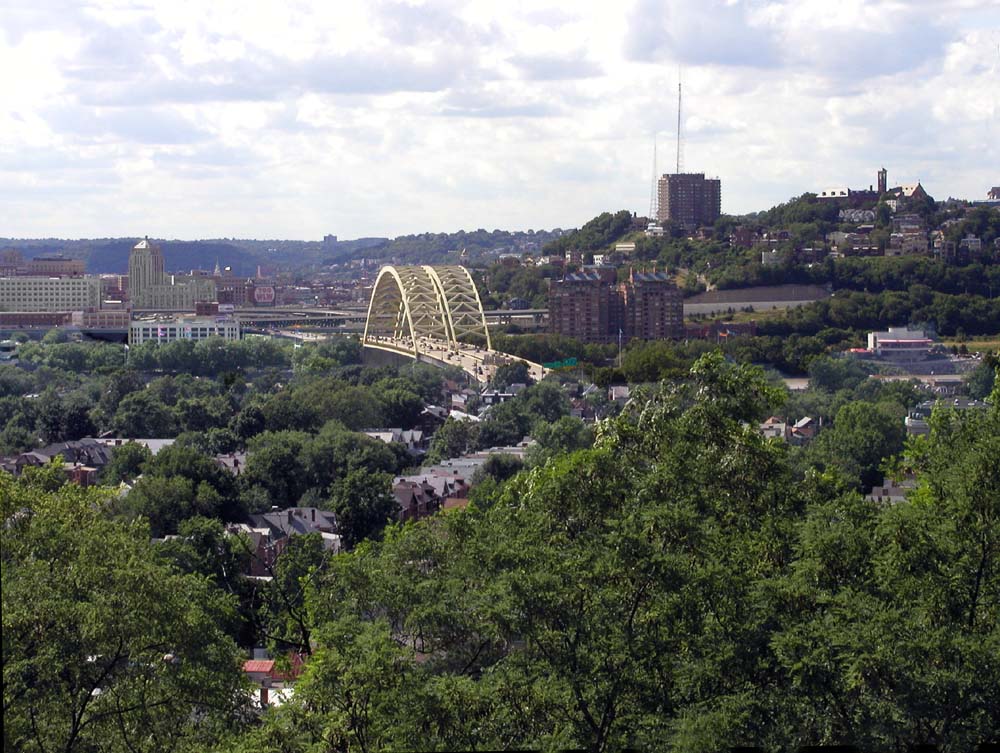 July 2003 view of I-471 bridge and Mt. Adams viewed from Wiedeman Hill.
I-471 was only slightly affected by the massive 1998-2000 reconstruction of Ft. Washington Way. The Third St. Viaduct was dismantled and rebuilt in a six-lane configuration, closing the northbound ramp from I-471 for three years. Thanks to the viaduct's new third lane, which accepts traffic from the ramp exclusively, the situation is much safer. Partial demolition of the WCI building at Pete Rose Way & Eggleston Ave. allowed reconstruction of the viaduct's sharply curved original ramp to southbound I-471 on a wider radius and with two lanes. The Daniel Carter Beard Bridge was restriped for four lanes in each direction, eliminating the emergency break-down lanes. No major changes are currently planned for I-471, although there is some talk of widening its Ohio River crossing with a new bridge or bridges and widening its approach to I-275.


I-471's descent to the Ohio River, viewed from Eden Park.
[Jake Mecklenborg November 2004]

I-471's birth slow to come
Plans and routes changed many times
Pieces of the Past column by Jim Reis
Northern Kentucky is booming and a key part of that growth is the area's beautiful and vibrant riverfront with its mix of historic mansions, modern offices and hotels and fine dining.
Things could have been very different.
In the early 1960s expressways were the talk of Northern Kentucky.
Among the proposals were a quick route to the airport, which would become Interstate 75, and a circle freeway linking Boone, Campbell and Kenton counties. That became Interstate 275.
Each road would present its own design and construction headaches, but arguably the worst of them all was a relatively short and insignificant project dubbed the ''Riverside Expressway.''
That expressway would eventually be built, but under a radically different design and route. Today it is Interstate 471.
By spring 1961 it was well under construction. The first local section of the road - between U.S. 42 in Florence and Ky. 22 in Dry Ridge - would open later that year.
The big question in 1961 was the route of the circle freeway, which by that point was targetted to run through Northern Kentucky from Lawrenceburg in Indiana to the California area of Cincinnati.
With the circle freeway the main issue, plans for a third expressway gathered little attention in local newspaper accounts. That is until March 29, 1961, when a front-page story said Covington and Newport had been given a six-week deadline by state and federal officials as to the route of what was termed the Riverside Expressway.
A Kentucky Post account that day said the Riverside Expressway would be officially called Interstate 471. It was to connect eastern Cincinnati to I-75 in Covington. It also would link Newport into the local expressway system.
The route was not set, but it basically was to run from a new bridge to be built east of the L&N Bridge in Newport and along the northern end of Newport, crossing the Licking River into Covington over a new bridge to be built north of the Fourth Street Bridge and then continuing through Covington to Philadelphia Street with exit ramps at Scott, Greenup and Russell streets.
Both Covington Mayor John J. Moloney and Newport Mayor Ralph Mussman responded quickly to the proposal with a no.
The Kentucky Post added its opposition, calling it a ''pesky'' proposal that the cities had to kill once and for all. The newspaper said the proposed route would destroy Covington Riverside Drive houses and kill riverfront development plans in both cities.
The firm opposition eventually caused the plans for an expressway across the Newport and Covington riverfront to be dropped, but the idea of I-471 would not die.
The expressway proposal resurfaced in summer 1962. This time I-471 was proposed as a ''spur'' off the circle freeway, running in a north-south direction from Highland Heights to Newport. Planning for the proposed new route, however, would be slow.
In March 1963 the route for the circle freeway was finally approved by the Federal Bureau of Public Lands. A March 30 Kentucky Post story said the freeway would span 24 miles in Northern Kentucky and cost about $50 million.
The same account said plans for I-471, however, remained under review. The cost of the $4.8-million expressway was re-estimated at $26 million.
By 1967, I-75 had been in use for almost four years and land was being purchased for I-275, but I-471 still remained on the drawing board. A map released in December 1967 showed the proposed I-471 running along the route on which it was later built, with interchanges at I-275, U.S. 27 in Southgate, Grand Avenue in Fort Thomas and Memorial Parkway in Bellevue. The ramps in Newport, however, were still much in debate. One drawing showed entrances northbound from Riverside Drive and southbound at Nelson Place, with exits southbound on Third Street and Sixth Street.
The selection of the I-471 route would play a part in Northern Kentucky University being built just south of the I-471/U.S. 27 interchange.
A Kentucky Post account on Jan. 2, 1968, said in Newport alone the expressway would need 529 parcels with only a fraction of those actually purchased at the time. The purchase of those houses and lots would become a very emotional issue, both for those who did not want to sell and to those willing, but uncertain as to when they would be forced to move. For those living in nearby houses, there was the question of noise, congestion and engine fumes. The process would prove slow.
Bids were sought in fall 1970 for construction of the bridge that would link I-471 from Newport to Cincinnati. Work on the bridge piers began late in 1971.
Meanwhile, acquisition of land for I-471 ground along. A major stumbling block was land owned by the Newport Board of Education, which, in part, the school board had targeted for a vocational school. That ended up in the courts. At the same time Newport residents were raising concerns about the loss of houses and population that the expressway was causing and others were concerned about car fumes.
That was followed in 1974 by a debate about what was termed an ''island'' of residences that was to be created by the design of ramps in Newport. It would become an on-going problem.
By 1977 ramp plans were still being debated. One proposal called for a northbound exit onto Fourth Street and a southbound exit on Riverside Drive. Entrances would be via Third and Fifth streets.
One piece of the I-471 puzzle in Newport was finally solved in August 1977 when the Newport School board agreed to sell the state land adjacent to the Mildred Dean Elementary School on Grand Avenue and off Sixth Street near the new Newport High School.
As to the Newport ramps, it was also agreed in 1977 to build a temporary connector between the end of I-471 bridge and Sixth Street. That would not end the ramp controversy, however.
By 1977, the I-471 bridge was built and named Daniel Carter Beard Bridge in honor of the founder of the American Boy Scout movement, who had grown up in Northern Kentucky.
By 1980, construction of I-471 continued, but the end was finally in site. Construction not only included pavement and ramps, but also sound barriers along sections in Newport and Fort Thomas, a relatively new concept for Northern Kentucky roadways.
Meanwhile, Newport ramp plans continued to be a sticking point. One proposal given serious consideration called for a ''flop-under'' design that would have carried some ramp traffic under the expressway.
By this point the paved, but unopen sections of roadway were becoming a curiosity for drivers and even for rappellers, who were dropping by rope off the I-471 overpass at I-275.
Finally, on Dec. 22, 1980, the roadway from U.S. 27 in Southgate to Grand Avenue in Fort Thomas was opened. The next day the section from Memorial Parkway to the Ohio River opened.
The last concrete section of I-471 was poured in late June 1981 just east of the Grand Avenue overpass.
That section, between Grand Avenue and Memorial Parkway was dedicated on Sept. 18, 1981. The special guest speaker was Gov. John Y. Brown.
The opening of the last section of I-471 did not end debate over the road. There was still the question of permanent ramps at Newport.
Also being debated was whether to ban truck traffic on I-471. Such a ban was imposed by Gov. Martha Layne Collins in July 1986, only to be ordered lifted in May 1988 by the Federal Highway Administration.
Construction on the current ramp system in Newport began in April 1988. The ramps were opened in August 1989.
State transportation officials estimate that today 75,000 to 100,000 vehicles use I-471 daily.
The birth of a bridge name
What would become known as the Daniel Carter Beard Bridge actually opened to limited traffic across the river in summer 1976. The bridge, however, did not have an official name. For most it was known simply as the ''Big Mac'' bridge.
The nickname came from the bridge's design, which reminded many of the golden arches on McDonald's restaurants. The nickname stuck and at one point McDonald's was even thinking about building a restaurant on Newport's riverfront as an anchor for redevelopment.
In fall 1976 the state highway department began seeking suggestions for an official name for the bridge. Some 17,000 people in Northern Kentucky and Cincinnati offered suggestions. On Oct. 14, 1976 the highway department announced the winning selection: Daniel Carter Beard.
For many the selection was no surprise, as local Boy Scout officials had started a campaign as early as spring 1975 to have the bridge named for Beard.
Born in 1850 in Cincinnati, Beard had grown up in a house at 322 E. Third St. in Covington and had developed his interest in nature and his skills while exploring the Ohio and Licking riverbanks and the local military encampments during the Civil War.
As leader of the Boy Scout movement in the United States, Beard would return to Northern Kentucky in 1934 for a major Boy Scout camporee at Devou Park. Beard died in 1941, 10 days before his 91st birthday.
Daniel Carter Beard Bridge was officially dedicated in ceremonies on Feb. 13, 1977. State accounts said the bridge cost $24 million to build.
The study of Northern Kentucky history is an avocation of staff writer Jim Reis, who covers suburban Kenton County for The Kentucky Post.
Publication date: 11-30-98

© Copyright 1998, The Cincinnati Post. All Rights Reserved.
1. Aerial I-471 Photos
2. Recent I-471 Photos