INTERSTATE 275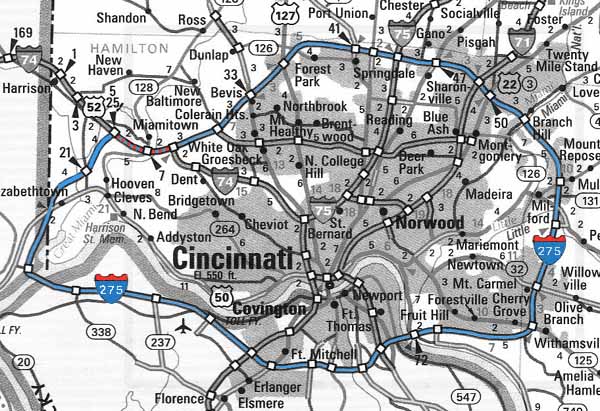 Click here for a larger version of this map.

Cincinnati's 84-86 mile (different sources provide different numbers) I-275 is the longest looped expressway in the United States. It is also the only loop to travel through three bordering states, with by my count 54 miles in Ohio, 26 miles in Kentucky, and three miles in Indiana. It is at its closest point about five miles from downtown Cincinnati and 15 at its farthest. It has seven interchanges with other major expressways and 30 local interchanges. Major bridges carry it twice over theOhio River and a third bridge of note spans the Licking River. I-275 is multiplexed with I-74 for a distance of about two miles near Miamitown. There are also I-275's in Tampa, FL; Knoxville, TN; and Detroit, MI.

Construction began in 1958 (Rt. 4 to Rt. 42), and a few old 1950's style overpasses similar to I-75's can be seen here east of the I-75 interchange. Otherwise, construction style is consistent, with few unusual interchanges or other quirks worth mentioning. The I-275 interchange with I-71/75 in Kentucky is the only four-level interchange in the Cincinnati area and the only one that approaches the scale of the massive multi-level interchanges common in Los Angeles and Texas. About half of the loop was originally built with six lanes, and several stretches have been widened from four to six, especially in the east. The only remaining four lane stretches are in the still-rural western areas and a stretch of less than five miles just east of the Combs-Hehl Bridge. Work on the first stretch to be widened to eight lanes, Winton Rd. to Rt. 42, is scheduled to begin in 2007.

Steady progress was made on the loop through the 1970's until its completion with the Carol C. Cropper Bridge over the Ohio River and short segment in Indiana in 1979. The stretches through Ohio and Indiana were built through what was mostly farm land, and few people or businesses were displaced by it. A ten mile segment in Kentucky (miles 72-83) between I-71/75 and the Combs-Hehl Bridge is the hilliest stretch of expressway in the Cincinnati area, with several mile long hills ascending 5% grades. Work on this six-lane stretch began in 1971 and opened in 1976, requiring major rock cuts and high bridges. The Licking River bridge, for instance, is 1,500ft. long and 130ft. high -- dimensions comparable to the Ohio River bridges. Between the Combs-Hehl Bridge and the I-471 interchange, four lane Alexandria Pike crosses, by my guess, 100ft. above I-275, preventing an interchange with this major road. I-275 between the Cropper Bridge and I-71/75 in Kentucky is by contrast relatively flat and home to the Cincinnati/Northern Kentucky International Airport. The airport is reached by a fourlane parkway that measures about a mile in length.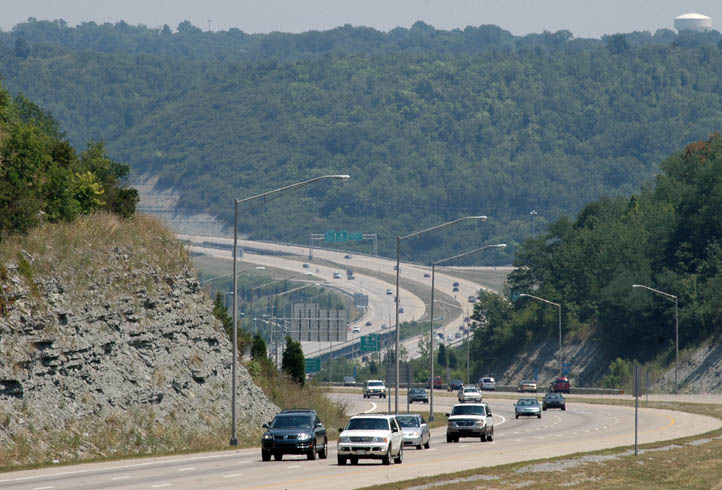 Looking downhill toward the Licking River crossing from the Taylor Mill Rd. overpass.
[Jake Mecklenborg July 31, 2005]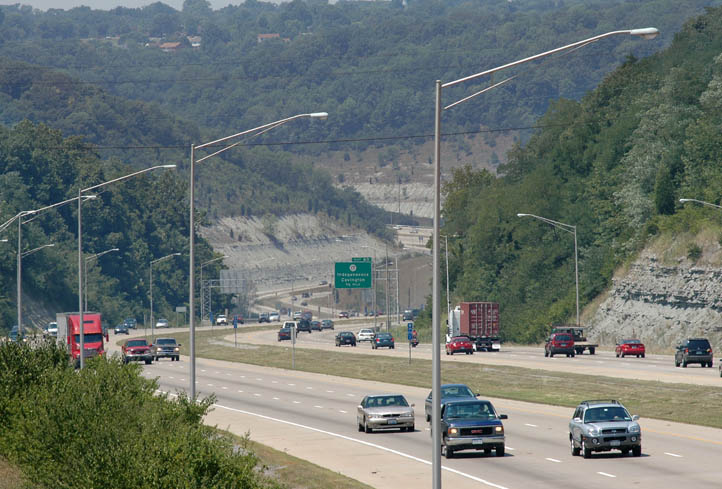 Traffic climbs a steep grade between KY 17 and Taylor Mill Rd.
[Jake Mecklenborg July 31, 2005]
23 miles of I-75 bisect the I-275 loop almost perfectly, with 46 miles to the east and 43 miles to the west. By adding 15+ miles I-275 is not of much use as a bypass and relieves a negligible amount of through traffic from I-71, I-74, or I-75. A symptom of I-275's failure as a bypass is the rest stop near the Ward's Corner interchange, which was abandoned in 1983 and has since become overgrown. Very little traffic originates or is destined for the far western parts of the loop, and since this section is rarely used as a bypass, it is reasonable to assume that had only the sections near the radial expressways been built that an incomplete I-275 would have attracted a similar number of vehicles to today's complete loop.
No section of I-275 travels through an oldneighborhoodor town that predated the expressway, and virtually everything that canbe seen today from the expressway was built after it. Northgate Mall,ForestFair Mall, Tri-County Mall, and Eastgate Mall are located along itsroute,and the typical formula of strip shopping centers, gas stations, andfastfood restaurants can be seen at most exits. several interchanges at the extreme west and east of theloopare still largely undeveloped.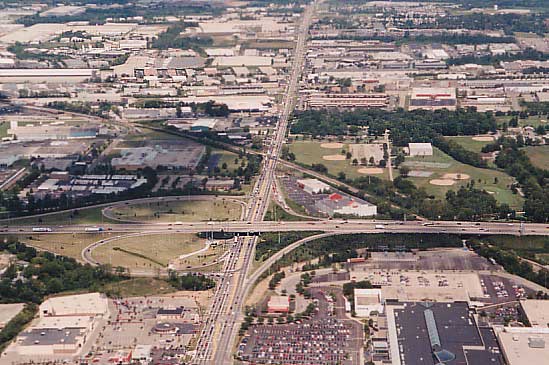 I-275 at Ohio Rt. 747, just a mile from I-75. Areas along I-275near I-71 and I-75 such as this were the first to
be developed. [Larry Stulzphoto]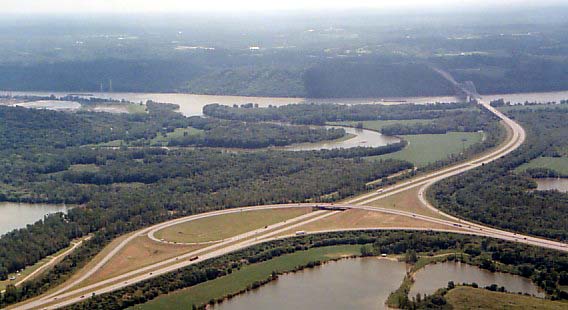 I-275 at the Cropper Bridge, illustrating the total lack of development(and lack of traffic) along the loop at
points far from the major radial expressways. [LarryStulz photo]

It is also worth mentioning that the expressway'sofficialname, the "Donald H. Rolf Circle Freeway" is never used by locals, andthat the terms "Circle Freeway", "Beltway", and "Loop", are almostneverused either. The overhead signs reading "toColumbus/Dayton/Lexington/Cincinnat/Ohio/Kentucky/etc."are ignored when giving directions, and unlike Washington, D.C.'sI-495,for instance, nobody says "inner loop", "outer loop", "clockwise", or"counter-clockwise".

An observant reader sent this info along:
One factualcorrection: I-275 DOES indeed, passthrough the City of Cincinnati limits. From the Sutton Road overpass atthe Anderson Township border to the Ohio River, this stretch doesindeedpass through (drive southbound past the New Richmond/US 52 interchangeand down that grade you see a distinct Cincinnati - Corporation Limit
signwhen you hit this bridge). Take it from someone who grew up on the Eastside. (Joseph Nicholson 8/3/01)


---
Recommended Links:

Visit our friends at BonusPromoCode.com for promo codes and free bonuses! We thank BonusPromoCode.com for supporting the Cincinnati-Transit.net website!
---


Wednesday, September 29, 2004
WiderI-275 stretch starts in 2007
---
ByLizOakes
Enquirer staff writer

FORESTPARK - Get ready for more orange barrels on Interstate 275.
Statetransportation officials plan to spend $117 million to widen part ofthe crowded northern beltway, with construction to begin in 2007.
TheOhio Department of Transportation said Tuesday it plans to add an extralane both ways - and possibly sound-muffling walls - to a section ofinterstate from Winton Road to U.S. 42.
Theaim is to ease congestion that has steadily grown over the past 10years on the northern loop of the interstate, said ODOT spokesman RonMoseby.
Accordingto the transportation agency's most recent count in Hamilton County, in2002, traffic on the seven-mile stretch jumped 12 percent in eightyears to an average of more than 100,000 vehicles a day.
That'sone of the highest traffic volumes in Greater Cincinnati, according toODOT figures.
Thetwo-year project may also include $1.3 million on 16-foot concretesound barriers if the majority of people living along the highway inForest Park and Springdale say they want them, Moseby said.
AmongForest Park and Springdale residents who responded to an ODOT surveythis summer, just over 60 percent were in favor of installing the soundwalls, according to Forest Park officials.
ForestPark City Manager Ray Hodges said the city also would like to see a newoff-ramp from I-275 to relieve traffic tie-ups on Winton Road, latelyworsened by shoppers bound for the newly renovated Cincinnati Millsmall.
IfForest Park and the mall can work out an arrangement, "we would bewilling to accommodate that," Moseby said.
I-275 changed face of NorthernKentucky

---
The wind howled andsnow covered the roads.
It was supposed to beone of the major events of the 1970s, but if itwas going to happen it was going to happen someplace else. Few eventshave changed the nature of Northern Kentucky like the construction ofInterstate 275. The expressway transformed small towns into bustlingcommunities with row after row of subdivisions. It also shifted retailbusiness centers from Covington and Newport to places like Erlanger andFlorence.
The opening of most ofI-275 in Northern Kentucky took place in 1977, twenty-five years ago.
Planning for I-275dates to the 1950s, but actual construction began inApril 1968. That's when the bridge piers began to take shape in theOhio River to link Boone County and Indiana. The I-275 bridge wouldlater be named after longtime Boone County Judge Carroll E. Cropper.
Along the wayconstruction of the circle freeway would meet manyobstacles, including people who did not want their homes and businessestorn down to make way for the freeway, people who did not want treescut down for the project and shifting ground that made the massiveinterchange of I-275 and Interstate 75 in Erlanger a major headache. Astate report said the four-level interchange was the only one of itskind in Kentucky. It cost $15 million to build.
The Northern Kentuckysection of I-275 would open in sections. The lastlink in the Kenton County section - from Dixie Highway to Taylor MillRoad - was completed on Nov. 10, 1977.
The big event, however,was to be the official dedication of thewestern section of I-275. A press release sent out by the state saidthe dedication would be Dec. 6, 1977, on the yet unnamed Boone Countybridge.
The state said the newroadway was expected to ease heavy congestionthrough downtown Cincinnati on I-75 and across the Brent Spence Bridge,which was handling an estimated 125,000 vehicles a day. NorthernKentucky Chamber of Commerce director Walter Dunlevy added that theouter belt would boost business and provide a growth corridor forNorthern Kentucky.
The western half of thecircle freeway would be 41 miles long and costan estimated $200 million. The entire circle freeway route, includingNorthern Kentucky, Indiana and Ohio, would be more than 84 miles long.The eastern Kentucky section, including the bridge over the Ohio Rivernear Coney Island and most of Campbell County, was still underconstruction.
A Kentucky Post accounton Dec. 3, 1977, said the gala opening plannedfor Dec. 6 would include the three governors, Julian Carroll ofKentucky, James Rhodes of Ohio and Otis Bowen of Indiana.
Another Post account onDec. 3 noted that among the big winners withthe opening of most of I-275 would be Thomas More College, which wouldhave better access.
On the negative side,local police were concerned about underagedrinking and driving because Northern Kentucky teens would have easieraccess to Ohio, where the drinking age at the time for 3.2 beer was 18.In Kentucky one had to be at least 21 years old to buy beer. Othersvoiced concerns about long-range planning to handle future developmentin the new areas.
The timing of thededication could not have been worse.
Overnight it began tosnow and, despite the best efforts of road crews,the highways could not be kept free of snow and ice. Driving anywherewas hazardous.
The official forecastfrom the state was for ''terrible'' weather sostate and local officials had to scramble to find alternative plans forthe dedication ceremonies. The final decision was to move all theceremonies to the airport, where all three governors had planned tomeet anyway that day for a lunch.
The front page of theKentucky Post that day showed snow-covered roadsand state road crews struggling to make visible the temporary signsthat had been erected for the dedication ceremonies on the Boone Countybridge.
By mid-morning morethan four inches of snow had fallen and more wasexpected. Schools were closed throughout Northern Kentucky. Adding tothe headaches was the fact the snow had followed a thunderstorm thatflooded basements and sent creeks roaring down hills.
Because of the badweather only Carroll and Rhodes were able to attendthe airport ceremonies. The Indiana governor was snowed in at theIndianapolis airport. Among the activities was honoring the family ofBuford ''Buck'' Brumbach. The 51-year-old Williamstown man had beenresident engineer for the Northern Kentucky district but had died Nov.20, 1977, of a heart attack.
As the ceremonies wereending, someone asked the two governors totravel to the bridge to cut the ribbon. But due to the weather, Gov.Rhodes instead suggested that Brumbach's widow, Bernice, cut theceremonial ribbon right there, and she did.
Carroll called thededication one of the most importantconstruction-related events that he had ever participated in. Rhodespredicted an explosion of growth along the circle freeway route. Hesaid I-275 would become an industrial belt second to none in thecountry with employment of at least 5,000 people. The governors notedthat when I-275 was entirely completed, it would cost about $318million.
<>That evening theweather even got worse. Temperatures dropped to 3degrees below zero. That broke the record cold for that date, which hadbeen 11 degrees in 1958. The next day the low again fell to 3 below.That again broke a record for Dec. 7, which had been 3 degrees abovezero in 1885.
Roads remainedtreacherous as the cold made salt, sand and cinder of little help.
Again most schools wereclosed and Edgewood residents were withoutelectrical power for part of the day. Latonia Race Course closed forthe second day in a row.
A Kentucky Posteditorial on Dec. 7, 1977, pointed out that technicallyit was still fall. The writer jokingly suggested a campaign to have thecalendar changed to make all of December officially winter.
It was later decidedto schedule another, smaller dedication ceremony for the new Carroll E.Cropper Bridge.
The remaining link ofI-275 in Campbell County was completed on Dec.19, 1979, when the bridge over the Ohio River at Coney Island wasdedicated. It was named the Combs-Hehl Bridge after former governorBert Combs and Campbell County Judge-Executive Lambert Hehl.
A final accounting saidthe circle freeway was 84.5 miles long. Of that55.4 miles were in Ohio, 26 miles in Northern Kentucky and 3.1 miles inIndiana.
Interstate 275 had 36interchanges - 26 in Ohio, nine in NorthernKentucky and one in Indiana. Since then more interchanges have beenadded, including Mineola Pike in Erlanger and Three Mile Road inHighland Heights.
The Ohio section ofI-275 was named the Donald H. Rolf Circle Freewayin 1982. Kentucky and Indiana have not named their sections of thehighway.
The study ofNorthern Kentucky history is an avocation of staff writerJim Reis, who covers suburban Kenton County for The Kentucky Post.
Publication date:07-08-02


What's in a freeway's name? Local sign points to apolitician
Question: On Interstate 275, soon after you cross theOhio River from Kentucky into Ohio, there's a sign that says, "DonaldH. Rolf Circle Freeway." Who was he?
Answer:He'sthe fellow who had a big role in getting the outerbelt highway builtaround Cincinnati. In 1954, he was a newly appointed Hamilton Countycommissioner. A farmer wrote him to complain about traffic on KemperRoad. Rolf got the idea for a major freeway linking main highwaysleading into Cincinnati. Over the years, he continued to push for itsconstruction. The 84.5-mile loop, which passes through Ohio, Indianaand Kentucky, was completed in 1979. Only the Ohio portion is named forRolf, who also served as a state representative and state senator. Hedied in 1982.
JohnJohnston
---
Due to the large number ofphotographs, I have dividedthem into two sections:
1. I-275WEST of I-75 (miles1-43)
2. I-275EAST of I-75 (miles 43-88)
I-275'sOhio River bridges:
1. Combs-HehlBridge (east side)
2. CarolC. Cropper Bridge (west side)