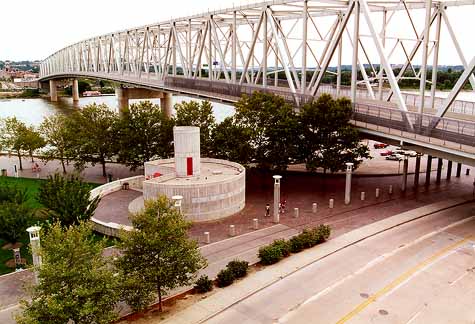 Taylor-Southgate Bridge

The Taylor-Southgate bridge opened in 1995 in thelocation of the old CentralBridge. It has four automobile lanes,an 850ft. central span, two approachspans of slightly different lengths, and two piers in the river. Pedestrian paths flank either side of the bridge, and the east walkwayconnects, via a staircase, with the U.S. Bank Arena (originallyRiverfront Coliseum) plaza. Non-functional beams above each of thetworiver piers make the center and approach approach spans appear tofunction asa single continuous truss. The truss is much higher than it appearsfroma distance and has the effect of making the bridge look short and itslongcenter crossing unspectacular. It also makes the assymetry of theapproachesless obvious, and many do not realize that the northern approach isquitea bit longer than the southern approach. The longer length of thenorthernapproach avoided the placement of a pier in the park below.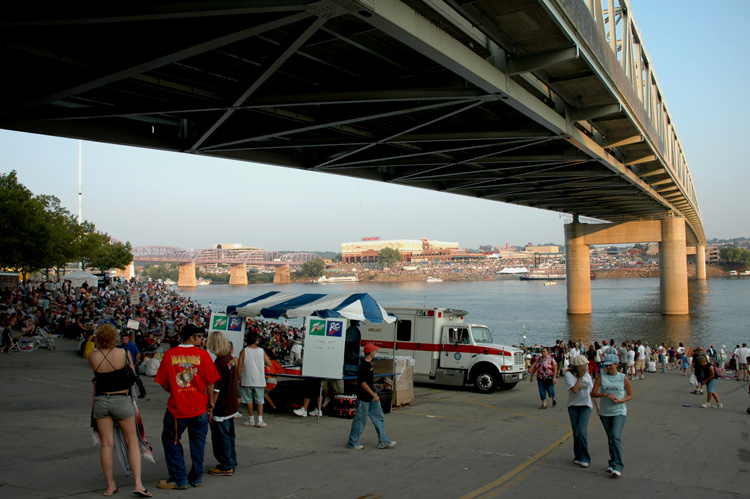 A view beneath the Taylor-Southgate Cincinnati approach duringRiverfest 2004.
[September 2004 Jake Mecklenborg]

When the bridge opened in 1995 it did not line upwith north/south Cincinnati streets. In June 2000 as part of Fort Washington Wayreconstruction Broadway was re-routed under a rebuilt serious ofexpressway overpassesand now intersects Pete Rose Way directly opposite the bridge approach.Also, a six deck 1,200 space parking garage opened immediatly eastofthe bridge's northern approach in summer 2000. This garage was thefirst builtof many planned for the city's central riverfront redevelopment project.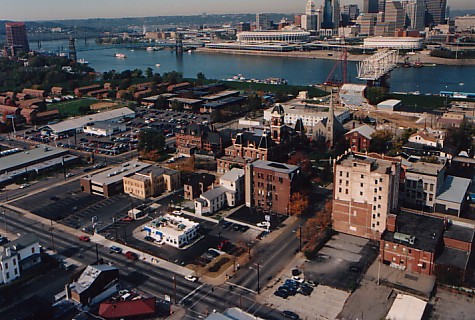 The Taylor-Southgate Bridge under construction in1994.
[LarryStulz Photo]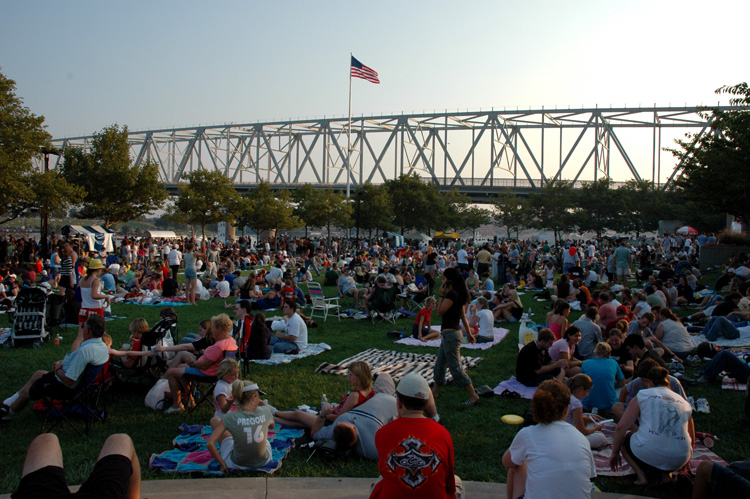 A view of the bridge from Yeatman's Cove during Riverfest 2004.
[September 2004 Jake Mecklenborg]

News Archive
6/20/01 Cincinnati Enquirer Bridge tumble injures boy, 12