INTERSTATE 75
Future Plans

By 2015 the BrentSpence Bridge and nearly all of I-75north to I-275 will have been reconstructed. What form thereconstructed highway will take has not yet been decided upon. Official planninghas divided the project into three segments:

1. BrentSpence Bridge (on-site link -- there is not yet an officialBrent Spence Bridge site)
The "Brent Spence Bridge" section includes theFort Washington Way and 6th St. Expressway
interchanges north of the river.

2. "Millcreek Expressway" (bridge approach north to Paddock Rd.)
Official project site: www.i75millcreekexpressway.com

3. "Thru The Valley" (Paddock Rd. north to I-275)
Official project site: http://www.thruthevalley.com


The official site www.i75millcreekexpressway.com,which concerns the stretch of I-75 between the Brent Spence Bridgeapproach and Paddock Rd., outlinesthe nineteen scenarios that were studied. The three to undergofurther study, officially identified as I-75A, I-75B, and I-75C, arelisted below:



"I-75 Mainline ConceptsRecommended for Further Work"

I-75-NB -- No Build

I-75-A -- Four Lane Continuitywith auxiliary Lanes

This concept wouldinvolve adding a fourth lane on the outside in each direction north ofI-74. Four lanes currently exist south of I-74. Thisoption provides the opportunity to improve safety and congestion to alimited degree while minimizing property impacts and costs.

I-75-B -- Five Lane Continuity

This concept wouldinvolve providing five continuous freeway lanes through the study area,adding one lane in each direction south of I-74 and two lanes in eachdirection north of I-74. This option would provide additionalcapacity improvement, but at a higher cost and impacts.

I-75-C -- Four Lane Continuitywith Elevated Express La

nes

This concept would involve providingfour lanes at-grade through the study area, adding one through lane ineach direction north of I-74, plus the construction of elevated expresslanes. This option has the potential to provide superior improvedcapacity and safety benefits; however, it would be expected to beextremely expensive and intrusive to the surrounding communities. This option may be less problematic if implemented for only a portionof the study area.

"I-75 Mainline Concepts -- Considered andDismissed"

www.i75millcreekexpressway.com

also outlines sixteen rejected scenarios. Six lane continuity,HOV lanes, reverse direction lanes, feeder roads, at-grade expresslanes, and dedicated truck lanes were all rejected.


The official site

www.thruthevalley.com

,which concerns the stretch of I-75 between Paddock Rd. and I-275, in summer 2005identified six scenarios to be studied further:



#1 No Build

#2 No Build + Minor Improvements

#3 Four Lane Continuity

$152 million

#4A Express Lanes

Cost Estimate: $607million

At grade express lanesbetween Glendale-Milford Rd. and I-275, on deck above existing viaductthrough Lockland, on center T-structure between Cross County Highwayand Paddock Rd.

#4B Express Lanes

Cost Estimate: $221million

At grade express lanesin existing median between Lockland and I-275, express lanesconstructed adjacent to current northbound viaduct through Lockland, atgrade express lanes between Lockland and Paddock Rd.

#4C Express Lanes

Cost Estimate: $605million

At grade express lanesbetween Lockland and I-275, new viaduct above existing southbound lanesthrough Lockland, on center T-structure between Lockland and PaddockRd.

#5 Lockland Parkway

Cost Estimate: $294million

"The existingsoundbound I-75 between Shepherd Lane and Ronald Reagan Highway wouldbecome the I-75 mainline in both directions. The existingnorthbound I-75 alignment through Lockland would become a two-wayparkway serving local traffic and connecting to I-75 north of ShepherdLane and an exit from I-75 and Paddock Rd. from the south. Localconnections at Davis Street and Galbraith Rd. would be accessed fromthe parkway."

The Parkway scenariopositions the Galbraith Rd. interchange where I-75's northbound lanescurrently pass above the street, enabling a lower profile interchangebetween I-75 and Cross County Highway.

#6 Divided Interstate

Cost Estimate: $348million

Essentially the same asthe parkway concept, but by positioning the Galbraith Rd. interchangein a diamond orientation where I-75 southbound now passes under itnecessitates a more grandiose Cross County Highway interchange,including an I-75 southbound to Cross County eastbound ramp that wouldrequire demolition of two dozen homes. This ramp would possibly be thelongest and highest in the Cincinnati area.

The selection of Scenario #3, Four Lane Continuity, was reported in the August 20, 2005 Cincinnati Enquirer.
Stretch of I-75 to get 4th lane
Widening to cost at least $159 million

By Dan Klepal
Enquirer staff writer


Ohio Department of Transportation officials have decided that adding a fourth lane in each direction on Interstate 75 between Paddock Road and I-275 is the "feasible" way to overhaul the seven-mile stretch of interstate that more than 160,000 drivers use daily.

The next step is to perform more detailed engineering, cost analysis and evaluation of how many homes and businesses will be bulldozed to make room for the wider interstate. That work will take about a year.

Nicknamed "Thru The Valley," the plan to add the extra lane will cost about $159 million.

But the project is likely to cost more than $260 million before construction is completed in 2012 or 2013, because engineers want to make other improvements:

Remove the exit that leads to Mangham Drive and build a full interchange at Shepherd Lane in Lincoln Heights at a cost of $21 million.

Eliminate the Cooper Avenue exit and reconfigure Davis Street as a full interchange in Lockland, extending it west with a bridge over the Lockland split at a cost of $64 million.

Improve the confusing network of roads known as Neumann Way with a two-lane parkway at a cost of $17 million.

Engineers might lift one idea from the rejected alternatives - building a full interchange with Ronald Reagan Highway. "That was a very popular idea in the feedback we received from the public," said Diana Martin, ODOT's District 8 planning administrator.

The project is necessary because that stretch of interstate, one of the oldest in the nation, is considered obsolete and a safety hazard. Construction won't begin until 2010.

###
Although express lanes are no longer being considered for I-75 north of Paddock Rd., I'm going to leave the following section on the site.
I-75 "local" and I-75 "express"?
Due to the characteristics of I-75's traffic and surroundings, traditional widening promises little benefit. Therefore express lanes have been proposed for the length of I-75 between downtown Cincinnati and I-275. At grade or elevated, the express lanes would interchange only with Cross County Highway and I-74, bypassing the Norwood Lateral and all local roads. The below graphic shows only the vicinity of the Cross County Highway interchange and is an example of the dozens that now appear on the official sites: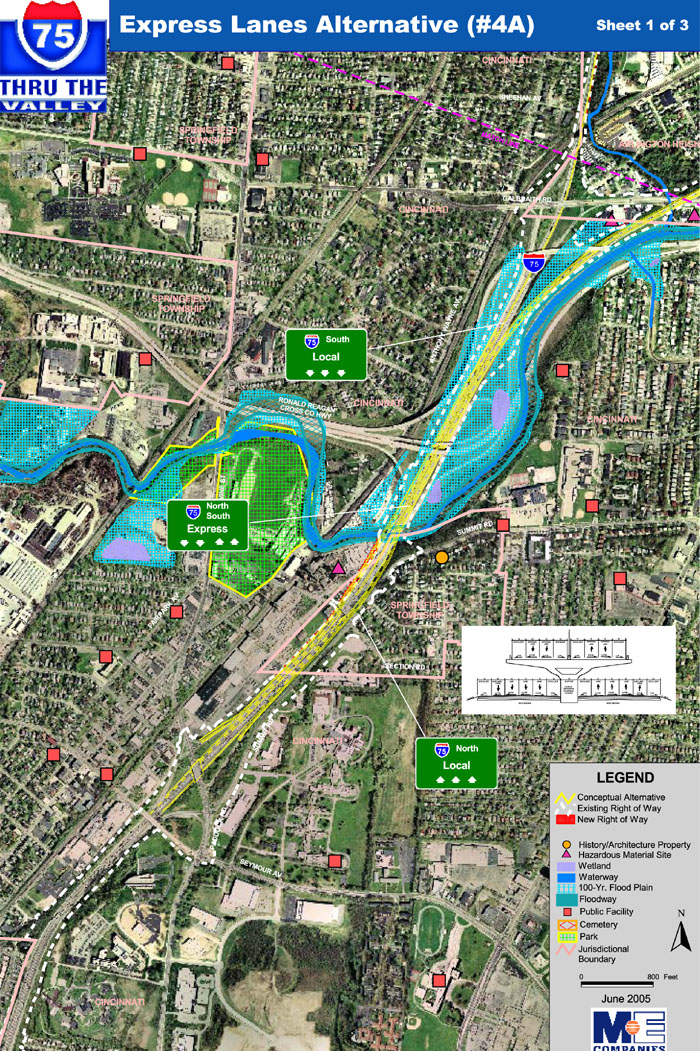 Express lanes elevated above the median:




Express lanes running along edge of right-of-way: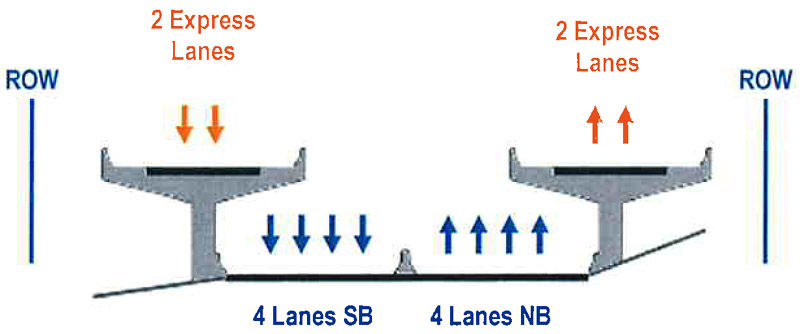 If and how express lanes will access downtown and cross the Ohio River is not addressed by www.i75millcreekexpressway.com. A scenario where a new bridge is built only for the I-75 express lanes and the Brent Spence carries on in its current configuration would avoid considerable hassle during construction. Needless to say the construction of two express lanes in each direction along the entire route of I-75 in Cincinnati would be much more effective in improving traffic flow and safety as compared to the addition of two traditional lanes.

Nearly all existing I-75 overpasses will be replaced as a part of thehighway's reconstruction and reconfiguration. Grandiose flyover ramps of the kind seen today in Los Angeles, Atlanta, and Texas will be constructed in several places to eliminate left-side ramps and improve safety.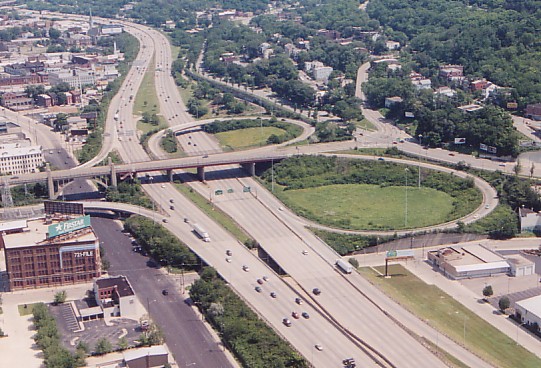 Removingleft-side ramps, such as the one seen here heading from I-75north to the
Western Hills Viaduct, will be a priority of the upcoming study.
(Larry Stulz photo)
---
More I-75 photos courtesy Larry Stulz

Cincinnati-Dayton Rd.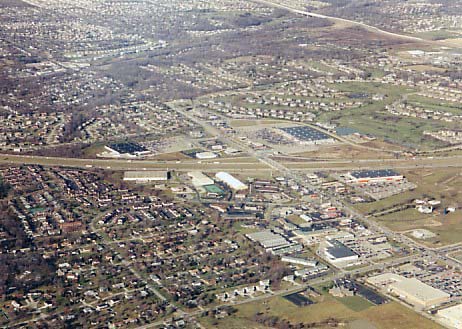 Tylersville Rd.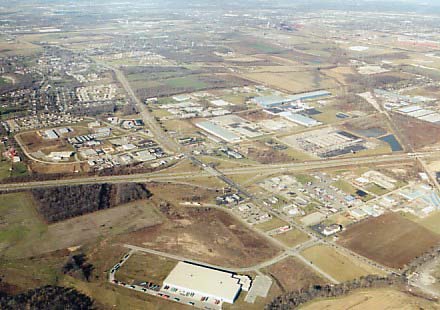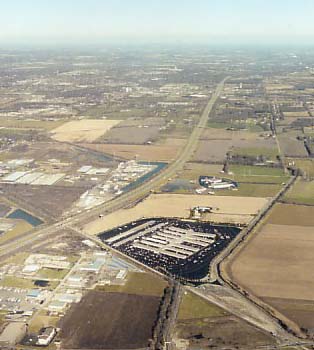 Trader's World Flea Market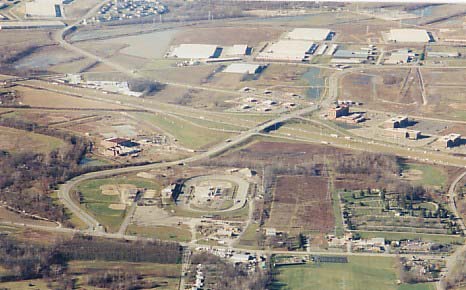 Union Center Boulevard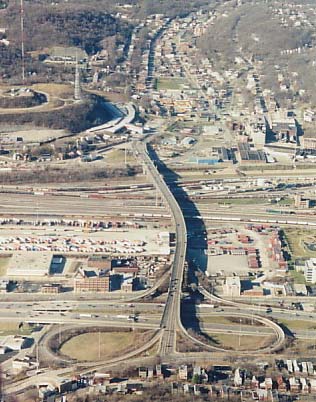 Western Hills Viaduct

1. 1940's
2. 1950's
3. 1960's
4. 1970's-1990's
5. RecentNews and Future Plans