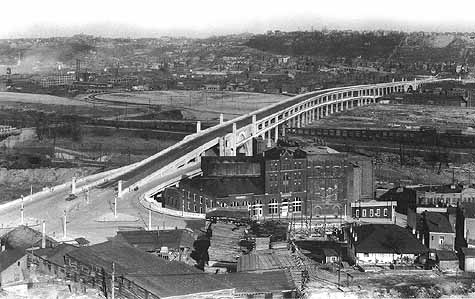 WESTERN HILLS VIADUCT

The Western Hills Viaduct is Cincinnati's largest viaduct and one of the city's most distinctive structures. At 3,500ft. in length it is twice as long as any of the Ohio River bridges and has as much character as several of them put together. It crosses the Mill Creek Valley in a complex double-deck arrangement connecting Spring Grove Avenue and Central Parkway to the east with Queen City and Harrison Avenues to the west. With construction of an interchange at the easternmost end in the early 1960s Millcreek Expressway extension, the viaduct has since served as a major I-75 access point while still carrying its original local traffic.

The viaduct was built from 1930-32 as part of the Union Terminal project, replacing the much smaller Harrison Ave. Viaduct (1908). Either end of the 2,800ft. double-decked portion is marked by arch spans, the east arch bridging Spring Grove Ave. and the smaller western arch crossing the Mill Creek. The viaduct's western half spans the CSX Queensgate yard and the eastern half provides a grade separated route above local roads. Originally both 40ft. decks carried four lanes but the lower deck has been striped for three lanes for several decades. For many years the center lane was one of Cincinnati's numerous variable-direction lanes, changing directions between morning and evening rush hours, until relatively recently in 1999. The center lane has since been westbound only and the overhead X's and arrows were removed. The upper deck likewise was originally striped for ten foot lanes but were each made one foot wider by the elimination of the north pedestrian walk in the early 1960s. The upper deck is level, however at the viaduct midpoint the lower deck slopes to meet Spring Grove Avenue at grade. Having been built thirty years interstate highway standardization, neither deck has emergency shoulders, and the I-75 entrance and exit ramps merge and diverge abruptly. Signage and lighting are poor, and the viaduct and its short ramps are responsible for dozens of near wrecks, if not actual wrecks, every day.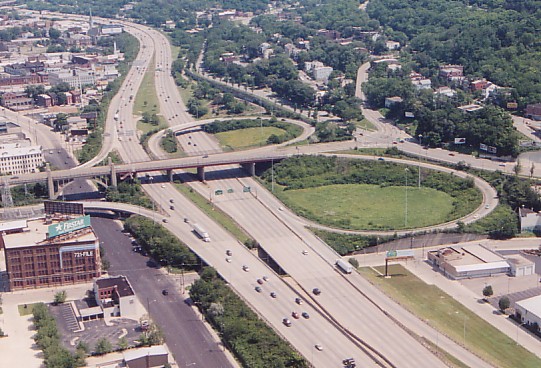 This photo illustrates how northbound I-75 interchanges only with the upper
deck and southbound only with the lower deck.
[Larry Stulz photo]
In 1960 the easternmost section of the viaduct was demolished to allow construction of I-75 beneath as well as a partial interchange with the expressway. The interchange is unusual -- southbound I-75 interchanges with the lower deck and northbound interchanges with the upper deck. Access to the interstate is only availible to westbound viaduct traffic and exits from the expressway only head eastbound on the viaduct. The northbound I-75 exit ramp exits from the left lane, and is among the handful of left-side ramps that will likely be eliminated as part of I-75's imminent reconstruction.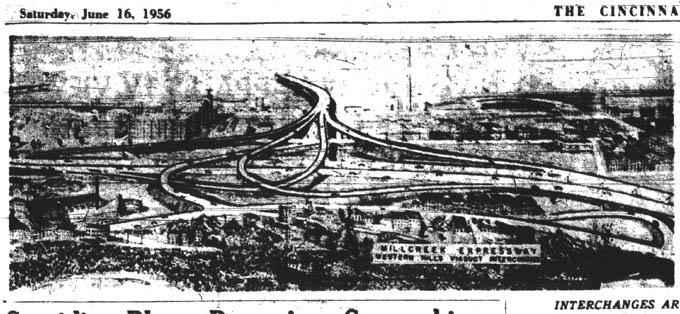 This conceptual drawing from 1956 shows a fundamentally different interchange with I-75
than what was actually built.

During the 1950's the viaduct was planned to play a much larger role in the city's expressway network, linking the Queen City and William Howard Taft Expressways. The Queen City Expressway was to run from a Cleves intersection with River Rd., east through Western Hills, and join up with the Western Hills Viaduct, using it as its I-75 interchange and link with the Taft Expressway. The Taft Expressway was to connect the viaduct with Columbia Parkway, along the approximate route of McMillan St. and William Howard Taft, with exits at Ravine St., Clifton Ave., Vine St., Burnet Ave., Reading Rd., I-71, and Gilbert Ave., and Victory Parkway. This expressway was to require a steep snaking climb up Fairview Hill, the demolition of 660 properties, and destruction of Fairview and Inwood Park. More on these expressways, including maps, can be seen in the never-built expressways section.


The section of the viaduct rebuilt in 1963 will almost certainly be reconstructed once more as part of the big plans for I-75. This stretch of I-75 will likely be widened to ten lanes. And with elimination of left-side ramps a priority a grandiose connection between I-75 north and the viaduct seems inevitable. Little mention of the viaduct exists currently on www.i75millcreekexpressway.com and I am not aware of what official proposals for its modification have been made.



1. Historic Construction Photos
These high quality construction photos were taken from "Cincinnati Union Terminal: Design and Construction
of an Art Deco Masterpiece", which features a chapter on the viaduct.

3. Back to Main