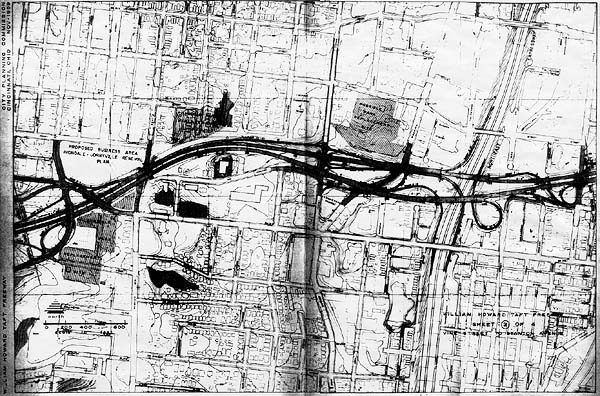 Never-Built Cincinnati Expressways

William Howard Taft Expressway

The Taft Expressway was to have connected Columbia Parkwaywith I-75 and the WesternHills Viaduct, roughly following the route of William Howard Taft Ave. Partial and full interchanges were to have been located at I-75/WesternHills Viaduct, Ravine St., Vine St., I-71, Gilbert Ave., Victory Parkway,Woodburn Ave., and Columbia Parkway. Construction was to have requireddestruction of 660 properties as well as Inwood and Fairview Parks. No right-of-way was secured and no construction was undertaken.

Taft Expressway Maps from 1959:
WesternHills Viaduct to Vine St.
VineSt. to Stanton Ave.
StantonAve. to Woodburn Ave.
WoodburnAve. to Columbia Parkway



Queen City Expressway
Was to have connected Cleves with the western end of the Western HillsViaduct. Combined with the Taft Expressway, it would have createda lateral route from Cleves to Columbia Parkway. I-275 was originallyto have crossed the Ohio River at Cleves, and an interchange would havebeen located there. Interchanges would have been located at the westernend of the viaduct, Grand Ave., Quebec Ave., Queen City Ave., Glenway Ave.,and Anderson Ferry Rd.
No right-of-way was acquired and no construction was undertaken.


Colerain Expressway
Originally to have connected I-74 at the Colerain Ave./Beekman St.interchange with I-275 between the Colerain Ave. and Hamilton Ave. interchanges. Local interchanges were to have been located at North Bend Rd., GalbraithRd., and Compton Rd. Cross County Highway was originally plannedto connect I-75, I-71, and I-275 on the east side, and so would not haveintersected the Colerain Expressway. As built, the Cross County Highwaysegment between Colerain Ave. and Hamilton Ave. intersects where the ColerainExpressway would have run.

The project was renamed the "Colerain Connector" when the plan was significantlydownsized, now only to connect I-74 with Kirby Ave. at North Bend Rd.,just 1/4 mile east of Colerain Ave. in Mt. Airy. Right-of-way wasacquired by the city and state, and the North Bend Rd. interchange waspartially constructed and several city blocks were demolished for the I-74interchange. The project met fierce opposition by the residents ofNorthside, who have succeeded in derailing every attempt to revive theproject by traffic planners. As recently as 1999, ODOT has proposed a routeconnecting the partially built I-74 interchange with Hamilton Ave. at thebase of the hill, as well as Colerain Ave. north of the West Fork Rd. intersection. Meanwhile, the "temporary" I-74 Colerain Ave. entrance and exit ramps arestill in use, and the state and city retain ownership of the right-of-way. The large mound shown below was leveled in 2002 but it is currently anempty lot.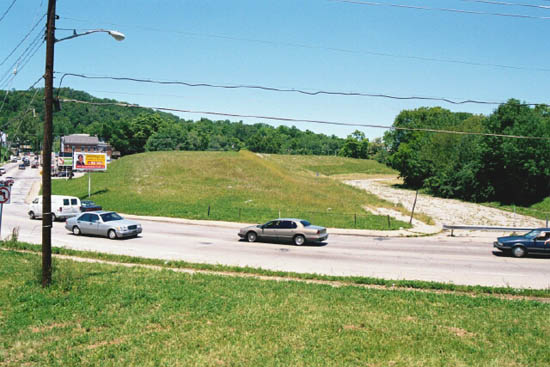 Looking across Colerain Ave. in summer 2001, where an overpass wasplanned. This mound was
leveled in 2002.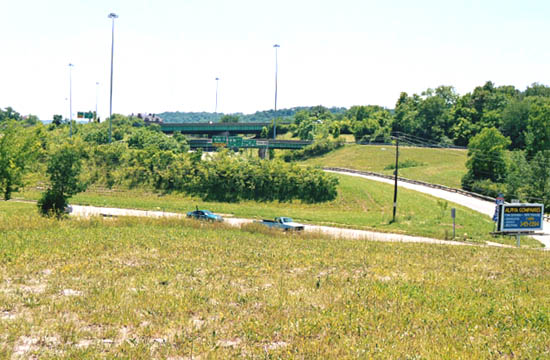 Looking in the opposite direction, from the Colerain Expressway grading
back towards the I-74 interchange.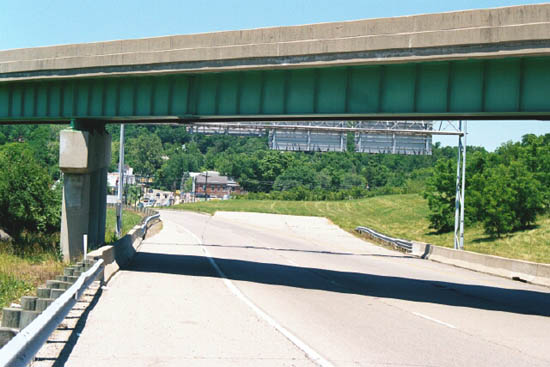 Looking northwest on the "temporary" Colerain Ave. I-74 entrance ramp.
The stubs for the Colerain Expressway are clearly visible.