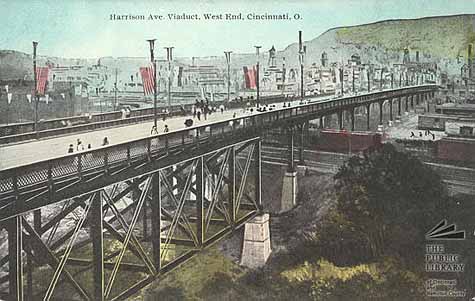 Harrison Avenue Viaduct The Harrison Ave. Viaduct stood 1 mile northwest of downtown Cincinnati from 1908 until the opening of the Western Hills Viaduct in 1932. It was the first vehicular viaduct in the Cincinnati area, originally conceived in 1888, but delayed by controversy for 20 years. It stood roughly 500ft. south of today's Western Hills Viaduct, but was much shorter and of crude construction. The viaduct measured 1,700ft. in length, with a 20ft. wide deck, and connected State Ave. to the west with Barnara St. and Harrison Ave. to the east, forming a 5-way intersection. The viaduct did not follow the path of Harrison Ave., and the street remained open along its original alignment until 1932.

Location and money were the primary points of contention that held back construction for 20 years. The West Side's 30,000 residents were split between the two neighborhoods of Fairmount to the north and Price Hill to the south. Each of course wanted the viaduct, since funds permitted just one, to be located in their neighborhood. And both wanted the railroads to fund it, not the city alone. While a midway location was agreed upon in 1901 and property condemned, numerous bond issues were contested in the court system until a $425,000 issue passed in 1905. Construction commenced in 1906 but was not without incident. On August 6, 1908 dynamite was placed on the 2nd pier west of Western Ave. A quote read: "This dastardly act proved unsuccessful and limited damage was done".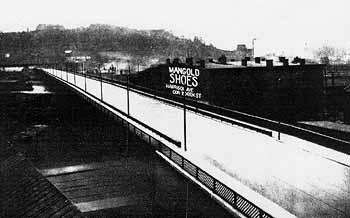 The viaduct was opened on September 7, 1908, amid much pomp. A 40 page souvenir booklet was published to commemorate the event. Four of these pages concerned the viaduct and its construction, while the rest was a shameless promotion of the prominent West Siders who pushed for its construction. While dozens of photos of the men involved and their new West Side homes (many of which still exist) litter the souvenir booklet, there is only one photograph of the viaduct itself (shown above). It is clear that those who rallied for the viaduct were speculators, looking to attract new residents to the large tracts of land they sought to develop.
The activities for opening day, as it appears in the booklet:
PROGRAM
1:00 Cannon Salute
2:00 Concert by Schmittie's Band at Government Square
2:30 Trolley cars leave square for the viaduct with city and county
officials, invited guests, and committees.
3:00 Concert by the band at east end of the viaduct. Grand display of daylight fireworks.
3:30 Dedication ceremonies
6:00 Banquet for invited guests at Westwood
7:30 Return to the viaduct
8:00 Grand Concert
8:00 Gorgeous display of fireworks from brow of hill, west of viaduct