Article by LarryStulz
Click Herefor large version of this satellite image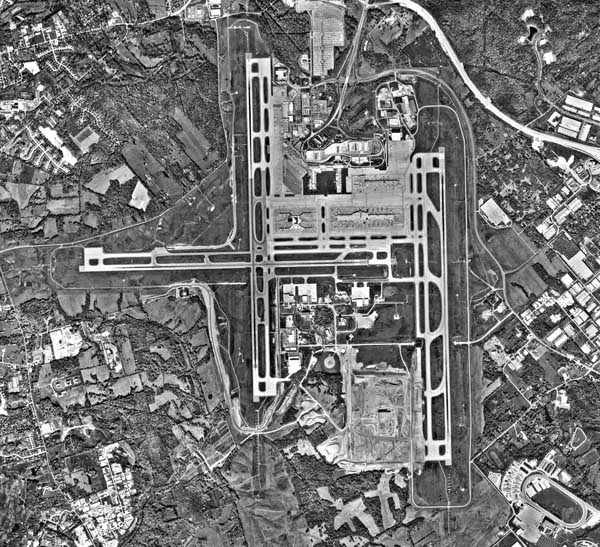 Cincinnati/Northern KentuckyInternational Airport (CVG)
The Cincinnati/Northern Kentucky International Airportis located in Northern Kentucky's Boone County, 12.5 miles from FountainSquare in downtown Cincinnati. The airport is most often reachedvia Cincinnati's loop expressway, I-275. Currently the airfield covers 7,000 acres and has 2 million square feetof terminal space. In 2000, 22.5 million people passed through theairport, mostly due to flight transfers. Only a small portion ofthat number actually terminated their flight in Cincinnati. As for airfreight and cargo, 412,000 tons were handled at CVG. In 1999, theairport handled 460,000 aircraft operations and flights served 77 nations. Financially, the airport generates $3.9 billion in economic activity or$10.7 million daily. $1.1 billion is put into local salaries andtaxes and currently employs 15,000 people. Another 54,000 local jobsare related to support activities at the airport. The airport isexpected to grow 5% annually and by 2011, is projected to employ 114,500people.
In 1941, Northern Kentucky Congressman Brent Spence andO.G. Loomis, a civil engineer, began an earnest political movement to secureFederal funding for an airfield in Northern Kentucky. After witnessingthe damage done at Cincinnati's Lunken Airport due to the 1937 flood, NorthernKentucky officials knew that the area was ready for a new location fora major regional airport. Only one location in Northern Kentuckynear downtown Cincinnati met the Federal criteria for elevation, flatness,and arrival and departure routes and it was smack dab in the middle ofWilliam Steinfortˇ¦s 100-acre farm in Boone County. Federalfunding was secured in 1941 through the WPA (Works Projects Administration)but those funds disappeared with the beginning of World War II. Quickpolitical action then presented the new airfield as a military auxiliaryairfield for the new Army Air Forceˇ¦s Ferrying Command, which moved toCincinnati. Funding was approved in 1942 for a 928-acre airfield,which then served as an auxiliary landing, and practice airfield for B-17sbombers from Lockebourne Air base (later known as Rickenbacker AFB) inColumbus Ohio. Four 5,500 foot runways were built and the first B-17landed on August 15, 1944.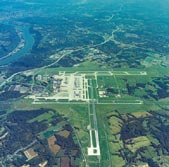 The Army Air Force used the field until September 1945and then declared the field surplus property. On June 20, 1946, American,Delta and TWA decided to pull their operations out of nearby Lunken Airportand contributed to the funding of a new terminal building. Locatedoff Donaldson Rd., the new terminal was dedicated October 27, 1946. Although the airport was located in Boone County, it was and still is ownedand operated by the Kenton County Airport Board. This was becauseBoone County was still a rural county without the political structure orfinances to support such an operation. Through the next three decades,air traffic slowly increased and the "Greater Cincinnati Airport (CVG)"became the major airport for the Cincinnati and Tri-State region. Evenin the 1960s, the airport maintained a small town charm. Familiescould gather and picnic atop the original terminal buildingˇ¦s observationdeck. There was even a putt-putt golf course at the main entranceto the airport off Donaldson road. That small town charm ended in1973 when massive reconstruction at the airport began and three terminalswere built to accommodate the increasing volume of flight operations.

Two of the 14 Union Terminal mosaics now installed in Delta's ConcourseB. Five mosaics
were moved from Concourse A (then called Terminal D) to Concourse Bin 1994.
Fourteen mosaic murals were removed from Cincinnati'sUnion Terminal and reinstalled at the aiport during its 1974 expansion. The railroad station, opened in 1933, housed the single largest collectionof non-religious mosaics in the world between its half-dome rotunda, ticketingvestibule, and passenger concourse. The large 20X20 foot, eightton concourse mosaics celebrated Cincinnati's skilled laborers and prominantindustries of the 1930's. When rail passenger service stopped in1972, the concourse and its mosaics, imbedded in the walls without anyprovision for future removal, were slated for demolition. Throughgreat effort 14 of the 15 concourse mosaics were safetly cut away, transported,and reinstalled in the airport passenger terminals where they can be seentoday. An enormous mosaic at the end of the concourse, which depictedNorth America and the hemispheres of the globe, measured 60ft. in widthand could not be saved. The rotunda and ticket vestibule mosaicsremain at the railroad station.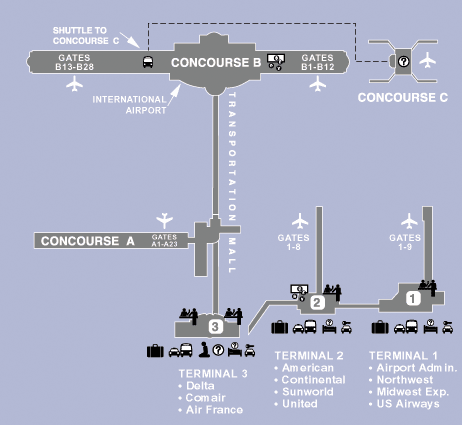 The airport's currect layout
In the early 1990's Delta Airlines designated Cincinnatias its #2 hub and opened an enormous new terminal in 1994. At thattime, the four terminals (A, B, C, D) were renamed 1, 2, and 3, and "TerminalD" became "Concourse A". The new Delta expansion was named "ConcourseB" and the new Comair terminal "Concourse C". Twin cable-drivendriverless trams were built underground between Terminal 3 and the newConcourse B, with a middle station at pre-existing Concourse A. Onecan also walk or take moving walkways that run through this long undergroundtunnel. Those departing from the Comair Concourse C take a shuttlebus from Concourse B.
CVG now ranks in the top 30 airports of the world in sizeand operations -- larger than the airports of many larger and better-knowncities. The airport's present layout is straightforward, both withregards to the runways and the terminals. This allows both for efficientmovement of aircraft and efficient movement of passengers. The Cincinnati/NorthernKentucky Airport is as new, pleasant, and logical as Logan or LaguardiaAirports are old, congested, and aggrivating. Unfortunately, recentlyinstalled security equipment has congested matters in Terminal 3, as ithas at all airports nationwide.
Aside from Atlanta, Cincinnati is Delta's largest hub,offering in a few cases multiple flights per hour to major cities aroundthe country, with headways as short as ten minutes. At dinner timeeach night above Cincinnati's west side, a relentless wave of passengeraircraft approach the two north/south runways. Often two planes approachexactly parallel to one another, making for a dramatic sight as they crossthe Ohio River, located less than a mile north of the runways. Since747's make no domestic flights, the noise level is mostly kept within reason,but it is quite bad in Delhi, directly north of the river, and it has hurtproperty values in that area. Delta offers international flightsfrom Cincinnati to London, Paris, Frankfurt, Rome, Montreal, Toronto, Cancun,and Nassau. Air France also operates one daily flight to Paris incompetion with Delta's. It is speculated that a new direct serviceto Seol or Tokyo will be introduced in upcoming years, as well as moreEuropean destinations. Delta also introduced in 2003 a daily non-stopto Hawaii.
In 2001 Delta opened a new reservations center in downtownCincinnati, moving to a new purpose-built building on 7th St. from thespace it had occupied in Atrium I on 4th St. for 20 years.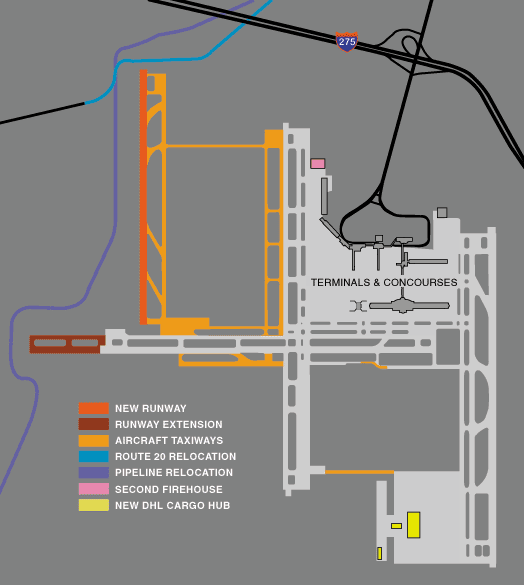 Graphic of airport future plans from http://www.cvgairport.com/airport/future2.shtml
In summer 2003 work commenced on a new third north/southrunway and an extension of the single east/west runway, slated for completionin 2005. Also on the table is abandonment of terminal one and movementof minor airlines' operations to terminal 2 and Delta's currently exclusiveA and B concourses. With plenty of room for expansion even beyondthose outlined above, the airport is poised to become one of the nation'slargest and an even bigger economic engine for the Cincinnati region.

Air operations at CVG can be monitored by scanner on frequencies134.38, 118.30 and 128.70
Visit the airport's official website at http://www.cvgairport.com
---
1. LunkenAirport
2. BlueAsh Airport