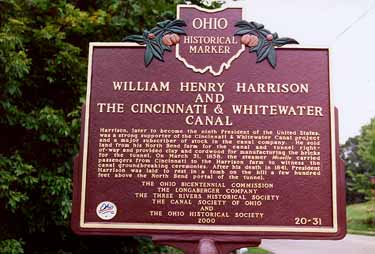 Whitewater Canal Tunnel

The Whitewater Canal Tunnel is the oldest tunnel in the Cincinnati area and one of only 12 canal tunnels in the United States. According to conflicting accounts, the tunnel measures either 1,782ft. or 1,872ft in length, with a bore diameter of about 18ft. The east portal is located about 1/4 mile from Taylor High School, and the west portal is near the William Henry Harrison monument. The 25 mile canal connected the Whitewater River in Indiana with downtown Cincinnati, terminating at the intersection of 3rd St. and Plum St. It was built from 1839-43, and six workers died during construction of the tunnel. The canal operated until 1865, at which point much of its right-of-way was purchased by railroads. The tunnel was utilized by the railroads for a short time after the Civil War until a bypass was built around the hill.

The tunnel has been filled almost to the top with silt for several decades, making it impassable. Additionally, a 729ft. section of the tunnel collapsed in the 1950's during construction of U.S. 50 above. A local group has raised $50,000 and will work with engineering students from the University of Cincinnati to dig out the silt, with the hope of restoring a section of the canal. Recently in summer 2000 a path was cut to the east portal and a historical marker placed beside Miami Ave, and the tunnel portal can now be visited by the public. In early 2001 the tunnel was placed on the National Register of Historic Places.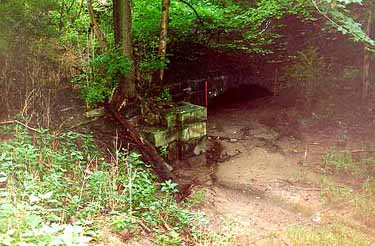 The above photo shows the east portal, in August 2000. As you can see, it is filled nearly to the top with silt. I will post photos of the restoration work when and if it proceeds.
News Archive
Cincinnati Post 7/6/01 Bridge, Tunnel named to Historic Register
---