Original 1914 Rapid TransitLoop Plan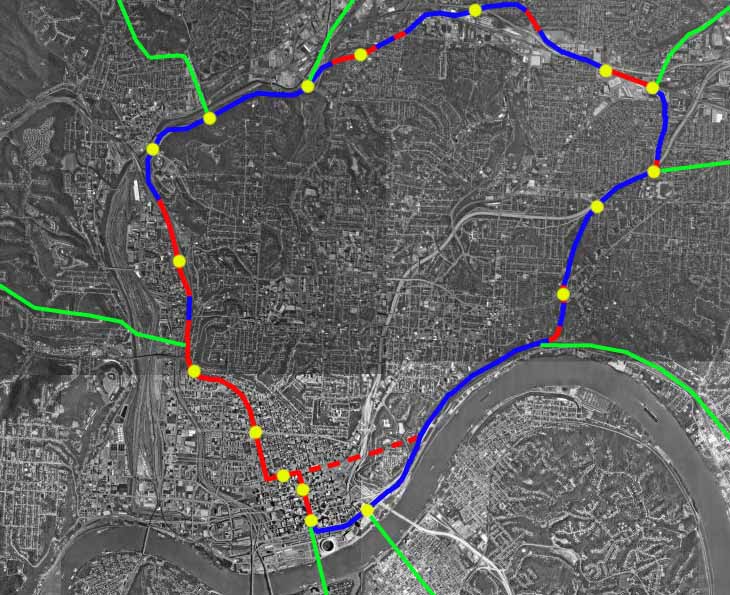 RED SHOWS TUNNELSFOR PROPOSED LOOP
*All tunnels to be builtby the cut-and-cover method, except for the Mt. Adams Tunnel and the shorttunnel near Torrence Parkway, which were to be bored.
RED DASHES SHOW PROPOSED MT. ADAMS TUNNEL ALTERNATIVE
*In the Mt. AdamsTunnel scheme, there would have been no Walnut St. tunnel or 3rd St. el. Instead a grandiose downtown loop would have been built, running southfrom the canal subway under Plum St. to 5th St., east under 5th to Main,and north under Main back to the canal subway. Stations would havebeen located at 8th & Plum, Fountain Square, and 8th & Main. There was no station proposed for Mt. Adams in the tunnel.
BLUE SHOWS GROUNDLEVEL SECTIONS OF LOOP
GREEN SHOWS INTERURBANFEEDERS OR MAJOR TROLLY LINES
*Kentucky trolleys on theSuspension Bridge and L&N Bridge would not have fed into the subway-- instead passengers would have transfered.
YELLOW SHOWS STATIONLOCATIONS
*Clockwise, from Fountain Square:8th/9th St., Race St., Liberty St., Brighton, Hopple St., Ludlow Ave.,Crawford St., Mitchel Ave., Vine St. (St. Bernard), Paddock Rd., MontgomeryRd., Forest Ave., Dacey Ave., Dana Ave., Madison Ave., L&N Bridge.