Athens-Darwin Rt. 33 Extension


Opening Day October 22, 2004
All photos by Jake Mecklenborg






Rt. 33 Extension Opening

The Athens Post

by Lisa Schwerin

Staff Writer

[email protected]

In the early 1960s a group of citizens organized a wagon train from Athens County to Columbus to ask the then-governor to "do something" about Rt. 33.

On Friday, a $90 million road construction project was opened to the public that made that long-ago trip a success.

Seventy-four-year-old John Kerr, 284 Park Lane Dr., made that trip to Columbus and was present on Friday to see the project completed. "We've been waiting a long time for this road," he said.

The 13-mile stretch of highway that connects Athens to Darwin in Meigs Couny, relocates the old, narrow, two-lane road, which included many sharp turns and hidden driveways.

Ohio Department of Transportation Director Gordon Proctor officiated the road opening and emphasized the increase in safety that the new road will provide. "We've lost 11 people on the old road in the last 10 years," he said. "I think that punctuates the importance of what we do."

According to an ODOT news release, the completion of the project represents one-fourth of an initiative to make Rt. 33 a major thoroughfare and the shortest route between Columbus and Charleston, W.Va.The other projects included are the Ravenswood Connector in Meigs County, completed in Dec. 2003; the Lancaster bypass, scheduled for completion in fall 2005; and the Nelsonville bypass, currently under development.

"While the Athens to Darwin project is important individually, combined with the other projects...it is a vital component to opening economical development opportunities throughout southeast Ohio," Proctor said. "When all the improvements ... are completed, the route will significantly improve the transportation of manufactured goods and increase overall travel efficiency."

State Sen. Joy Padgett, R-Coshocton, also emphasized the economic development benefits. "Companies can't use transportation as an excuse for not developing economically," she said.

Guest speaker DJ Gribbin, the Federal Highway Administration's chief counsel, said the improvement would do much to spur business and economical growth, but more importantly it would keep people safe. "We will not be satisfied until families in Ohio can travel safely through this area," he said.

Other speakers at the ceremony included •ODOT District 10 Deputy Director George Collins, State Rep. Jimmy Stewart, R-Athens and Steve Story, co-chair of the Southeast Ohio Regional Council. "It's one of the most beautiful views you'll see anywhere in Ohio," Stewart said. "It's not polluted by 1,000 yard signs, although I may have a couple up there.

###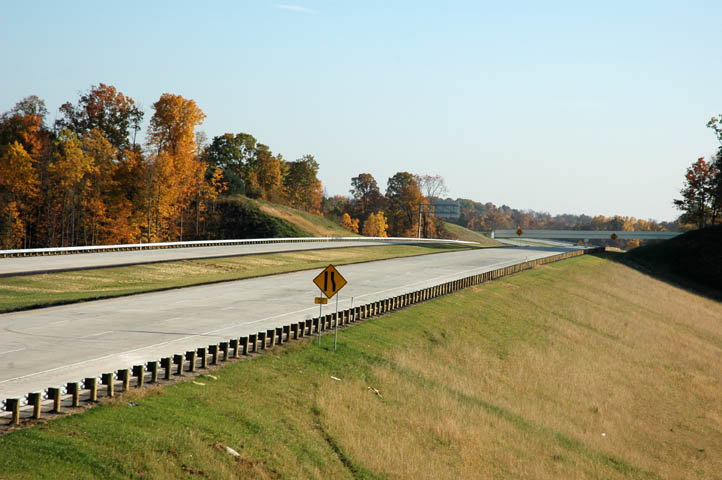 Four miles south of Athens.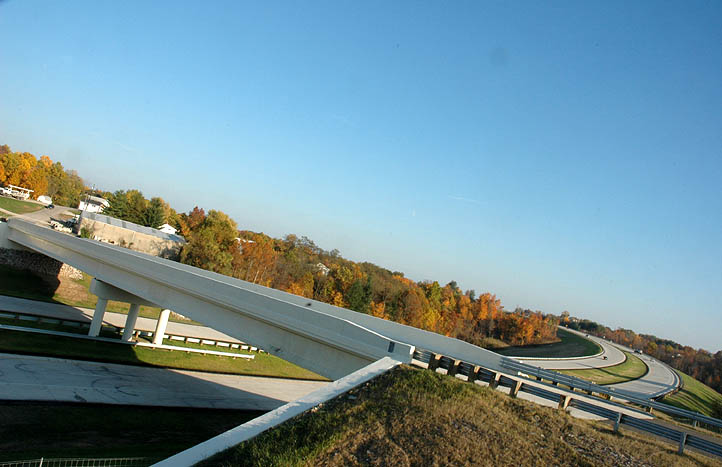 This local road overpass, one of only two on the extension, serves only the business pictured on the far side. It is not a through street.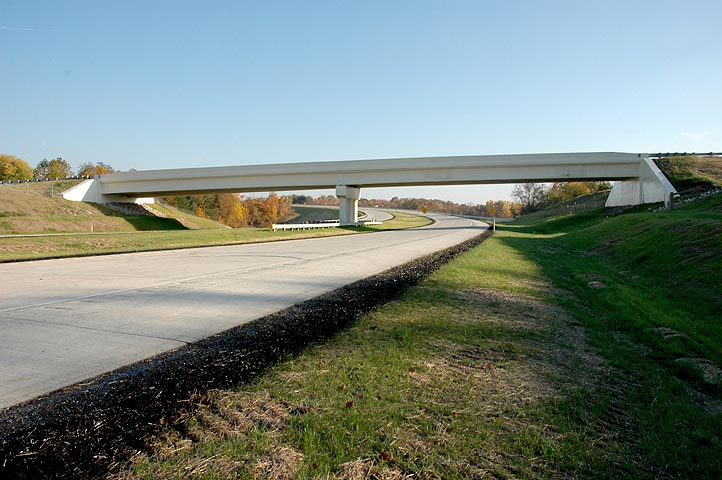 Another view of the overpass.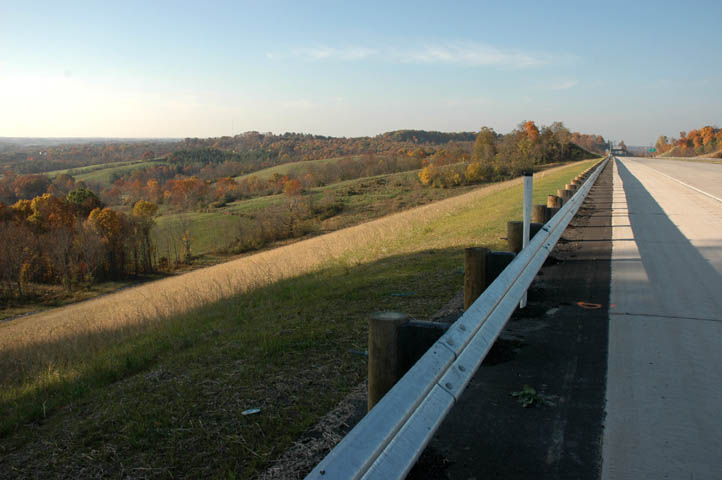 Unlike old Rt. 33, which follows narrow creek valleys, the new Athens-Darwin extension cuts directly across the area's valleys on numerous bridges and earthworks such as the one pictured above.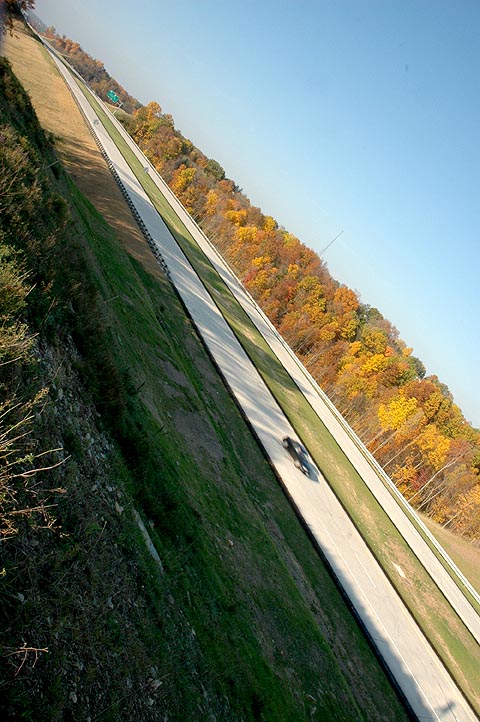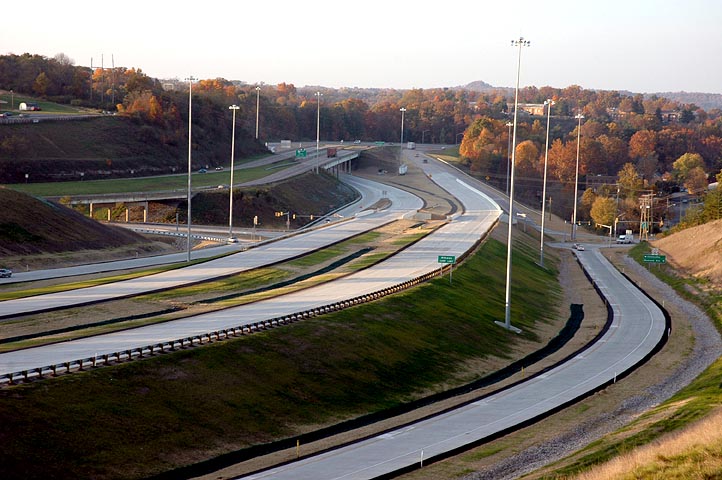 The US 50/32 and now 33 interchange two miles south of Athens, with exits to Richland and Pomeroy (old 33) roads.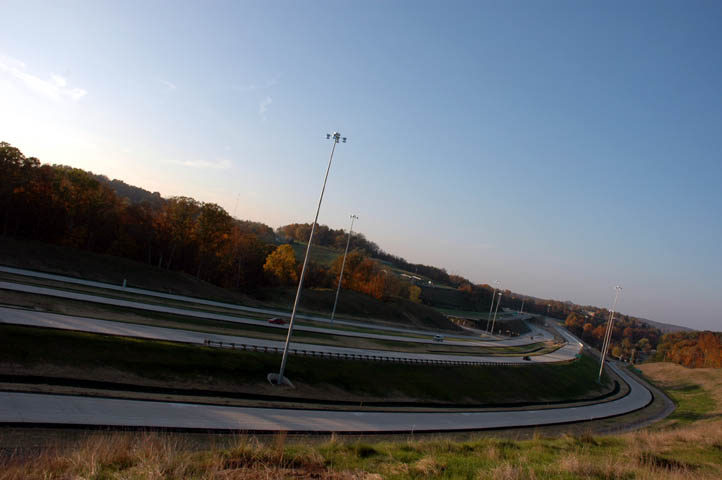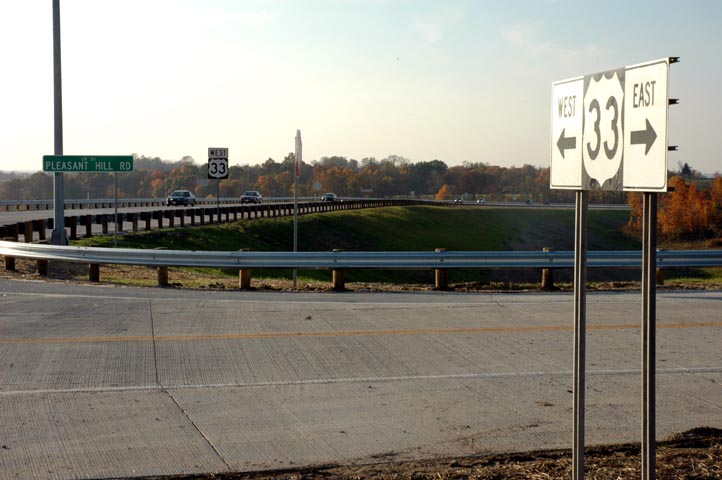 The first local road intersection south of Athens. There are no grade separated interchanges on the new extension.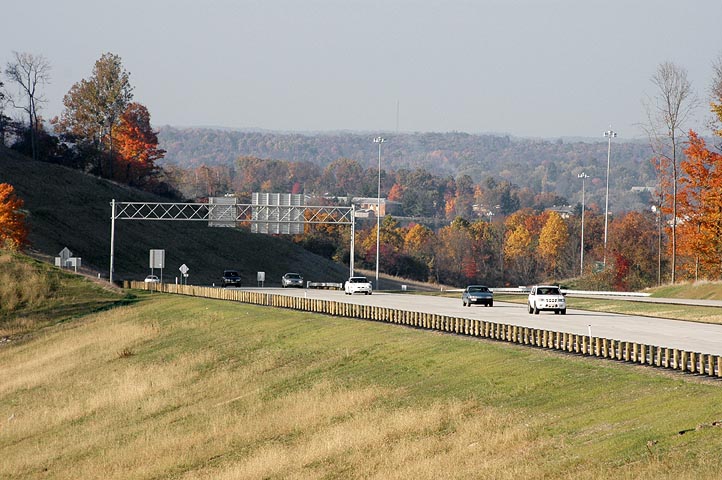 The climb up from Richland Ave. -- this climb is close to 2 miles long.