Cincinnati& Western RR Tunnel

Thousands of drivers pass the Montana Rd. exit on I-74each day oblivious to the nearby railroad tunnel that was built throughRoll Hill the 1850's. The narrow gauge Cincinnati & Western was tobe built from the Mill Creek Valley northwest through Colerain Townshipand eventually on to Chicago, however the company went bankrupt beforethe line could be completed. Construction began on the line's GreatMiami River bridge near old Ft. Coleraine, and according to a 1970's accountthe piers were still visible. The line is shown on only a few obscuresurvey maps from the period, and many did not believe in the Roll Hilltunnel, which had become a local legend, until it was unearthed by mistake.

In the 1960's, the U.S. government built the massive FayApartments public housing complex for the thousands displaced by the clearingof the West End and construction of I-75. The complex is situated on thetop of Roll Hill on unstable soil, and while grading the area, the tunnelcollapsed beneath the heavy equipment. Several workers recognized thatit was a railroad tunnel, and even spotted a copper boiler engine witha brass bell in the rubble. But before the bell could be retrieved as asouvenir, supervisors ordered the "sink hole" to be filled, and the incidentwas not widely reported.

Then when Baltimore Ave. was moved for I-74 constructionin the 1970's, workers uncovered the west portal. The tunnel had cavedin not far from the entrance, and after some professors from the Universityof Cincinnati came to look at it, it was filled in for good. The otherportal, located near Faraday Rd., was uncovered in the early 1980's whenthe Fay Apartment Complex was being renovated. It was also filled in, soit is impossible to enter either end of the tunnel today.

The "copper boiler engine" may have been the work trainused while digging the tunnel, as according to one account, the Irish workerswere told they were not to be paid one day and in anger blew up the tunnel.Unfortunately work was not stopped when the engine was uncovered in the1960's and so we will probably never know what kind of engine this was,let alone recover it for display in a museum. We also may never know ifthe tunnel was bored all the way through or if a few hundred feet remainedto be dug. Or none of this might be true.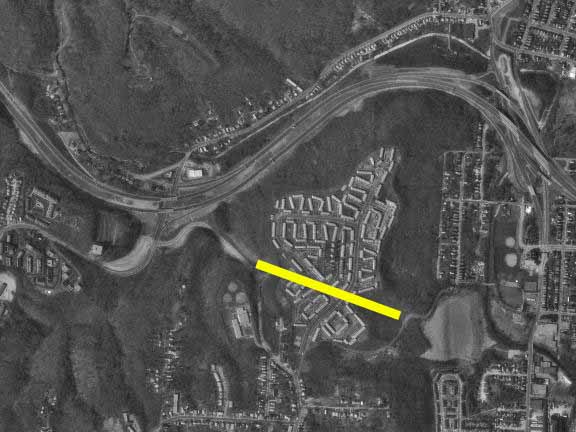 This satellite image from 1993 shows the location of thetunnel. The I-74 Montana Rd. interchange is visible at left center,and the Colerain Ave. interchange is visible at top right. The photographbelow was taken on the left side of the satellite image pointed towardsthe right.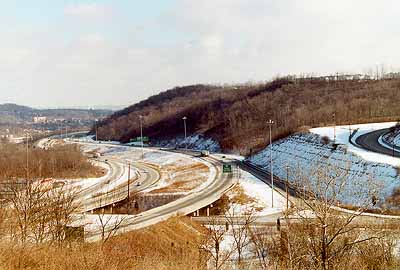 This photograph shows I-74 at the Montana Rd. exit looking east.
Fay Apartment complex barely visible at the top of the hill at right.
Baltimore Ave. is visible at the right edge curving up the hill.
The west tunnel portal is located slightly to the right of this photo.


---