Mt. Auburn Light Rail Tunnel

In June of 2002, in anticipation of the November "Metro Moves" campaign, the light rail alignment that would have required the Mt. Auburn Tunnel was abandoned in favor of a cheaper route which would have followed I-71 out of dowtown, bypassing the University of Cininnati area.


The Cincinnati Business Courier did the best reporting on the light rail proposal, but unfortunately asked me to remove their articles from the site. Registration is free, and they can be seen at http://www.bizjournals.com/cincinnati in the archives section. Simply type "light rail" for over a dozen articles. The Cincinnati Enquirer and Cincinnati Post archives are not free.

---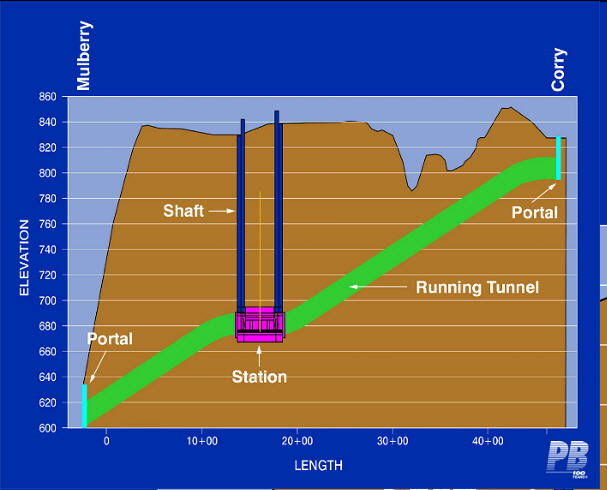 Mt. Auburn Light Rail Tunnel

The Mt. Auburn Tunnel was part of a proposed 30+ mile light rail line running from the Cincinnati/Northern Kentucky Airport in Hebron, KY north to King's Island Amusement Park in Mason. The initial line was to have run from 12th St. in Covington to downtown Cincinnati, The University of Cincinnati, and terminate at Xavier University. This segment would have included a new bridge over the Ohio River (likely adjacent to the Clay Wade Bailey Bridge) and a major tunnel under Mt. Auburn.


The south portals of the proposed tunnel were at Mulberry St. in Over-The-Rhine and the north portals at Corry St. in Corryville. The Mulberry St. portal was to be dug in the exact location of the old Mt. Auburn Incline. The path of the tunnel between the portals was still undetermined, either heading straight between the portals or along a longer route curving east with a station deep under Auburn Ave. near Christ Hospital. The tunnel length would have been roughly one mile, with a cost of $300 million. It would have become the city's longest active tunnel (the unused Central Parkway subway tunnel is 2 miles long).

The Mt. Auburn Tunnel was planned to eventually carry traffic from three different light rail branches, which would have converged about four miles north of the tunnel adjacent to Xavier University's campus. An eastern branch along the presently existing Wasson Rd. freight line through Hyde Park and a longer northern branch roughly paralleling I-75, possibly as far north as Hamilton, could eventually bring a tremendous volume of traffic to the tunnel, thereby justifying its high cost.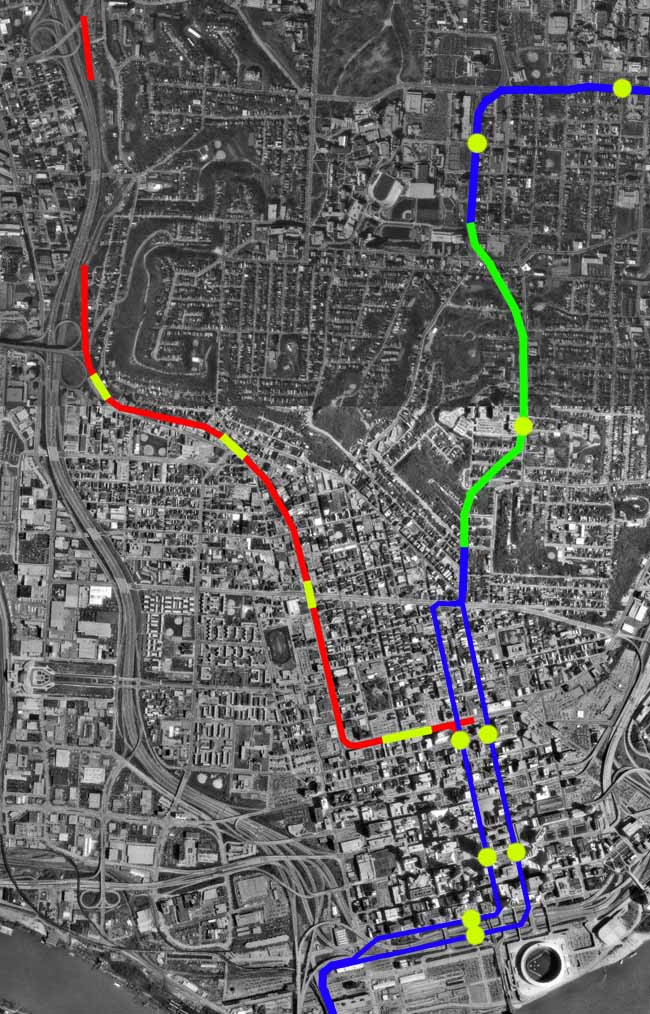 Possible integration of existing subway tunnel with proposed light rail line is obvious from this diagram. Existing subway is constructed just below street level, so ramps leading to the surface would be easily constructed.
RED SHOWS EXISTING SUBWAY TUNNEL
*modern rolling stock can use the existing tunnels.
BLUE SHOWS SURFACE RUNNING PORTIONS OF PROPOSED LIGHT RAIL LINE
*Light Rail line is currently planned to run split between Main St. and Walnut St. and on either side of Ft. Washington Way.

YELLOW SHOWS STATION LOCATIONS
*Light Rail Stations, from top to bottom: University Hospital, University of Cincinnati, Christ Hospital (Auburn Ave.), Court St., 5th St., Riverfront
GREEN SHOWS MT. AUBURN TUNNEL
*Tunnel to be dug several hundred feet under the hill.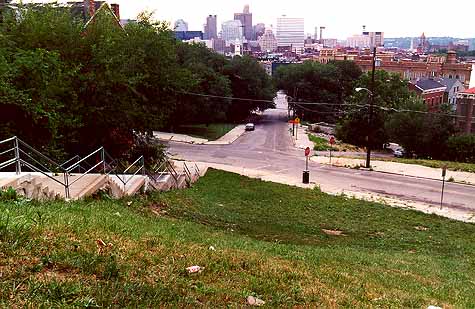 Standing at the south portal location, above Mulburry St., looking south towards downtown.