RiverfrontAerial Photos
12 Noon December 29, 2002

All aerial photos courtesy LarryStulz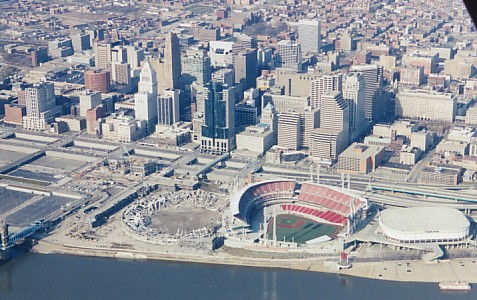 Multi-purpose Riverfront Stadium, built in 1970, met adramatic end this past winter. It had been the home of the Cincinnati Reds, Bengals, and big summer concerts. The Bengals moved westto football-only Paul Brown Stadium in August 2000, and the Reds will move to baseball-only Great American Ballpark this upcoming April. There are big plans for the cleared space between the two new stadiums, but major construction will likely continue to be delayed until the national economypicks up.
Great American Ballpark was built on a site that overlapped the existing stadium, so it was partially demolished after the 2000 baseball season. To the east, the new stadium butts against Riverfront Coliseum, which just experienced its fourth name change to "U.S. Bank Arena". After 20 years as "The Coliseum", it was refurbished and renamed "The Crown" in 1997. Just two years later the naming rights were sold and itbecame "The Firstar Center". Then Firstar Bank bought out smaller U.S. Bank of Milwaukee, took the smaller bank's name, and we now have "The U.S. Bank Arena".
Similarly, Riverfront Stadium was renamed "Cinergy Field" in 1996 by the local utilities monopoly, which had formerly monopolized just fine under its original moniker "Cincinnati Gas & Electric" or more often "C.G.&E.". Since then you could always picka foreigner out of a crowd when they called the place by its sissy alias. Every real Cincinnati sports fan still called it "Riverfront" or just "The Stadium". I'm going to continue that stubborn tradition onthis website until someone gives me a good reason otherwise.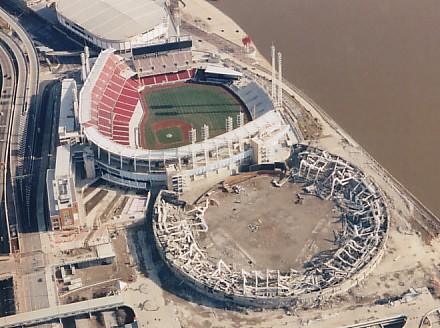 Immediately east of old multi-purpose Riverfront Stadium is Great American Ballpark, which has
been under construction since 2001 and will see action this upcoming April.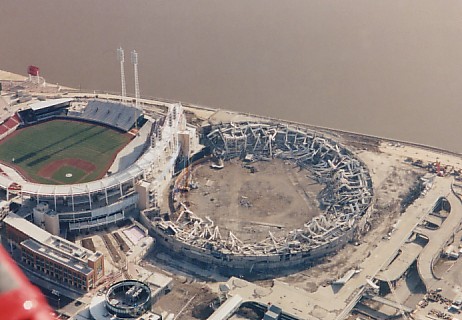 It is theoretically possible for players to hit home runs out of thenew stadium and into the Ohio River,
but it will probably be a once per decade event.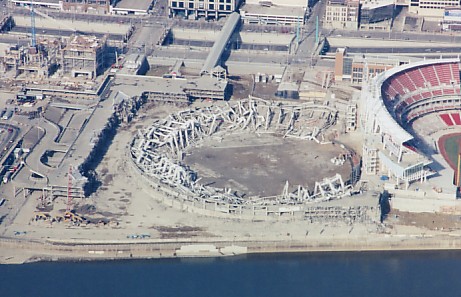 From this vantage point the developable riverfront land freed up bythe old stadium can be seen.
The Underground Railroad Museum is under construction at top left, and a new Cincinnati Reds
Museum will be built immediately adjacent to the new stadium this upcomingyear.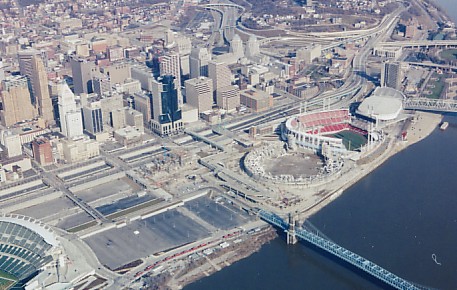 Much of the land between the two new stadiums will be redeveloped into a riverfront
park later in the decade. Funding has not been secured yet, sono groundbreaking date
has been set.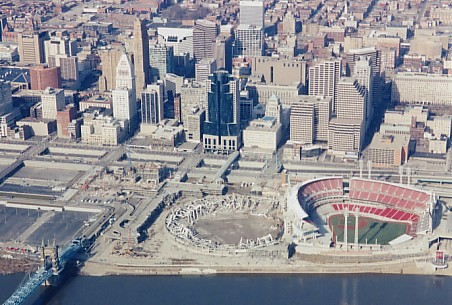 December 29th, the date of the implosion, had about the best weather we can ever hope
to see in Cincinnati in the middle of winter!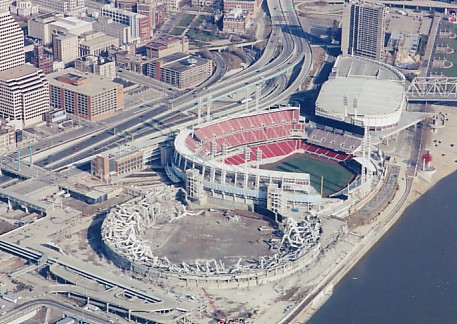 This photo shows gives a good impression of the unusual site of the new Great American
Ballpark, wedged between U.S. Bank Arena (top) and the imploded old stadium.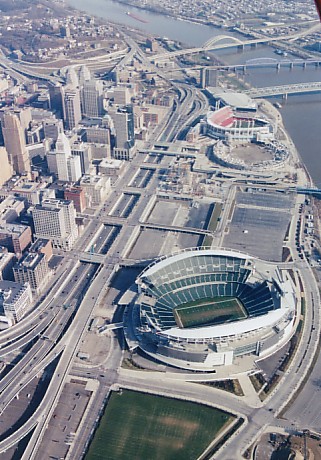 This shot shows off the continuing development of Cincinnati's newriverfront -- a dramatic
change since 1997, when it was still the site of warehouses and college bars.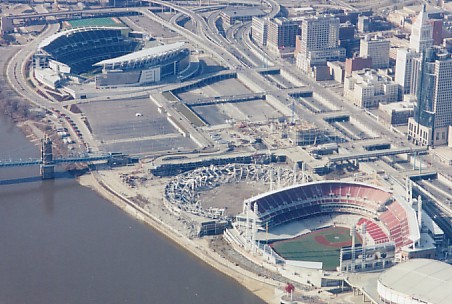 It will likely be another five years before the entire riverfront reconstruction is complete, but when
it is it will be among the nation's best.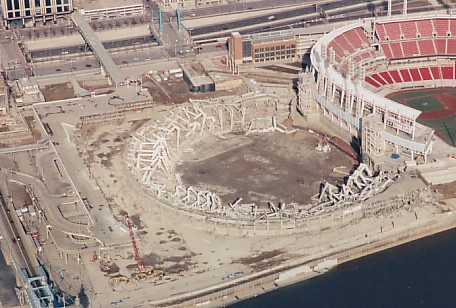 Riverfront Stadium R.I.P.!
Extra thanks to Mr. Larry Stulz for more of his great photographs.

Click Here for photos of the implosion
Click Here for March 2003 photos of the implosion site and new Great American Ballpark


---
Recommended
Find out where you can get free online bets for the Cincinnati Reds or Bengals at USACasinoCodes.com. Redeem the Bovada Casino bonus code at https://usacasinocodes.com/bovada-casino-review-bonus-codes/ for up to $500 in free bets.