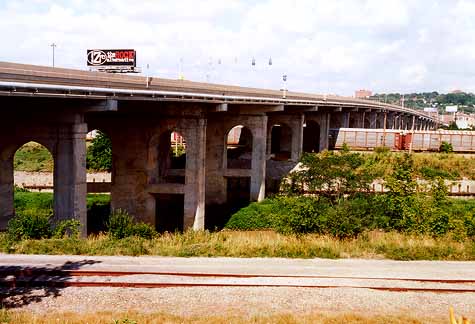 HOPPLE St. VIADUCT
The Hopple St. Viaduct is located 3 miles northwest ofdowntown Cincinnati, 1 mile north and parallel to the Western Hills Viaduct.It bridges the Mill Creek and the massive Queensgate railroad yard operatedby CSX. It connects Beekman St. and Westwood-Northern Boulevard to thewest with Hopple St. and Central Parkway to the east. A full interchangewith I-75 is located 1/2 mile east of the viaduct. The short stretch ofHopple St. between the viaduct and I-75 is home to one of the city's fewremaining chicken lanes, as well as local landmark Camp Washington Chili.

The original viaduct was built in 1914 and had a 40ft.,4 lane deck. In the 1980's, a wider 60ft., 5 lane deck was rebuilt on theoriginal piers. At the same time, the deck was raised several feet, allowingclearance for the double-stacked container cars in the railroad yard beneath.The viaduct was stripped of its original decorative features and genericexpressway overpass railings and overhead lights were installed.

Below are old post cards depicting the viaduct as it was originallyconstructed.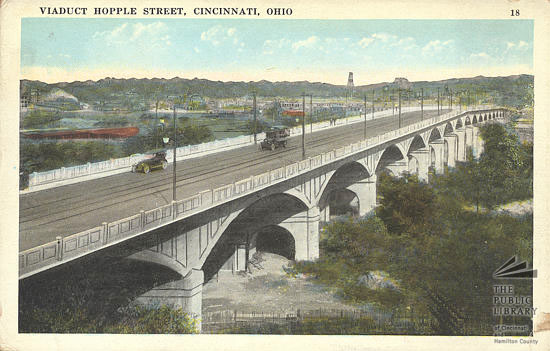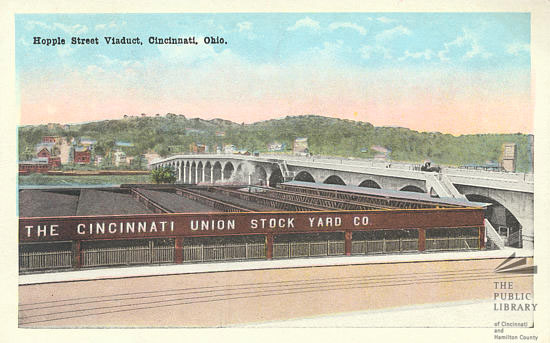 2. Back toMain