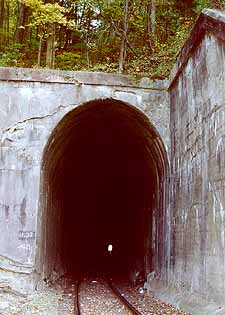 Grant's Bend RR Tunnel
The Covington & Lexington Railroad was built in the Licking River Valley and built a major tunnel along this route from 1851-1853. The Grant's Bend Tunnel is located about seven miles south of downtown Cincinnati, in an undeveloped rural area. The single track tunnel was completed in 1853 and measured 2,150ft. in length. It was originally built with stone up to the 7ft. level and arched with 500,000 bricks, but has since been lined with concrete and the original lining cannot be seen. A special passenger train loaded with 1,000 people visited the tunnel one week after its completion. A train derailed in the tunnel in 1908, causing damage to the track and a brief closure of the line.
A second single track tunnel constructed of concrete was built next to it in 1912 at a cost of $225,000. This tunnel has a slight curve in it and does not run exactly parallel to the old tunnel. The head engineer on the project, Thomas Haywood, was struck and killed during construction by a train emerging from the old tunnel. The original 1853 tunnel is the oldest major piece of transit infrastructure still in use in the Cincinnati area, twelve years older than the Suspension Bridge. The line changed hands from the Covington & Lexington to the Kentucky Central, L&N, and is currently owned by CSX. Both the 1853 and 1912 tunnels are still in daily operation.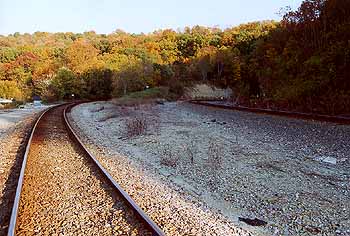 The two north portals are several hundred feet apart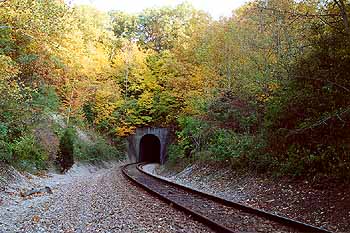 The east tunnel north portal
*The top photo shows the west tunnel north portal
---