Dixmyth Ave. Realignment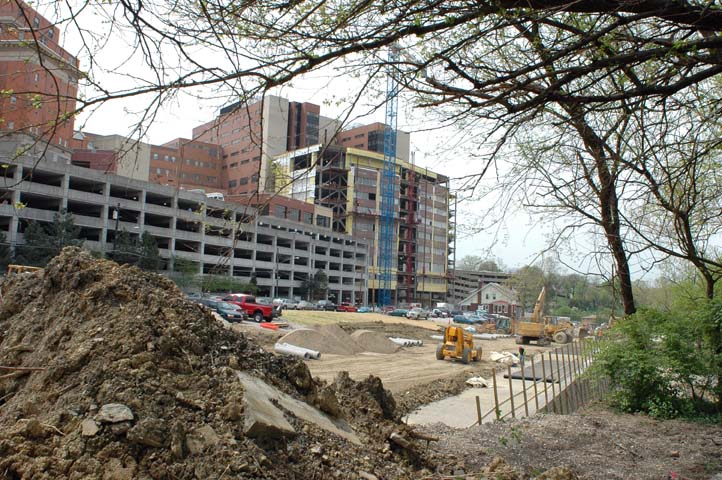 [All photos this section April 20, 2006 by Jake Mecklenborg]
Dixmyth Ave., one of Cincinnati's more eccentric hillside avenues, is being rerouted to make room for expansion of Good Samaritan Hospital and to allow for safer travel between Martin Luther King Drive and Clifton Ave. In the 1970's the wide cross-town boulevard today known as Martin Luther King Drive connected and widened existing streets to form a continuous 4+ lane boulevard. New paths were also blazed through Burnett Woods, near MLK's eastern terminus with Madison Ave., and west of Clifton Ave., south of Good Samaritan Hospital. Through traffic was rerouted onto MLK so that what remained of Dixmyth Ave. functioned as a side street and the hospital's back door.
Although a minor project as compared to the widening of Liberty St., Linn St., the construction of Martin Luther King Drive, and numerous other projects around the city, the Dixmyth Ave. realignment represents another example of hospitals, universities, and other institutions demolishing their surroundings for expansion purposes. Quite often, the expansions are made primarily to build new parking lots and garages, more so than to expand core facilities. Approximately 30 homes have or will be demolished for this project.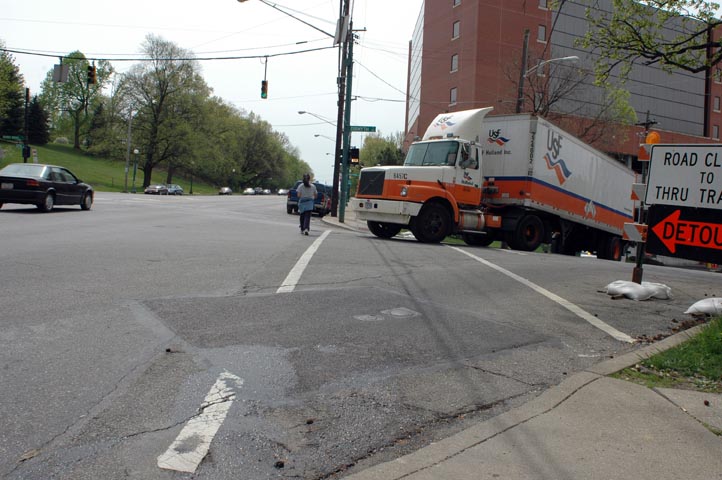 Dixmyth Ave. meets Clifton Ave. at this odd angle. Dixmyth likely predated both Clifton Ave. and Burnett Woods.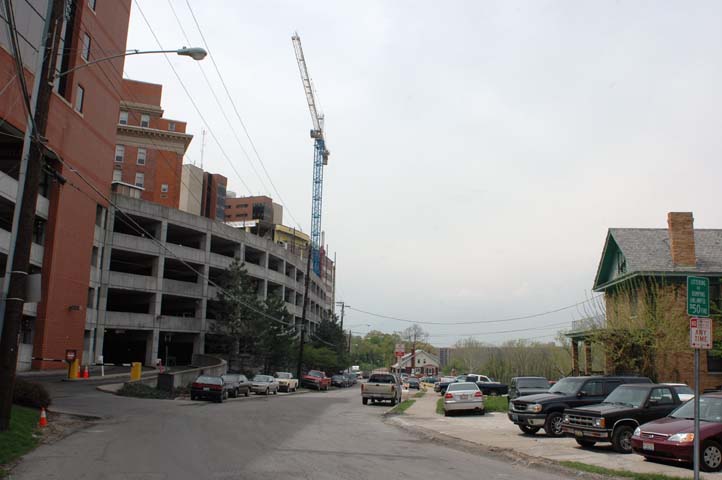 Looking west.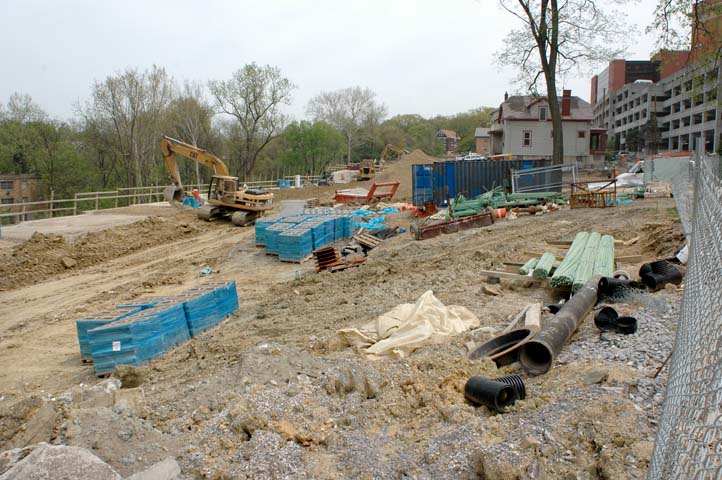 Looking east.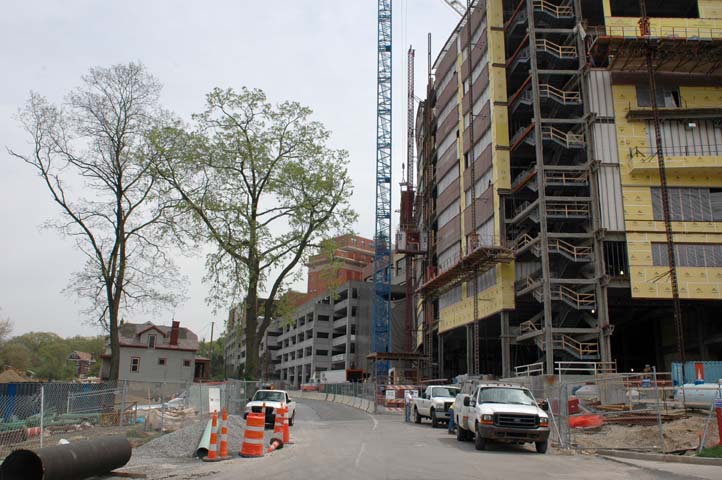 Another east view.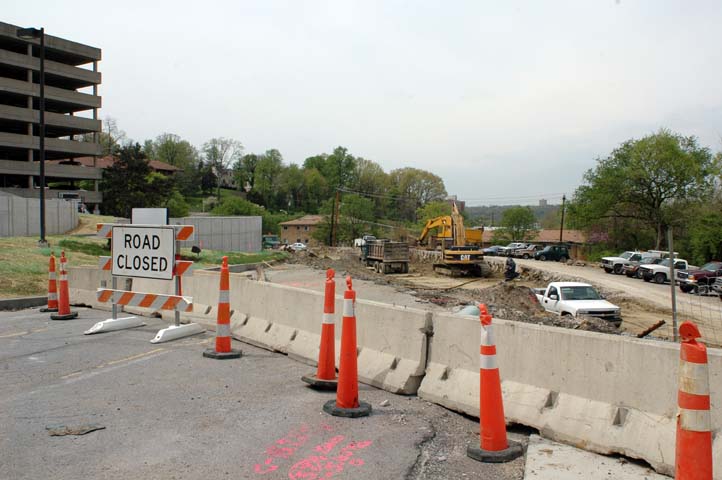 Near the intersection with Martin Luther King Drive.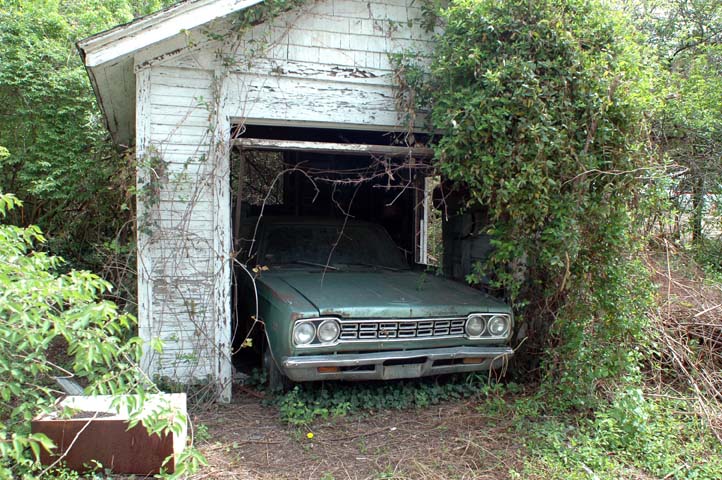 This garage and Plymouth await the bulldozers.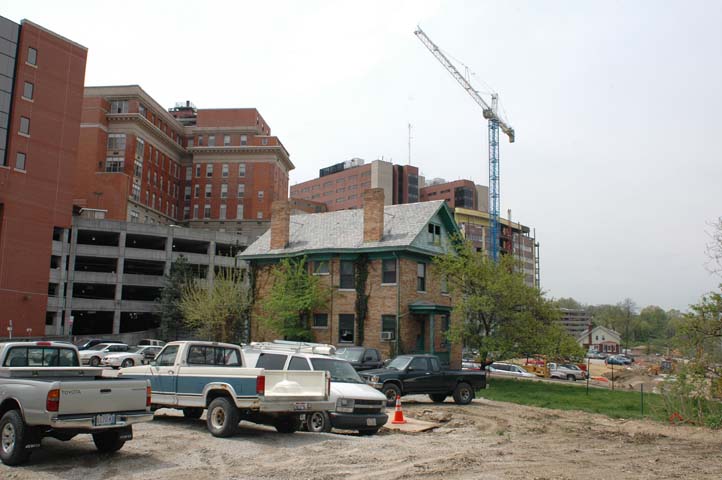 One of the four remaining houses awaiting demolition.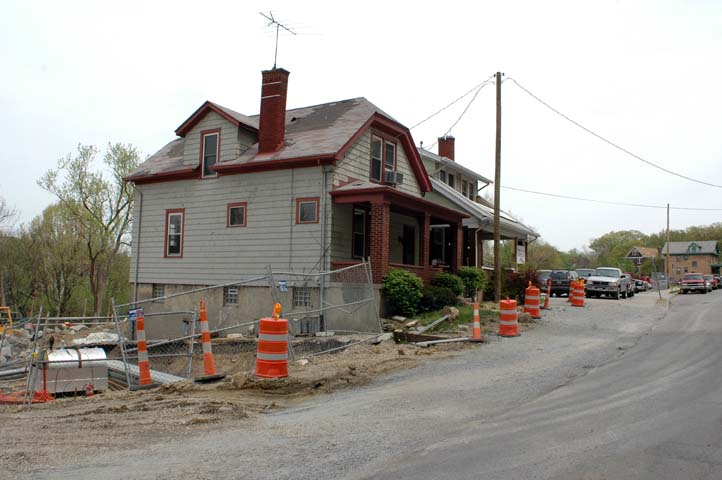 Two houses awaiting demolition.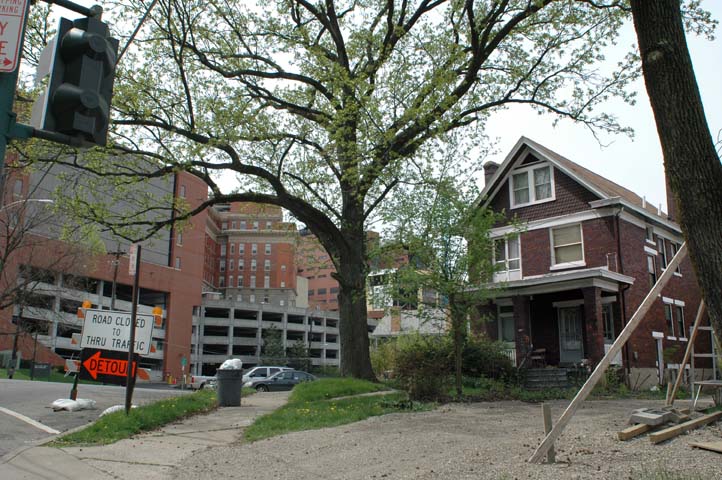 This house, facing Clifton Ave., is the subject of the article below.
Widow to be forced from home
Court sides with city on street upgrades
BY GREGORY KORTE | ENQUIRER STAFF WRITER

The city of Cincinnati has the right to take the home of an 80-year-old Clifton resident to move Dixmyth Avenue, north of Good Samaritan Hospital, a magistrate ruled Tuesday.

That means Emma Dimasi, the widow who's lived at Dixmyth and Clifton avenues since 1959, could be forced from her home as soon as Saturday.

Hamilton County Common Pleas Magistrate Richard A. Bernat ruled in an eight-page decision that the city "did not commit fraud, act in bad faith, or abuse its discretion" in using eminent domain to take properties on Dixmyth Avenue.

Dimasi's lawyer and son, Vincent A. Dimasi, said he would file an objection to the decision with Common Pleas Judge Melba B. Marsh, who can overrule Bernat's ruling.

He said his mother has no immediate plans to pack her bags - but knows the case isn't going her way.

"She tends to worry a lot, but I'm trying to get her used to this as much as I can," he said.

A year ago, the city's taking of Mrs. Dimasi's house might have passed without much notice.

But the U.S. Supreme Court's decision in a landmark eminent domain case last year - and a similar Norwood case pending in the Ohio Supreme Court - has made the government's power to take property a hot legal topic.

Vincent Dimasi, who also owns rental property being taken by the city, argued that the Dixmyth project wasn't much different from the Norwood shopping center that led to the relocation of 70 property owners.

The city really wants his mother's property to facilitate the $122 million expansion of Good Samaritan Hospital, Dimasi said, and that makes the taking illegal under a year-long moratorium on eminent domain for private development. Gov. Bob Taft signed the ban into law last year as a reaction to a U.S. Supreme Court decision, while state lawmakers study the issue.

But the magistrate failed to get that far, relegating the significance of the moratorium to a footnote in his decision.

Even though the road project will benefit Good Samaritan - which can buy any unused land back from the city for $1 - the magistrate noted that "all roadway projects involve the transfer of at least some real property between public and private entities."

Under state law, a city can take possession of a property taken by eminent domain 60 days after serving the owner with papers. Those 60 days are up Saturday.

The $4 million road project is under construction, and city lawyers said they're not sure whether they can give much leeway on the Saturday deadline but promised to give the Dimasis as much notice as possible.

"We will be as sensitive to Mrs. Dimasi's needs as much as possible - as we have been already," Geri Hernandez Geiler, an assistant city solicitor, said.

Dimasi has asked for a restraining order to block city contractors from coming onto the properties, saying the city has used "heavy-handed intimidation" to try to force him and his mother out.

Two weeks ago, Dimasi said the city sent salvage crews who literally broke into his house - cutting through a window to reach a deadbolt lock inside - in order to remove a stained glass window.

Three weeks before that, the city placed an 8-foot sign reading "Dixmyth Relocation Project" in Mrs. Dimasi's front yard.

City lawyers admit both incidents happened but blamed them on a lack of communication.

E-mail [email protected]