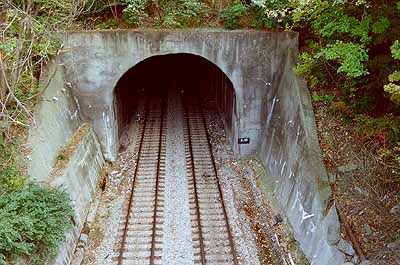 Covington RR Tunnel
The shorter of the two tunnels built by the Covington & Lexington Railroad was in Covington, near the railroad's northern terminus. This tunnel was completed in 1853 and is 750ft. long. It is located 2 miles south of Downtown Cincinnati, traveling underneath Madison Ave., between 26th and 30th St. Instead of building a parallel separate tunnel, the bore was widened for double track operation in 1911, suffering a cave-in during construction that killed 3 workers. There is no sign of the original tunnel's brick lining, as the widened tunnel bore was lined with concrete (although some of the masonry along the northern cut may be original). The line was extended to Cincinnati via the C&O bridge in the late 1880's, and also received traffic from the L&N bridge, until its closure in 1987. The tunnel is still in daily use by CSX.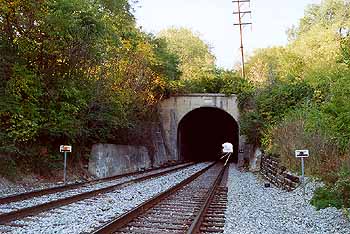 View of the south portal, looking north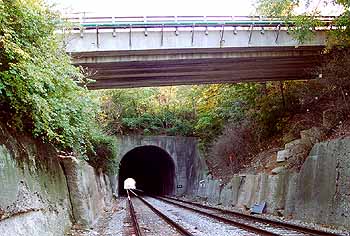 View of the northern portal looking south, and overpass from
which top photo was taken.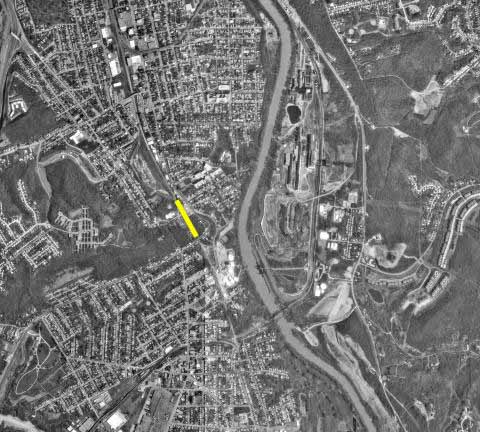 This satellite photo from 1993 shows the location of the tunnel. The Licking River is at center.

---