BRENT SPENCE BRIDGE HAS TO GO
by John Schneider
Cincinnati Post 3/9/00
Sooner or later, it's gotta go. Probably by 2012, certainly no later than 2020, the I-71/75 Brent Spence Bridge over the Ohio River will be become a regional choke point not worth repairing any more. Originally built with three lanes in each direction, one person in the know says an Atlanta- like total of fourteen lanes might be needed in 20 years. A few years ago, a fourth lane was squeezed onto the bridge by doing away with the safety shoulders, perhaps one reason the accident rate on the Brent Spence is 750 percent higher than the average Kentucky freeway rate.
The Ohio-Kentucky-Indiana Regional Council of Governments has studied the bridge for Kentucky's Transportation Cabinet, which owns it. OKI considered how and when a Brent Spence replacement should be built and what it might look like. Hopefully, it won't look anything like the double-decked Brent Spence, but more like the yellow-arched Daniel Carter Beard Bridge carrying I-471 over our eastern riverfronts. With both directions of traffic open to the sunlight, side-by-side spans are easier to maintain and, well, prettier. Prettier is important. For Cincinnati and Northern Kentucky, a new Brent Spence could be a great way to show off, a gesture to our bigger-city aspirations.
The world's most stunning bridges usually nest at the necks of great coastal bays. They are scaled to accommodate ocean shipping. They endure. Beautiful freshwater bridges are more rare, but you can find them. You can find them right here. The World Almanac already credits the Tri-State with two of the nation's 30 or so ''notable'' suspension bridges with spans over 1,000 feet: Covington's John A. Roebling Bridge and Maysville's Simon Kenton Memorial Bridge.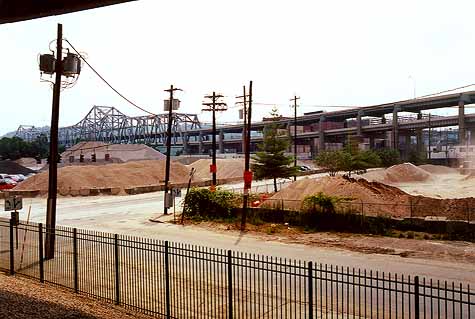 A majestic bridge - high and wide and supremely functional - may hinder the development of Cincinnati's far-western riverfront, now within reach because of Paul Brown Stadium. The wider the bridge, the larger the dead zone beneath it. With all those driving lanes and curvy ramps, Superbridge and its entourage will cast shadows that the best riverfront planning may fail to overcome.
For that matter, there isn't much room for a new Brent Spence. One avenue of OKI's thinking is to build twin spans, one on each side of the current Brent Spence, and then demolish the old bridge when the new one is complete. This geometry is pretty tough. A hotel and a Cinergy transformer farm stand in the path of a wider bridge. We don't need to guess about the impacts of this project. Economic and environmental modeling is so advanced these days that we'll have a good understanding of what will happen to our city when Superbridge moves 200,000 vehicles a day compared to fewer than 150,000 now.
Will those 50,000 extra vehicles be going further out, contributing to more sprawl? Does Superbridge further dilute the critical mass needed to build a first-class light rail system? How about the idea of, say, 5,000 more semi-trailer trucks climbing out of the Ohio River Valley every day, trailing diesel smoke to Florence and West Chester? Then there's the optimists' case: 20 years from now, 200,000 cars and trucks will probabl y run cleaner than 150,000 of them do today.
Here's something else to consider: Look for the state of Ohio to attempt to capture the NAFTA Highway, a putative trade link between Montreal and Mexico City. Right now, the NAFTA Highway is supposed to go through Indianapolis. Some thoughtful Cincinnatians believe that it should come through the Tri-State instead.
Which begs the question: Do we really want the NAFTA Highway? It has been suggested that hosting it would be a prestigious honor. But maybe the NAFTA Highway also means, for Cincinnati, Louisville and Memphis, dirtier air and a lot more trucks.
Maybe we can do better. Perhaps Cincinnati and Northern Kentucky should focus instead on higher-value products that don't move by truck - biotech, communications and Ken Griffey come to mind.
As I think more about it, maybe Indianapolis should get the NAFTA Highway after all. If it behaves and doesn't make things worse, I could learn to love Superbridge. Especially if it can be one of those fog-piercing, twin-masted, cable-stayed types more commonly found in Asia and Europe. If we're going to keep things moving around here, a new Brent Spence is essential. But the devil's in the details, and how we start to deal with them is pretty important, even now.
With new and wider highways plugged into each end of it, the Brent Spence will soon become a burr under Ohio and Kentucky's shared saddle. Pressure will build to ''Do Something!''
Keep an eye on this. My guess is persons on both sides of the river - a little wiser these days - will agree to fashion a durable and symbolic landmark. The consensus solution will likely be a remarkable blend of science, economics, engineering and art.
Back